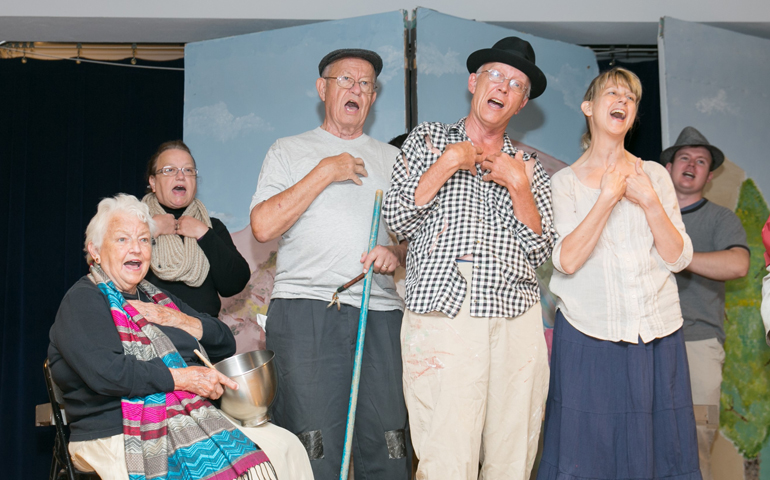 Musical cast members, left to right, Genie Dypa, Christine Newton, Ed Dypa, Jeff Howey, Barbara Harvey, and John Sedensky (Sandy Aldieri/PerceptionsCt.com)
When newly ordained Franciscan Fr. Erik Lenhart (who also writes as an NCR blogger) last year came to St. Pius X Parish in Middletown, Conn., for his first assignment as an associate pastor, he knew nothing about the parish patron.
An amateur songwriter and composer, he responded to his lack of knowledge the only way he knew how: Why not produce a musical based on the life of the early 20th-century pontiff?
With the collaboration of parish music minister Bryan Niedermeyer, he so far has compiled a few songs and worked out some staging. They premiered this sampling this summer with the help of an all-volunteer cast. The 35-minute show, "X - A Pius Musical," was part of the parish's 60th anniversary celebration, which will get into full swing next year.
If a Broadway hit musical can be made about austere founding father Alexander Hamilton, then a musical about Pius X, whose surviving photos depict a churchman far from warmth and friendliness, may not be too big a stretch.
The musical performance was "something to engage and energize the parishioners" about the 60th anniversary, Lenhart said. The performance drew grandparents, parents and children and rave reviews in its admittedly limited run so far.
While the historic parallels are not exact, Lenhart says he sees a lot of Pope Francis in Pope Pius, who reigned from 1903 until his death nine years later. Both came from poor immigrant families. There's also a connection with St. John Paul II. Pius could stake a claim to being the first Polish pope, as he was from a family who came to Italy from Poland.
The material on Pius for a musical drama is strong, Lenhart said. He was one of 10 children, born Giuseppe Melchiorre Sarto in 1835, and was able to escape poverty by coming under the wing of an influential cardinal, who sent the young Sarto to a prestigious seminary.
Pius had no doctorate in theology. Instead, he came up the ranks as a pastor instead of in the Curia, where most previous popes had their training.
As pope, he was known for providing shelter for poor Italian earthquake victims in Rome; lowering the age of first Communion to 7, seen as a bold pastoral response to the catechesis of children; and reforming the church's canon law.
The latter point "isn't exactly song material, but we are trying to make that work," Lenhart joked.

Timothy Brady as Cardinal Luigi Oreglia, Camerlengo of the Conclave of 1903, assisted by Lauren Acevedo, playing Cardinal François-Désiré Mathieu (Sandy Aldieri/PerceptionsCt.com)​
The drama of the developing musical hinges on the pope's down-to-earth personality. Pius was more comfortable with the peasants from which he came then with the curial diplomats who flocked to the Vatican court. "I liked that he kept in touch with the common people," Lenhart said.
The plot also involves Pius' election, which, while shrouded in mystery, occurred only after a first choice was rejected by the Austrian-Hungarian emperor, who blatantly intervened in the church election.
The parallels with the current pope are not exact. Unlike Francis, Pius wasn't particularly popular with creative theologians. He cracked down on what became known as modernism, which was an early attempt to open up church thought to contemporary intellectual currents. By the end of his papacy, the storm clouds of World War I were gathering, and Pius died overwhelmed by the coming onslaught of massive modern conflict. Lenhart said he hopes to incorporate these complicating factors as he works on completing the musical.

Katie Passons as Emperor Franz Joseph of Austria (Sandy Aldieri/PerceptionsCt.com)​
Whether the show moves into becoming a full-length musical will depend on a host of factors, but Lenhart said he sees the parish's location in Middletown as a potentially positive sign. Middletown is home to Wesleyan College, where Lin-Manuel Miranda, the genius behind "Hamilton," earned his bachelor's degree.

Promotional poster for "X - A Pius Musical" (poster by Dianne Scotton)
Already, Lenhart's fledgling musical has succeeded. Its first parish performance in the dog days of summer brought together the congregation of Pius X in a way that hasn't happened for a while. The event, Lenhart said, reflected Paul's image of the body of Christ with many parts becoming one, including musicians, actors, stage hands and prop designers.
"It was a good image of the church," Lenhart said, "with all generations and all talents coming together."
[Peter Feuerherd is a correspondent for NCR's Field Hospital series on parish life and a professor of journalism at St. John's University, New York.]
We can send you an email alert every time The Field Hospital is posted. Go to this page and follow directions: Email alert sign-up.