Opinion: What's all the fuss about? Teachers' contract reflects Catholic teaching As a point of Catholic moral teaching and practice, this is unremarkable language, reflecting well-settled doctrine.
Another take on teacher contracts: The Culture War and the Self-Destruction of Catholic Schools by Charles J. Reid, Jr.
Oakland, Calif. -- In his diocesan newspaper, Bishop Barber discusses teachers' contract
Kansas City, Mo. -- Catholic Church forces food pantry director to leave job after gay marriage is revealed
US bishops and Iranian ayatollahs hold talks on nuclear arms
Baton Rouge, La. -- Sex education bill killed by House panel State Catholic Conference objected to a provision in the bill it said would pave the way for schools to distribute contraceptives.
Manila, the Philippines -- Catholic bishop urges senators implicated in pork barrell scam to step aside , pave the way for a credible investigation.
Have you been reading NCR's new website devoted to covering the mission and ministry of Catholic women religious? Check it (daily) at Global Sisters Report.
Nigeria -- Catholic Bishop to Govt - Don't Succumb to Boko Haram Demand
Fall River, Mass. -- Mediation failed in Fall River Diocese priest sex abuse case
Newest Irish bishop called an intellectual heavy-hitter who's not afraid to act on his beliefs. Was Archbishop Diarmuid Martin's right-hand man.
El Salvador mulls freeing 17 women jailed for abortion crimes
---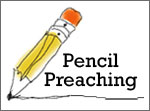 Looking for a little inspiration to begin your day? NCR's sister publication, Celebration, gives you two options, both based on the Scripture readings of the day:
Pencil Preaching is blog in which Celebration editor Pat Marrin combines Scripture and sketching to reflect on the Word.

Daily Bread is a series of short reflections written by four authors who meet regularly to share the readings. Daily Bread is intended to help daily preachers and others who pray from the assigned Scriptures each day to orient themselves to the Living Word addressed to the church in the world. It's a great way to begin the day.
Advertisement