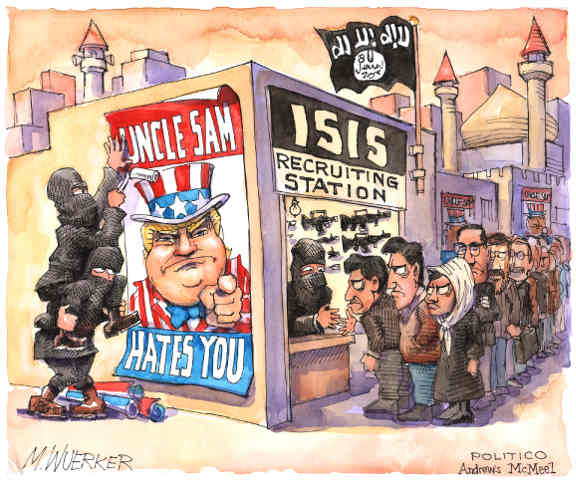 Under the guise of "national security," President Donald Trump's ban on refugees is really putting asylum-seekers in danger.
Is the Trump administration planning to screen refugees for ideology? Heard on NPR this morning: Trump Administration Considers Ways To Up Vetting Of Refugees
Commentary: Trump Has Already Blown It -- The president could have started a foreign-policy revolution. Instead, he triggered a foreign-policy revolt.
Now more than ever: Catholic social teaching may be our best tool. NCR Editorial: Trump has inspired a growing opposition
Parramatta, Australia -- The final hearing involving the Catholic church at the Royal Commission into Institutional Responses to Child Sexual Abuse commences Feb. 6. Over the next three weeks, many bishops and other Catholic leaders will testify. The bishop of Parramatta writes to Catholics in his diocese to prepare them.
Vatican City -- Knights of Malta leader: Vatican stepped in to protect pope's name
"I owe my soul to the company store": Once again, someone is getting rich from West Virginia's resources, but the people who live there see little benefit. Q & A with Sr. Gretchen Shaffer, witness to the struggles of coal country
Austin, Texas -- After 16 hours of hundreds of people testifying against it, Texas State Senate committee approved a bill that aims to eliminate sanctuary cities and counties and outlawing local officials who decline to participate in federal immigration enforcement efforts. The Catholic bishop of Austin was among those who testified against the bill.
A priest who was murdered in 2016 had previously certified that he would not want his murderer executed. Three Catholic bishops say his voice should be heard. The district attorney in Augusta, Ga., is seeking the death penalty for his accused killer.
Manila, the Philippines -- Local lawmaker hopes to broker truce between president and bishops. They are at odds over a host of issues: extrajudicial killings, the war on drugs, the reproductive health law, the restoration of death penalty, and the proposed distribution of condoms in public schools.
Peace made real: Our Lady of Sion sisters promote peace in Costa Rica through dialogue
---
Start your day inspired with daily Scripture reflections. Join NCR's sister publication, Celebration, for Daily Bread, a series of short reflections written by four authors who meet regularly to share the readings.
Or reflect on
Pencil Preaching by Pat Marrin. Every morning, Pat breaks open the Word with a pencil sketch and a short meditation.
---