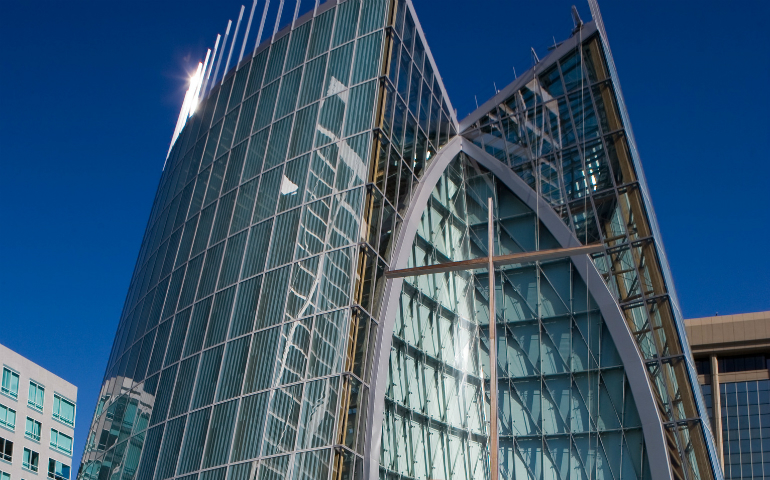 Exterior view of the Cathedral of Christ the Light in Oakland, California, dedicated in 2008, which shows a design that is" authentic for our time," according to Dr. Michael DeSanctis. (CNS photo/Greg Tarczynski)
Church architecture has become a frontline of the liturgy wars as Catholic churches undergo re-renovations. Michael DeSanctis, a church building consultant and theology professor, is not pleased.
Restoration-minded pastors, most who came of age well after Vatican II, are ordering the changes. Gone are what they sometimes disparage as "Pizza Hut" churches. The goal is to restore tradition. They impose altar rails, the placement of the Blessed Sacrament near the altar, and use expensive marble on the floor to seal off the sanctuary area as a polished and exclusive arena for clerical liturgical action. Sometimes the choir gets relegated to a back loft, providing disembodied sound. In other parishes, circular seating arrangements are abandoned in favor of long rows of pews.
DeSanctis, a professor of fine arts and pastoral studies at Gannon University in Erie, Pennsylvania, writes in Emmanuel Magazine that these changes in church architecture are manifestations of what he describes as a new clericalism. The goal is to set off the priest from his congregation, in opposition to a Vatican II theology that focused on lay participation and the de-emphasizing of barriers.
"Architecture is how we express our liturgy," DeSanctis recently told NCR in a phone interview, noting that the generation of post-Vatican II priests routinely came out of the sanctuary to interact with their parishioners during liturgy. They built churches with a focus on circular design, to bring the congregation closer together, as well lowered the altar to bring the priest closer to the congregation.
But that has changed with the emergence of many younger clergy, schooled in seminary with the thought of Pope Benedict, who re-emphasized clerical distinctions. Across the country, DeSanctis has noticed how many pastors are redesigning the suburban churches built in the 1960s and '70s with a focus on priestly action.
This movement comes at the expense of Catholics who came of age in Vatican II, many of whom are unimpressed with rearranging the church furniture to emphasize clerical status. DeSanctis, 60, said many Catholics he knows just move on to another parish when the zeal to re-renovate modern design comes to their parish. They don't appreciate the nostalgia for a pre-modern church, and often resent the costs incurred.
"We just don't buy the categories any longer. Respect has to be earned," he said.
In his article, DeSanctis offers a defense for the much-maligned modernist suburban church, with its focus on nurturing community.
He begins with St. Jude the Apostle Church in Erie, a product of postwar Catholicism. It is a modernist structure with a distinctive summit cross, built to be "a place of worship completely at home in the modern world."
DeSanctis writes: "Modernity was something the people of St. Jude found neither foreign nor especially threatening but a condition of life as potent to the imaginations of prosperous, college-educated Catholics in post-World War II America as the ancient rites of their church. A distinctly modern ambience pervaded every inch of the shiny, suburban landscape they'd chosen to inhabit with their young families."
St. Jude's, he notes, fit into the modern suburban American landscape, and that was its strength, nothing to be apologetic about, even if it didn't look like the cathedrals of old Europe.
However, that model has changed. St. Jude's has undergone a re-renovation in recent years.

YouTube video of St. Jude's church in Erie, showing elements of the building design inside and out.
Elaborate candles now serve as boundaries to mark off the sanctuary from the pews. The altar area has now been transformed by marble, visually setting itself off. The new architecture, intended to recapture traditional elements, has a "look at me" clerical mindset, writes DeSanctis.
He notes that such changes are examples of "fussy territoriality" expressed through physical changes made by "a wave of priests intent on undoing the achievements of their immediate predecessors, a generation or two of men animated by the liturgical reforms of the Second Vatican Council."
DeSanctis expressed concern that his language might be too off-putting, but he said the criticism is justified. He sees an ally in Pope Francis, who decries making churches into museum pieces and has expressed wariness about focus on the externals of liturgical garb at the expense of welcoming and proclaiming the Gospel.
He conceded to NCR that there has been bad modernist design through the past few decades, much of it castigated by young clerical restorationists. Yet, he said, "The church can't persist in making one feel that we're living in the Middle Ages."
His design goal is "to come up with a liturgical and architectural style that is authentic for our time." As examples, he points to St. Michael's Church in Wheaton, Illinois, a design he consulted on, and the Cathedral of Christ the Light in Oakland, California.
Modernist style, he said, need not be superficial. It can speak to the deepest human impulse, as much as the great European cathedrals. For examples, he noted the impact of modern America's great monuments, the Vietnam Veterans Memorial in Washington and the 9/11 Memorial at New York's World Trade Center, both of which inspire reverence and provide places to express deep unspoken emotion.
Church architecture needs to bring clergy and laity together, notes DeSanctis, not provide more opportunities for separation. It is his hope, he writes, "that priests of all ages and liturgical persuasions would begin to regard their workplace less a refuge from the lay faithful in their charge than the very point of entry into fuller union with them whenever the Church gives voice to its prayer."
[Peter Feuerherd is a correspondent for NCR's Field Hospital series on parish life and is a professor of journalism at St. John's University, New York.]
We can send you an email alert every time The Field Hospital is posted. Go to this page and follow directions: Email alert sign-up.
A version of this story appeared in the May 5-18, 2017 print issue.