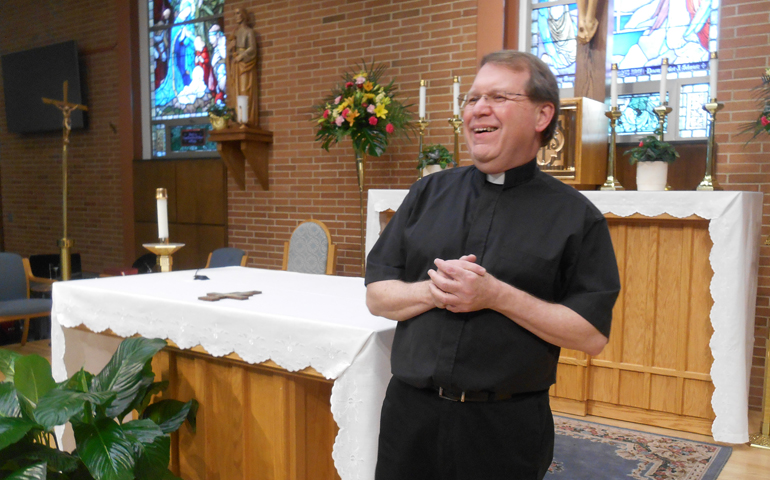 Fr. Garry Koch (Mercedes Gallese)
Author's note: Ever since October of last year, when we began soliciting stories about parishes, especially those with thriving ministries to the poor and marginalized in the spirit of Pope Francis' famous metaphor that the church should bind the wounds of the injured, we have been inundated with upbeat, positive stories.
We've been more than happy to report on those.
We've also encountered scores of other story suggestions: namely, complaints about newly-ordained pastors, in particular, who come with an agenda -- seemingly turning back the clock on practices that have been well established in typical post-Vatican II parishes. This especially is evident in the liturgical realm, as the newly-ordained frequently suggest chant over contemporary hymns, and curtail lay Eucharistic ministers and the role of women and girls serving as altar servers. Some parishioners complain about an overemphasis on sexual morality issues emanating from the pulpit.
This widely-commented upon generation gap among pastors, with older clergy, ironically, frequently viewed as more liberal while younger clergy are viewed as traditionalist, regularly impacts on parish life.
We wanted to find out about these newly-ordained priests (many of whom, by the way, do not embrace what's been called a quiet "restorationist" movement among younger clergy). Nurtured in a seminary system inspired by Pope John Paul II and Pope Benedict, how are these priests responding to the Age of Francis? We will be running occasional interviews exploring this theme, the first with Fr. Garry Koch, pastor of St. Benedict's Church in Holmdel, N.J. Koch was ordained for the Diocese of Trenton in 2013.
---
It's a sleepy, snowy Friday and Fr. Garry Koch is gearing up for a busy weekend.
There are five Masses. St. Benedict's in Holmdel, N.J., is a large parish, even by northeast suburban standards, with more than 3,000 families. The church building is an uneasy mix of traditional Catholic iconography, including a giant crucifix over the altar, combined with modern airplane hangar-type space. The parish bulletin offers 16 pages every week filled with parish activities, from a school, music ministry, outreach to the bereaved, a chastity talk for teens and various devotions.
A visitor asks if the parish has immigrants. "Mostly from Brooklyn and Staten Island," says Koch, noting how the parish has grown through the post-war influx and the following decades by Catholics moving beyond New York City's outer boroughs. Commutes here are long, as Holmdel remains a bedroom community near two commuter train lines, nestled deep in the Jersey suburbs.
Much of the parish action happens on the weekends. It's often difficult to get parishioners who work in the city involved in parish activities. Fr. Koch, pastor since June 2015, quickly formed an evangelization committee and found interest among older baby boomers in their 60s, and young millennials, but a dearth of interest among 40 and 50 somethings.
That's a disappointment to Koch, who directly relates to that age group. While a relatively new priest, it's been a long road to this pastorate. He is 58, and jokes readily that he is an expert on seminary education under five popes, having experienced all of them. He wonders if there is a Guinness Record for longest-time in seminary and, if so, he might well deserve a mention.
It's not that he was a slow student. He entered seminary at 17, during the pontificate of Paul VI, moved along and came close to ordination, but he wasn't ready to go forward and wanted to experience what the outside world had to offer. He took a break.
That sabbatical lasted 28 years, as he taught at a local Catholic high school, Christian Brothers Academy in Lincroft.
He has experienced enough church history and is well-read in papal teachings to be aware that Francis is taking the church in a different direction than his predecessors.
"Benedict's point of emphasis and Francis' point of emphasis are focused on different directions," he says. Benedict emphasized a continuity of Catholic thought and practice in pre- and post-Vatican II, focused on doctrinal theology and an acceptance that the church, to be more devout, might have to get smaller in number.
Francis has flung open the doors, insisting on a more pastoral church. It is a "broad ecclesiology," actually more in tune with John Paul II's evangelization emphasis, says Koch.
While strikingly different, for Koch, "it is two sides of the same coin" of church teaching.
As a veteran of three seminaries, Koch acknowledges that the monastic-style of living in such institutions has little in common with large suburban parishes. He sees more of a focus in parish life on social outreach, including organizations such as the Vincent de Paul Society.
"In seminary you can have magnificent liturgies every day of the week. It doesn't look like that in a parish," he says.
Koch says he's aware of movements, nurtured in some seminaries, where what's been called a "restorationist" agenda is promoted. That wasn't true, he says, at Immaculate Conception Seminary at Seton Hall University, where he received training for the Diocese of Trenton. Seminary enrollments these days are smaller, and often include older students, such as Koch, and immigrants. He points out that he was ordained for the diocese with three others, all hailing from Colombia.
As a new pastor, he's focused on what developed as a John Paul II project, what's called the "new evangelization" in church circles, a shorthand description of engaging Catholics who have fallen away.
And he's focused in particular on a kind of lost generation of Catholics, those in their fifties who have moved on from church life.
"When you lose the grandparent generation, that's when you lose the influence of the faith," he says about those who are his contemporaries. Young people can move in and out of church practice, but an older generation that has left permanently offers a more serious challenge. As a new pastor, he is focused on engaging this group. He doesn't expect it to be easy.
Koch is introducing some tweaks at the parish, such as at this year's Ash Wednesday service, where parishioners were prodded to attend a full liturgy, versus simply grabbing ashes and running out into the cold midwinter Jersey air.
This is far from a traditionalist upheaval. By contrast, Koch sees himself in the mainstream of church teaching and practice. As a new pastor, he is aware of "coming in and imposing your personality versus being where the church is."
[Peter Feuerherd is a professor of communications and journalism at St. John's University in New York and contributor to NCR's Field Hospital blog.]
Editor's note: "The Field Hospital" blog series covers life in U.S. and Canadian Catholic parishes. The title comes from Pope Francis' words: "I see the church as a field hospital after battle. It is useless to ask a seriously injured person if he has high cholesterol and about the level of his blood sugars! You have to heal his wounds. Then we can talk about everything else. …"
If you have a story suggestion, send it to Dan Morris-Young (dmyoung@ncronline.org) or Peter Feuerherd (pfeuerherd@ncronline.org).