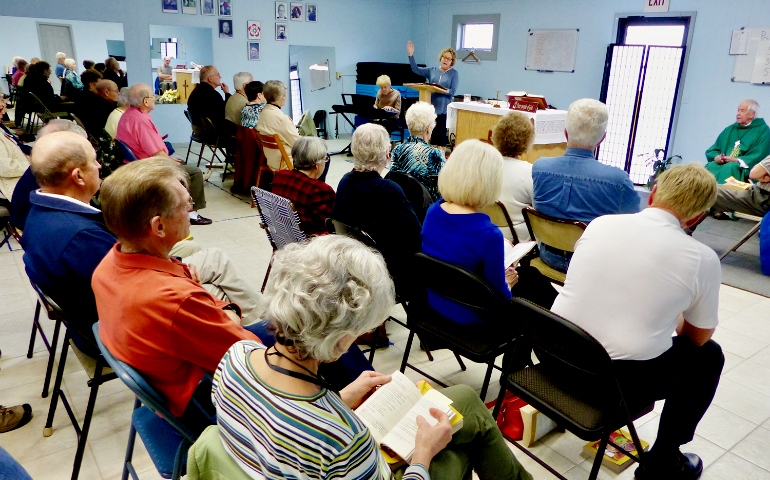 About 50 parishioners from St. John the Evangelist Church in Waynesville, N.C., are led in the responsorial psalm during Sunday Mass at a local wellness center on Jan. 14. (Courtesy of Carol Viau)
Western North Carolina — January 26, 2017
It's a few nights after a January snowstorm, and the mountain pathways around Waynesville are treacherous. Still, some 30 Catholics arrive for a meeting to talk about their parish.
Or perhaps their former parish. These are the people of St. John the Evangelist Church in Waynesville who, soon after the arrival of Fr. Christopher Riehl as parish administrator in July 2014, formed what they call a Church in Exile.
They described why they left: Their de facto pastor told the mostly cradle Catholics they had been doing everything all wrong. The liturgy — overwhelmed with popular contemporary hymns and such standbys as "Amazing Grace" — was not deemed Catholic enough. Veteran catechists were told they weren't teaching traditional Catholicism. A blind parishioner, holding her guide dog with one hand and seeking Communion with the other, was told she lacked proper reverence. The host was stuck into her mouth.
Most of the contemporary hymns were replaced by Latin chants. A women's group was disbanded after a dispute flared over where the money they raised would go. Catechists and choir members were told to get with changes or leave, so many did. A dispute over church repairs fractured the parish finance council. Funerals dispensed with any discussion of the deceased, with homilies focused on the church doctrine of purgatory.
The tales came out, with a mixture of anger, resignation and, in some cases, tears. Some said they came to the mountains here for retirement, leaving their families behind, with the anticipation that St. John the Evangelist would be a substitute family.
It is not a unique situation. Across the country, some young pastors, inspired by their seminary training or informal networks with other young priests, are determined to push the clock back before the church's liturgical and governance practices of the post-Vatican II era. They have what some perceive as a fetish for elaborate liturgical vestments and other externals, such as the routine wearing of cassocks and birettas. Some of these priests call themselves, and sometimes others call them, restorationists.
What's different in the mountains of Western North Carolina is that a determined cadre of parishioners is fighting back.
They gather regularly to mourn what was, hoping that the Charlotte diocese will change the situation. So far, they have been rebuffed in efforts to meet with Bishop Peter Jugis.
Riehl and other younger, restorationist-style pastors, declined to respond to NCR inquiries. An email from the diocesan communications director David Hains to clergy in the diocese suggested that they not speak with NCR. The email was forwarded to NCR.
Jugis, in an email response to NCR's questions, said the diocese is devoted both to Vatican II and to Pope Francis. He declined to go into specifics about the Waynesville situation, only to say, "All have been listened to."
'They want to go back to the 16th century'
Erin McNelis, a former volunteer eucharistic minister at the parish, said she was told to leave after word got to the pastor that she was critical of him, something she denied. Others had similar stories.
"Not everybody gets to wait for their family to come back," said McNelis, who has moved on to a neighboring parish, some 10 miles away, because she ran out of patience with the situation at St. John the Evangelist.
Carl Simonson moved to the region from Chicago five years ago. He said he was shocked by the changes in the parish. "It's the Dark Ages for me. It wasn't like that when I moved here," he said.
Tony Minniti, a parishioner who retired here from New York, said this region of the Charlotte diocese has been filled with pastors, most a few years from ordination, who embrace a clericalist mindset.
"They look down on us. They want to go back to the 16th century," he said.
St. John contains an estimated 250 families. About 50 parishioners or so regularly come to Sunday Mass offered by a retired priest in a local wellness center. About 130 parishioners signed a petition to the diocese asking for Riehl's removal. On one recent Sunday, about 80 parishioners attended Mass at St. John the Evangelist.
"We felt like the early Christians, gathering together out of fear," said Paul Viau, a member of the Church in Exile.
---
Related: Cleveland parish remains a community of a different sort (March 5, 2012)
---
Others gave up entirely on their Catholicism and joined the Methodist and Episcopalian churches.
But a core group keeps battling for a change.
They have compiled a binder filled with testimonies of those who say they were given a cold shoulder by Riehl or told to leave. They also recount stories of pleas for the sacrament of the sick to be provided to dying patients that were left unanswered. At times, they say, the parish administrator simply didn't show up for Mass, offering no explanation. The documents have been sent to the pope, Jugis, Chicago Cardinal Blase Cupich, and Archbishop Christophe Pierre, Vatican nuncio to the U.S.
Despite meetings with Riehl and the diocesan chancellor, the group's pleas for changes in how the parish operates have gone unheeded.
While the Waynesville parishioners have taken the most drastic actions, it is just one example of a pattern in the Charlotte diocese. Parishes in the mountainous rural western part of the diocese, as well as those in and around the city of Charlotte, are increasingly led by pastors steeped in a traditionalism that many here find befuddling.
Parish shopping in the mountains
North Carolina used to be the state with the lowest percentage of Catholics. Fueled by an influx of Northern newcomers, that has changed. The numbers of Catholics have risen — St. Matthew Parish in Charlotte claims 35,000 parishioners, one of the largest in the country — and parishes and schools are expanding. Many parishes have Mass in Spanish for the growing number of Latinos in North Carolina, with estimates, according to one pastor of a large Latino congregation, that Latinos make up about half of the diocese's Catholic flock.
Still, many Catholics in the diocese find themselves shopping around for what they perceive as Vatican II parishes, avoiding traditionalist enclaves. In and around Charlotte, that is not such a problem; however, in the mountainous western portion of the diocese, parishes are set far apart.
In the mountain mission church of Our Lady of Guadalupe in Cherokee, the pastor has banned a Native American prayer routinely recited there for decades. Parishioners were told the prayer, called the Native American Prayer to the Four Directions, was doctrinally suspect.
A group called North Carolina Chapter of the Catholic Committee of Appalachia* prepared a statement, which they gave to NCR, questioning pastoral appointments in the western portion of the Charlotte diocese.
"Many Catholics in the central and southern Appalachian region feel they are talking to the wind," notes the statement. "Their priests, especially the younger ones, do not listen to them. Their bishops do not listen to some of the priests or the people, and many of them seem not to be listening to Pope Francis."
The statement complained about a lack of attention to pastoral ministry obligations, including pastor attendance at funerals and the administration of the sacrament of the sick to the dying.
The statement said that younger pastors in the region lack sensitivity to the cultural diversity of the mountains, particularly regarding Native American spirituality, ignoring the universal church's encouragement of inculturation, or encouraging local customs to be part of liturgical practice.
"Many of our younger priests insist upon imposing a uniform Roman culture while ignoring the rich diversity of Appalachian, Latino/a, and Cherokee cultures. We feel this is contrary to the examples of Pope John Paul II and Pope Francis," the statement said.
The statement also said that younger priests just out of the seminary often have "an arrogant, self-righteous and condescending attitude" with a focus "more intent on taking the church back to pre-Vatican II days rather than minister to the people. They seem to be steeped in doctrine and theology, but are unwilling to participate in ecumenical activities, and are lacking in compassion, love and mercy. They are doing the job of the theologian, but not the job of the pastor."
Many younger pastors, the statement said, "seem to have the attitude that the Second Vatican Council never happened."
'The clericalism has been canonized'
While Francis regularly lambastes clericalism, with the famous injunction that pastoral shepherds should take on the smell of their sheep, the Charlotte diocese has instead been filled with the smell of incense, the sounds of Latin chant, and what some Catholics describe as a less than welcoming stance to those not accustomed to traditionalist ways.
"The whole diocese is messed up right now," Fr. James Cahill, who says Mass regularly for the Church in Exile parishioners, told NCR. A former pastor in the diocese, at 87 he's been officially retired for 14 years.
He said the pattern of what he described as restorationist pastors infiltrated the region when he was still active. But the Waynesville parishioners, he said, were the first to take a public stance.
"I am very proud of these people," he said. Cahill emphasized that the Mass he celebrates on Sunday avoids discussion of church divisions, and instead is focused on the readings and sacrament.
Other diocesan priests over 50 describe what they call a movement to take the diocese back to pre-Vatican II piety, with a focus on externals, such as elaborate vestments and liturgies concentrated on Latin chant and prayers. It is a movement encouraged throughout the diocese.
---
Related: Parishioners join priest in breakaway denomination in Bend, Ore.
---
Some priests in the diocese describe a situation that is flourishing on the surface, with the regular influx of new Catholics from Latin America and other parts of the U.S., but which is corroding from within due to deep divisions among the clergy.
Younger clergy here, most of whom are trained at the Josephinum Seminary in Ohio, "are arrogant, judgmental and infected with a sense of self-importance," said one post-Vatican II priest. The diocese is in the process of opening its own seminary.
Most of the priests requested anonymity for fear that Jugis could make their life difficult.
Full clergy get-togethers are rare and, when they do occur, the young traditionalists rarely speak to their older colleagues. Older priests report that their younger colleagues have placed the blame for the church's problems squarely on them.
"A graphic message is that I am not like a layperson," said one priest about his younger colleagues who focus on the clerical state as an exalted one.
Another older priest said that diocesan authorities keep clergy formed in the post-Vatican II era because of the need for priests.
"I feel that I am tolerated. Someone of my generation is suspect of not being fully Catholic. They would likely retire us if they had enough young 'true' Catholic priests," he said.
Jugis, say a number of older priests, has communicated by his actions that he encourages the restorationist trend among his younger priests. The Cathedral of St. Patrick offers a Latin Mass and other traditionalist liturgical themes. Some older priests say Jugis encourages a cult devoted to external practices and costumes.
"The clericalism has been canonized," said a religious sister active in parish ministry in the diocese who also did not want to be named for fear of incurring the wrath of the bishop.
According to some older priests, Jugis has promoted restorationist practices, but not in a public way. The result is confusion.
"We have no direction. We have no mission. What are we supposed to be doing?" said one priest.
Meanwhile, Jugis rejects the notion that there are deep divisions among the clergy in the diocese along a restorationist/Vatican II divide.
"Each individual is unique, with a unique personality and talents and gifts, and any attempt to neatly box individuals into categories quickly falls apart," he wrote.
[Peter Feuerherd is a correspondent for NCR's Field Hospital series on parish life and a professor of journalism at St. John's University, New York.]
We can send you an email alert every time The Field Hospital is posted. Go to this page and follow directions: Email alert sign-up.
*An earlier version of this article misidentified the name of this group that issued the statement.
A version of this story appeared in the Feb 24-March 9, 2017 print issue.