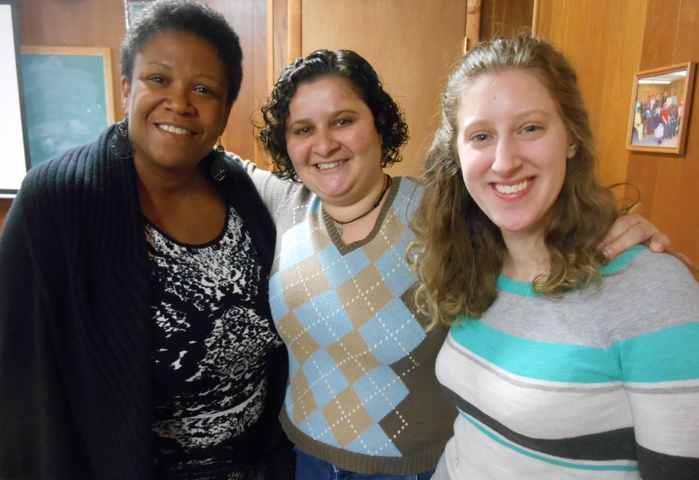 (From left) Gweyn Brown, Vania Christian dos Passos, Rachel Christian dos Passos (Mercedes Gallese)
Baltimore — November 25, 2015
It's Sunday after 11 a.m. Mass and there's a meeting in a basement at St. Matthew's Church here.
On the wall is a portrait of the photo of the Knights of Columbus founder. The two dozen or so gathered around a conference table-- most of them women -- begin with a discussion of a future fundraiser: How much should we charge for the donated apple cider? What about the cookies? After these questions are answered, a couple who will be married next week are congratulated, with jesting warnings about punctuality and the upcoming ceremony.
So begins the monthly meeting of LGBT Educating & Affirming Diversity (LEAD), with all the trappings of a typical parish organization gathering, businesslike yet informal, with its very presence at the heart of questions currently rocking a church dealing with competing questions about tradition and inclusion.
As the church moves from describing homosexuality as "intrinsically disordered" to Pope Francis' famous question "Who am I to judge?", the big questions loom in the background as LEAD pushes on with its fellowship, sharing stories about what this group means to its members. They freely express estrangement from the church universal, yet share the peace and solace they've discovered at St. Matthew's. It's a parish which boasts 45 flags in its sanctuary in a tribute to its ethnic diversity and offers rainbow colored pins with the fish Christian symbol to visitors at the LEAD meeting.
St. Matthew's prides itself on inclusion. Besides its ethnic and racial diversity, the Sunday liturgy is signed for the deaf. The sign of peace ritual extends for more than five minutes. Through LEAD, gays and lesbians have been formally invited into the mix. The result has been gratifying to those who have been extended a welcome.
"I love God, and I love myself, and it's unfair to think I have to choose between the two," said Victoria Moore, a lesbian raised in a southern town whose relationship with her mother became strained after she came out. After moving to Baltimore last year, Moore, raised in a Protestant church, found a home at St. Matthew's.
Vania Christian dos Passos, a former nun, said that closeted gays and lesbians were often provided a discreet place around the table in Catholic parishes. Yet, she said, "we don't want the crumbs from the table." Sitting next to her spouse, Rachel, Vania said she wants to fully participate in church life.
The meeting continued, with stories flowing about coming out, including reflections from parents and friends. A central theme emerges: it is not easy within the Catholic religious tradition. Some seek St. Matthew's out from far-flung Baltimore suburbs to experience what LEAD has to offer.
The group has its roots in a series of meetings in 2009 begun through New Ways Ministry, a group supportive of gay Catholics. After one gathering, the mother of a lesbian daughter and a gay son raised the challenge of what St. Matthew's Parish planned to do. After some fits and starts, the result was LEAD.
Early meetings included a showing of a video profiling Fr. Mychal Judge, the "Saint of 9/11" and New York City fire department chaplain who identified as a gay Catholic. His death while ministering to firefighters at the World Trade Center touched the world. His gay identity remained a secret, at least to many of those to whom the Franciscan priest ministered. Another St. Matthew's meeting on families' reaction to what it means to come out as gay attracted nearly 70 participants.
The group's mission statement calls for "modeling a community of faith and spirit that works toward openness and understanding" and that it will work to "continue to grow and demonstrate a unity of faith that transcends our differences and celebrates the gifts we are from God, our Creator." LEAD began with less than 10 and has now more than doubled in size.
Committed to what participants call a safe place to gather, LEAD has been public in its witness. Its participation in this year's Baltimore Gay Pride Parade elicited comments from onlookers surprised to see formal Catholic participation in an archdiocese led by Archbishop William Lori, a prominent opponent of gay marriage, who lobbied against a Maryland same-sex marriage initiative that passed in 2012.
Fr. Joseph Muth, pastor of St. Matthew's for the past 25 years, has carefully navigated the relationship with the archdiocese. A planned symposium on same-sex marriage was cancelled after objections from the Chancery. The group has been visited three times by auxiliary Bishop Denis Madden, who has pastoral responsibility for Baltimore city parishes. Muth and group leader Dick Ullrich have met with Lori. The archbishop accepted an invitation to a meeting as well.
The group maintains official sanction.
"They felt that because we cancelled the discussion (of same-sex marriage) we were willing to dialogue," said Muth. "They didn't see us as doing simply what we wanted."
The cooperation with the archdiocese -- including a feature story illustrated by a rainbow flag draped over a cross in the Catholic Review*, the archdiocesan newspaper -- has prevented LEAD from being cast aside and marginalized, said Muth, who has extensive experience in ministry to gays and their families, including leading New Ways Ministry retreats for the past five years.
Madden told NCR that the archdiocese is supportive of LEAD, reflecting Francis' inclusive style.
"I was impressed by them. They are good people," he said of LEAD participants he's met.
The discussions have been candid. "They know where the church stands," said Madden. "The pope is the perfect model for such situations. He emphasizes welcoming and loving all people. But the teaching of the church remains as it is."
St. Matthew's focus is on the pope's emphasis on welcoming. In a recent homily, Muth made a point that God's love extends to all the creatures of the earth, including Baltimore's "Ravens and Orioles, straight birds and gay birds."
Those finding a safe nest with LEAD continue to come forth with their stories: a woman who was disowned by her family after coming out as a lesbian. Another unable to talk for decades about sexual orientation with her lesbian sister. Another participant talked about her niece, who came out to her when she was 12, and who committed suicide when she turned 58. Such stories, say participants, can make support groups like LEAD a matter of literal life-or-death.
Local community organizer Gweyn Brown, a mother of a lesbian, said that congregations like St. Matthew's can provide an alternative for those, like herself, seeking solace from other churches which promote an anti-gay viewpoint.
"This meeting could be a light for people outside the Catholic faith," she said, noting that LEAD has been asked to consult with the Baltimore Police Department on community relations with the gay community.
While the group does outreach, it struggles with the tensions some of its members feel towards the wider Catholic church.
LEAD offers a safe space and it's like family, said Rachel Christian dos Passos, married to Vania. It is the thread that keeps her tied to the Catholic community. It could be considered a frayed, slight thread. The couple no longer go to Mass and are members of a United Church of Christ congregation.
"LEAD is a safe space for us to be our authentic selves," she said. Still, they long for a time when "LGBT couples can be equal to straight couples in the eyes of the Catholic church."
Meanwhile, the fundraisers, conferences, and heartfelt discussions continue at St. Matthew's. LEAD offers space for LGBT and their friends who continue to grapple about what sexual orientation means in a church moving from judgmentalism yet holding to its doctrines about the ultimate meaning of love and family. Where and how they fit in remains the ongoing question for the group in the church basement gathered after 11 a.m. Mass.
*An earlier version of this story included the wrong title for the Catholic Review.
[Regular Catholic press contributor Peter Feuerherd writes from Queens, N.Y.]
---
Editor's note: "The Field Hospital" is NCRonline's newest blog series, covering life in Catholic parishes across the United States. The title comes from the words of Pope Francis: "I see the church as a field hospital after battle. It is useless to ask a seriously injured person if he has high cholesterol and about the level of his blood sugars! You have to heal his wounds. Then we can talk about everything else. Heal the wounds, heal the wounds. ... And you have to start from the ground up."
"The Field Hospital" blog will run twice weekly on NCRonline.org along with feature stories and news reports about parish life in the U.S. If you have a story suggestion, send it to Dan Morris Young (dmyoung@ncronline.org) or Peter Feuerherd (pfeuerherd@ncronline.org).