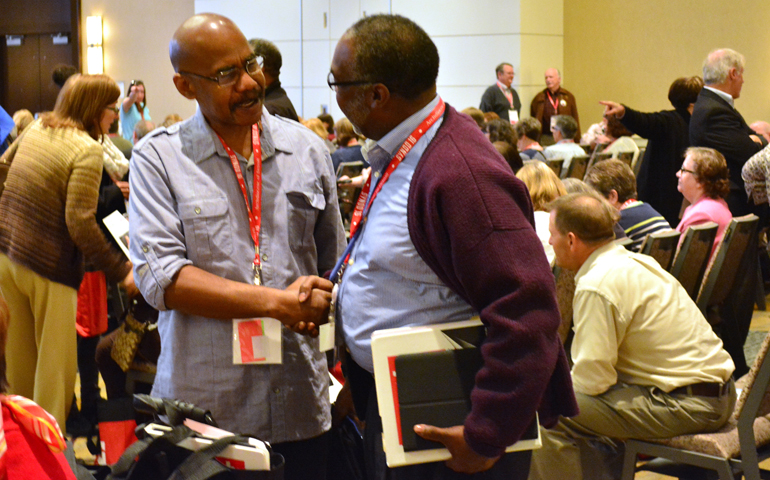 Synod members greet one another Nov. 18 during the opening session of the Detroit Archdiocese's synod. (CNS/Mike Stechschulte, The Michigan Catholic)
Editor's note: "The Field Hospital" blog series covers life in U.S. and Canadian Catholic parishes. The title comes from Pope Francis' words: "I see the church as a field hospital after battle. It is useless to ask a seriously injured person if he has high cholesterol and about the level of his blood sugars! You have to heal his wounds. Then we can talk about everything else. …"
If you have a story suggestion, send it to Dan Morris-Young (dmyoung@ncronline.org) or Peter Feuerherd (pfeuerherd@ncronline.org).
---
An archdiocesan synod in Detroit proposes that parishes provide spiritual formation for everyone, from preschoolers to senior citizens.
Seems like Erwin Mena can't help himself. He got convicted again for impersonating a priest in southern California. He seems to have been well-liked, but the civic authorities and the archdiocese are not pleased. Mena used his bogus clerical status to bilk parishioners out of thousands of dollars.
The Atlantic profiles the struggles of Cardinal Blase Cupich to address violence in Chicago.
In the Washington archdiocese, 27 parishes benefit from a Year of Mercy campaign to forgive debt.
Why did The Donald win? Here's a unique explanation: a Commonweal writer blames the lukewarm nature of American Catholic parishes for being sacramental filling stations which ignore a clear presentation of Gospel- and church-social justice values. Churchgoing Catholics went Republican this year, according to most post-election polls.
A Catholic parish in Oakland, Calif., copes with neighborhood change and violence by being true to its African-American Catholic traditions.
A parish music director in Florida is fired from her job. Her offense: she got cancer soon after taking the position. Her son wants the world to know her story.
[Peter Feuerherd is a correspondent for NCR's Field Hospital series on parish life and a professor of journalism at St. John's University, New York.]
We can send you an email alert every time The Field Hospital is posted. Go to this page and follow directions: Email alert sign-up.