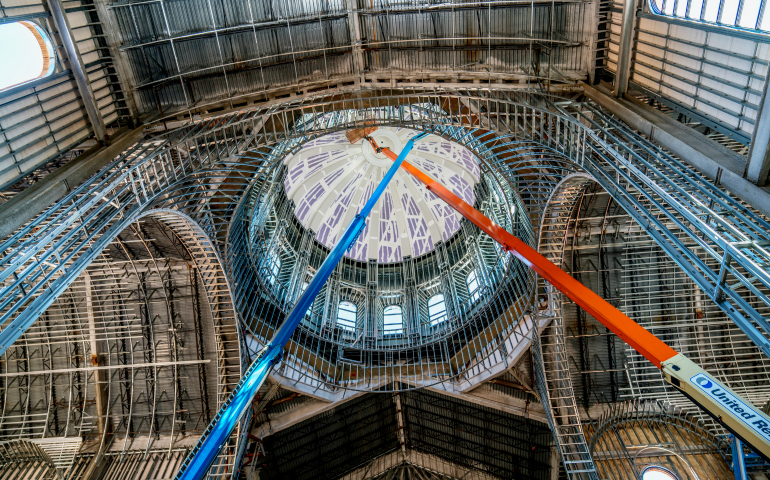 Construction progresses in September 2016 on the new Holy Name of Jesus Cathedral in Raleigh, North Carolina. The group Supporting Women in Ministry recently sent a letter to Pope Francis and others describing what it would like to see in a new bishop for the Raleigh Diocese. (CNS/Courtesy of the Diocese of Raleigh)
A suggestion for Gotham's shuttered Catholic churches: Immigration advocates are calling upon Cardinal Timothy Dolan to allow the use of closed churches as sanctuaries for immigrants threatened with deportation. The archdiocese is not supporting the idea. Churches and synagogues in the Detroit area are also discussing sanctuary.
The bishop of Yakima, Washington, is telling parishioners that if they are concerned about the unborn, they also need to care about the undocumented. Latinos make up some 70 percent of Catholics in the Central Washington region of the diocese and there is a high percentage of undocumented people among them.
A change for San Antonio's Anglican Catholic parish, Our Lady of the Atonement. It is now no longer under the authority of the Archdiocese of San Antonio, after being transferred to the Anglican Ordinariate. The situation was a matter of controversy, which seems to have been resolved with this latest move.
Parishioners from the Fort Wayne-South Bend Diocese in Indiana are poised to be "innkeepers" for the marginalized. The details are to come, but it seems that the recent U.S. Regional World Meeting of Popular Movements in California has inspired participants to take action.
The only traditionally African-American Catholic church is closing in Trenton, New Jersey. Parishioners recently marched to the chancery office to protest.
A Jacksonville, Florida, woman was arrested for allegedly bilking Catholic parishioners out of more than $100,000 by selling religious pilgrimages, canceling the trips and pocketing the cash. And a retired Michigan pastor is accused of stealing $500,000 from his former parish.
You want a parable with that mocha? Churches around Los Angeles, including St. Monica in Santa Monica, open coffee shops as a means to build church community all-week round.
Supporting Women in Ministry (SWIM), a North Carolina group devoted to advancing the work of women in the church, has sent a letter to Pope Francis and the apostolic nuncio in Washington, D.C., along with other bishops, describing what the group would like to see in the appointment of a new bishop for the Raleigh Diocese. The see has been vacant since December last year when Bishop Michael Burbidge was installed as bishop of Arlington, Virginia. SWIM urges that the new bishop follow the lead of Francis, in showing listening skills and a "ground-up approach rather than top-down." The letter notes: "We desire a bishop who practices mercy, inviting those estranged from the church by divorce, remarriage, abortion, homosexuality and other life circumstances to participate fully in the Eucharist and to return to the love of Christ." The group called for a bishop willing to include women in leadership and consultation, a willingness to ordain women as deacons, and having skills in multicultural ministry.
[Peter Feuerherd is a correspondent for NCR's Field Hospital series on parish life and is a professor of journalism at St. John's University, New York.]
We can send you an email alert every time The Field Hospital is posted. Go to this page and follow directions: Email alert sign-up.