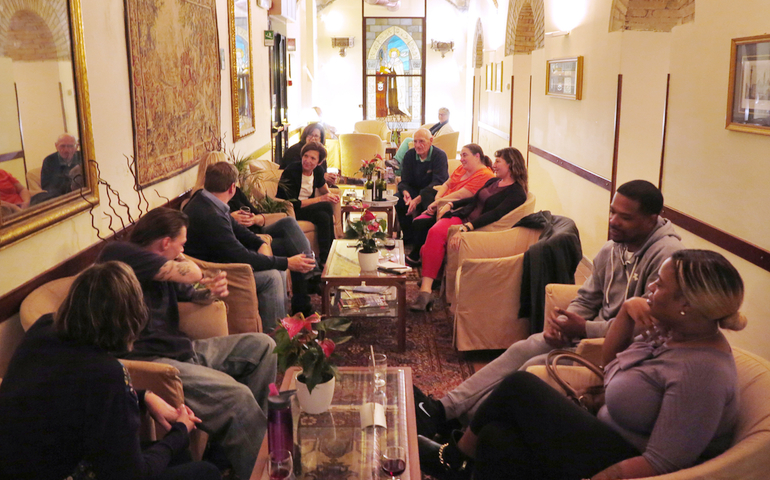 Pilgrims from the Cincinnati archdiocese's prison ministries are seen in Rome Nov. 3. (CNS/Junno Arocho Esteves)
Editor's note: "The Field Hospital" blog series covers life in U.S. and Canadian Catholic parishes. The title comes from Pope Francis' words: "I see the church as a field hospital after battle. It is useless to ask a seriously injured person if he has high cholesterol and about the level of his blood sugars! You have to heal his wounds. Then we can talk about everything else. ... "
If you have a story suggestion, send it to Dan Morris-Young (dmyoung@ncronline.org) or Peter Feuerherd (pfeuerherd@ncronline.org).
---
After a year of self-education, discussion and discernment on five social justice issues, San Francisco's St. Ignatius Parish has voted to focus on human trafficking. The parish commitment dovetails with Pope Francis' plea to the world on Monday to recognize the seriousness and extent of this "true crime against humanity." The magnitude of global human trafficking "is an eye opener for me — a sad one," a St. Ignatius parishioner emailed NCR. The Jesuit parish associated with the University of San Francisco fields a spectrum of outreach programs, including a handful of food-relief efforts — PB&J Brigade, Sandwich Saturday, Simple Needs Sundays, Shelter Meal Program, and an ongoing food drive. To mark the end of the Holy Year of Mercy at Nov. 19-20 Masses, members of St. Ignatius' five commissions — Outreach, Administration, Community, Formation and Worship will "wash the feet of their fellow parishioners in keeping with our model of servant leadership," a member of the Outreach Commission told NCR.
An insert and an article in San Diego's Immaculate Conception Parish's Sunday bulletin claimed Catholics voting for Hillary Clinton were hell-bound and that Clinton was influenced by the devil. The diocesan spokesman told reporters the statements did not reflect church teaching. San Diego Bishop Robert McElroy issued a Nov. 4 statement on distribution of political materials in parishes.
Tiffany, Jeffery and Dominic — all "returning citizens" after years of incarceration — share their stories with Catholic News Service while in Rome where they traveled from the Cincinnati archdiocese to attend the Nov. 6 Mass celebrated by Pope Francis for prison ministry workers. A recent Field Hospital blog made note of a handful of prison ministry efforts.
Christelle Hagen, a member of St. Michael Parish in Stillwater, Minn., founded Tiny Treasures in 2013 to support families grieving from the loss of their baby through miscarriage, stillbirth or early-infancy tragedy. Volunteers from around the country send her sewn, knitted and crocheted baby items that parents may use for their baby's burial. In some instances, burial clothing is made from donated brides' dresses. A group with a similar name — Tiny Treasures Sewing Circle — carries out a comparable ministry in Jacksonville, Fla.
Fr. Jamin David and Deacon Ryan Hallford of St. Margaret Queen of Scotland Parish in Albany, La., and St. Thomas the Apostle Chapel in Springfield, La., have developed a Home Starter Kit that can help families devastated by the historic flooding in southwest Louisiana. Modeled in part after the St. Vincent de Paul Society's national House in a Box program, David and Hallford's "kit" allows families an opportunity to purchase some furniture at cost or, depending on circumstances, no cost. The Baton Rouge diocese has been deeply involved with outreach to flood victims.
[Dan Morris-Young is NCR's West Coast correspondent. His email is dmyoung@ncronline.org.]
We can send you an email alert every time The Field Hospital is posted. Go to this page and follow directions: Email alert sign-up.