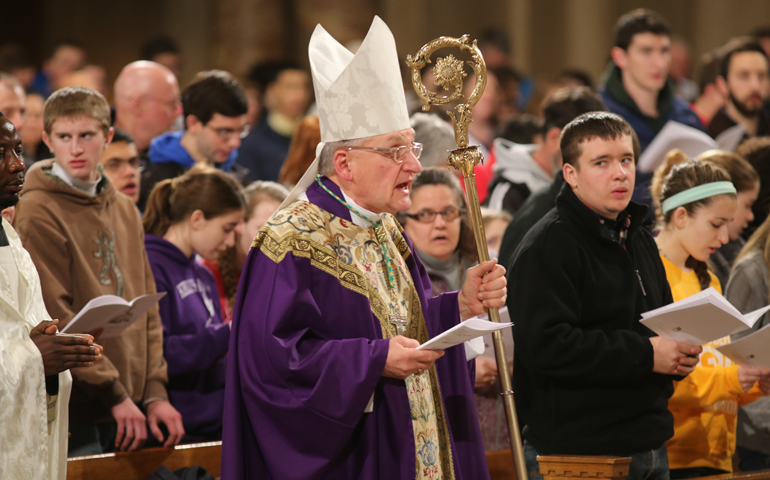 Bishop David Zubik of Pittsburgh walks with his crosier during the closing Mass for the National Prayer Vigil for Life at the Basilica of the National Shrine of the Immaculate Conception in Washington Jan. 22. (CNS/Bob Roller)
Parishes in Western Pennsylvania's Washington County are consolidating as part of a Pittsburgh diocese plan.
A lesson for parishes who push partisan politics: A Wall Street Journal article describes how this post-election season is alienating some Christians from their congregations. The pro-Trump messages heard in some Catholic parishes and evangelical churches this year are turning off young people, especially those from minority backgrounds. This article — behind a paywall but worth accessing — profiles a young woman alienated from evangelical Christian life because of her church's support for a candidate who targeted immigrants and minorities. If you want to evangelize, open support for retrograde politics is not attractive to many. This is a quiet disaster for churches.
What makes a great parish? Focus on Sunday preaching and music, says a New York pastor, describing how parish life is moving from basic geography to "destination" churches. Would Pope Francis agree? Doubt it. If anything, the pope focuses more on what parishes do during the week in terms of service in the model of the field hospital.
A closed parish in the Philadelphia archdiocese comes to life for a congregation of Anglicans who are now embracing Roman Catholicism, while retaining much of their traditions and worship style.
Also in Philadelphia: a study indicates the economic clout of churches, both Protestant and Catholic, and the hole they leave behind when they close in struggling neighborhoods.
A University of Notre Dame program brings young pastoral leaders-in-training to Utah.
The new cathedral in Orange County, Calif., will include a shrine to the Blessed Mother popular with Vietnamese Catholics, indicative of their growing influence in the church in southern California.
Kentucky Catholics come together to promote a vision of social justice.
The number of Catholics is growing in Cleveland. Texas, that is. The Beaumont diocese is purchasing a golf course to build a new parish.
[Peter Feuerherd is a correspondent for NCR's Field Hospital series on parish life and a professor of journalism at St. John's University, New York.]
We can send you an email alert every time The Field Hospital is posted. Go to this page and follow directions: Email alert sign-up.