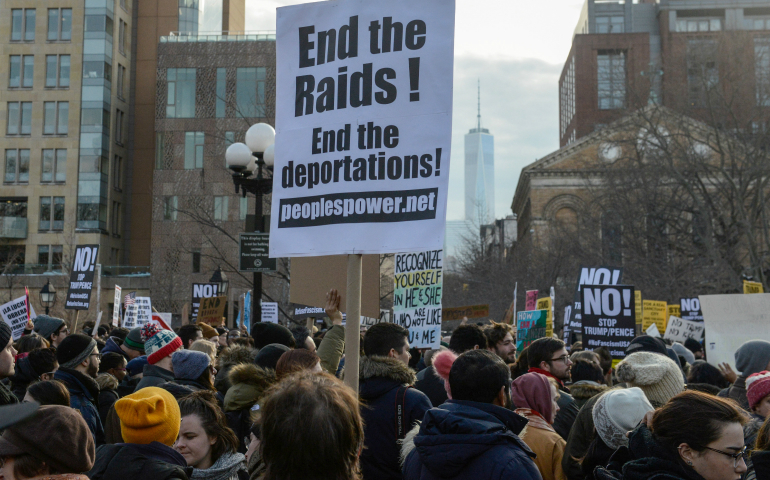 People participate in a Feb. 11 protest against U.S. President Donald Trump's immigration policy and the recent Immigration and Customs Enforcement raids in New York City. (CNS photo/Stephanie Keith, Reuters)
On any given Sunday, the majority of children in the pews of Catholic churches across the United States are Latino. Many of them now sleep uneasily, as President Donald Trump widens the law-enforcement net directed against the undocumented.
Their pastors have sensed increased anxiety and have responded by providing their parishes with how-to sessions on what to do, for example, when immigration authorities knock on the door and when law enforcement actions threaten to break up families.
A tenuous life for undocumented immigrants has gotten more so.
"They have to be very careful and very deliberate," Jesuit Fr. Mark Hallinan, pastor of Our Lady of Mt. Carmel-St. Benedicta-St. Mary of the Assumption Church on Staten Island, N.Y., told NCR about his largely Mexican immigrant congregation.
As in other churches where there are large numbers of undocumented immigrants, parishioners are being told to avoid run-ins with law enforcement, particularly in traffic violations. They are also being cautioned not to travel via plane, lest their identifications trigger an investigation into their status. For undocumented New Yorkers, travel in the upstate Buffalo-Syracuse corridor is also discouraged, as it lies within a high-priority immigration enforcement region near Canada.
The anxiety has been propelled by what is perceived as a stepped up enforcement of immigration laws, as some 650 allegedly undocumented immigrants were snapped up over a series of raids that began the weekend of Feb. 11. Immigration Customs Enforcement (ICE) said the arrests were routine.
But that did not assuage most church immigration advocates. The Trump Administration has expanded the criteria it will use to deport immigrants. It now includes those who use false documents to obtain jobs, a routine practice in many immigrant communities. It has put many Latino Catholics on edge.
The expansion of enforcement criteria expands the net for undocumented immigrants established by the Obama Administration, which officially targeted for deportation those immigrants with serious criminal offenses. The Obama Administration deported about 2.5 million, a number greater than any previous administration. At the same time it established protection from deportation of those who were parents to U.S. citizens or were brought to the United States as children.
Those deported in the past week included Guadalupe García de Rayos, 35, a member of Queen of Peace Parish in Mesa, Ariz. García de Rayos, a wife and mother of two, was previously arrested for working with a false Social Security number. Last week, she was sent back to Mexico after having lived in the U.S. since she was 14. In Seattle, a 23-year old man was placed in detention pending orders for deportation even though he has been living in the U.S. under the Obama Administration's Deferred Action for Childhood Arrivals (DACA) program. ICE officials claimed he was a gang member, which he denies. And in Denver, a woman, 45, whose stay of removal (deportation) had expired sought sanctuary in a Unitarian church.
Despite Trump Administration protestations that the recent raids are simply business as usual, pastors and their parishioners see them as the first shots fired in the president's quest to fulfill anti-immigrant promises he made in his election campaign. Trump's first campaign speech referred to Mexican immigrants as rapists and drug dealers, and he regularly promised to deport those he said were taking advantage of lax immigration enforcement to commit crimes.
Fr. Raul Marquez, pastor of St. Peter's Church in Portland, Ore., told NCR the Mexican immigrants who comprise most of his parish are also feeling increased anxiety as a result of the Trump presidency.
They have also been told that now is not a good time to travel and to make sure they do not encounter traffic stops, particularly if they have previous convictions.
On Jan. 29, four men shouted anti-Catholic and anti-immigrant sayings outside of St. Peter's, disrupting Sunday Mass. But dozens of Portlanders came out the next week and demonstrated their support for the rights of immigrants.
That show of support, said Vasquez, "was the greatest news."
Sister of St. Joseph Veronica Roche, a longtime advocate for immigrants in Camden, N.J., is a community organizer for PICO, which has sponsored know-your-rights seminars for immigrants in Camden churches.
She said that immigrants are counseled to make a "Plan B" in case they are picked up by the authorities. That plan should include making provisions for children, particularly those who are U.S. citizens; storing away money for expenses in an emergency; and having a lawyer on call.
Representatives from the Camden police department have attended the meetings, she said, to assure residents that they should not fear deportation when they report crimes, a standard practice in many urban areas.
Horace "Tuck" Grinnell, pastor of St. Peter's Parish in Washington, Va., said immigrants in his rural area, a part of the Diocese of Arlington, are also being told their legal rights.
Perhaps the most important of these is the right to remain silent, he said. Immigrants are being told, if they are questioned by authorities, to provide their names, but are urged not to sign any papers, to avoid being tricked into signing their own deportation orders. They are also told not to open their doors to authorities unless they are provided with a warrant signed by a judge.
Grinnell said that while there have been no recent raids that he's heard of in the immediate area of his parish, there is increased anxiety. "The children are terrified because they worry about their parents," he said.
In Las Cruces, N.M., Deacon Leonel Briseno works with CAFE, a local immigrant rights group. Las Cruces is about an hour's drive from the border with Mexico.
Briseno, a second-generation Mexican-American who also directs the family life office for the Las Cruces diocese, said that the recent immigration crackdown is troubling.
"We are a border community. Many of our families don't have a border," he said, noting the number of families with relations on both sides of the proposed Trump border wall.
Recent events have discouraged young DACA participants, said Briseno. They no longer trust the promises made by the federal government when the Obama Administration began the program. One local college student, a DACA participant, worries that the government now knows his address. His grades suffered as he began to wonder what the purpose of education is in his tenuous situation.
Briseno, himself a U.S. citizen, knows that the history of immigration crackdowns can affect those of Latino ancestry regardless of status.
"We're back to where we were in the 1950s," he said, a time when crackdowns on Mexican immigrants swept up legal citizens as well as the undocumented.
Fr. Kenneth Hallahan, who has ministered to immigrants in the Camden Diocese for 27 years, said some of his parishioners have expressed anxiety about what they hear about ICE raids across the country. Others, he said, see the Trump Administration as blustering and expect that the situation will not be very different from what it was under Obama.
In any case, he said, the church recognizes that "these are our people." He regularly quotes Leviticus 19:34, which calls upon love for the foreigner for "you were once aliens in the land of Egypt."
Those who say we are a nation under God, he said, often don't carefully look at that part of Scripture. Punitive actions directed against immigrants, during a time when children are anxious because they don't know if their parents will be deported, show that "we are not under the God of the Bible."
[Peter Feuerherd is a correspondent for NCR's Field Hospital series on parish life and a professor of journalism at St. John's University, New York.]
We can send you an email alert every time The Field Hospital is posted. Go to this page and follow directions: Email alert sign-up.