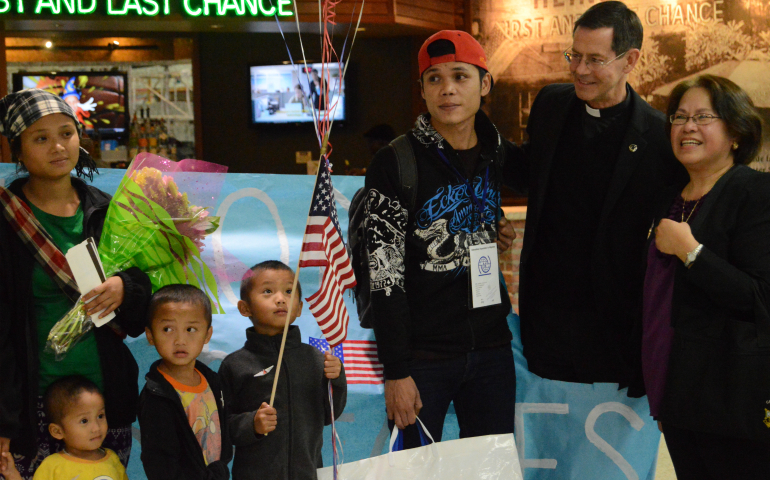 Fr. Lawrence D'Anjou, pastor of St. Raymond Parish in Dublin, Calif, and Tess Chiampas (far right), chair of the parish's refugee resettlement team, stand with Paw Sher Blay (left), her husband, Cha May Htoo, and their three sons after welcoming the family at the Oakland airport, Feb. 25. (Michele Jurich/courtesy of The Catholic Voice, Oakland)
In the San Francisco Bay Area, where the average monthly rent for a two-bedroom apartment in Oakland is $3,252, parishes helping to resettle refugees face a serious challenge -- how to secure affordable housing for them.
Each arriving refugee receives a one-time grant of $925 from the U.S. State Department to cover initial costs, including food and housing, for the first 30 days -- a sum that doesn't stretch very far, even when parishioners have stepped up to help. Entry-level jobs, the most likely first step for refugees, offer no relief from high rents.
This housing crisis was unforeseen when Oakland Bishop Michael Barber, in his Christmas message, invited the diocese's 84 parishes to each adopt a refugee family during the Year of Mercy. Response to the call was enthusiastic.
Within weeks of the bishop's request, the first family in the new initiative, part of refugee services at Catholic Charities of the East Bay, arrived from a camp in Thailand.
Their co-sponsoring parish, St. Raymond in the East Bay suburb of Dublin, had quickly mobilized to ready a low-rent house, procured for them by Catholic Charities. When Cha May Htoo, Paw Sher Blay and their three young sons walked off the plane at the Oakland Airport, a small group of parishioners and St. Raymond's pastor, Fr. Lawrence D'Anjou, welcomed them, settled the children into car seats, and drove the Burmese family to their new home in an Oakland neighborhood where other ethnic Karen people were already living.
Very soon, however, housing costs began to skyrocket. Sponsoring parishes, along with the resettlement staff at Catholic Charities, were having great difficulty finding safe and affordable rentals for other refugee families.
In the island city of Alameda, the 80-member four-parish resettlement team had to place their refugee family in an extended-stay hotel for several weeks as they searched throughout the area for an affordable rental.
"I kept thinking about the Holy Family's struggle to find a room at the inn, and I knew that our efforts were the work of Christ," said Immaculate Heart of Mary Sr. Patricia Nagle, who headed the team's housing committee and is a member of St. Philip Neri-St. Albert the Great Parish.
Nora Peterson, a parishioner of St. Joseph Basilica and part of the core team, placed announcements about the housing search in the four church bulletins, explaining that some landlords had turned them down because of the family's refugee status.
Finally, the relative of a parishioner offered an apartment at below-market rent and the Afghan family of three had a small place they could call home. By the time they moved in, the husband was working at a halal grocery.
---
Related: California retreat center houses Muslim refugees in transition
---
The Catholic Community of Pleasanton has had its Afghan refugee family in a local hotel since their arrival three months ago.
"Landlords generally have been unwilling to rent to someone who has no U.S. credit record, rental history or job history, and most require that tenants earn monthly income of some multiple of the monthly rent," Deacon Joe Gourley wrote on the parish website. "I understand their desire to avoid financial risks, but I am disheartened by hints of prejudice. We need to pray for one another about this."
Steve Mullin, parish outreach manager at Catholic Charities of the East Bay, said he hopes Catholic landlords will come forward to help. If the affordable housing situation continues to deteriorate, he said, the agency's resettlement efforts are at risk.
Despite the housing challenge, parishes remain committed to the effort, said Mullin. Twelve parishes have already welcomed families and another 26 are either waiting for a family or discerning how to get involved.
Each family is matched to a parish through Catholic Charities' refugee services. Under the direction of Dominican Sr. Elizabeth Lang, the agency has been resettling refugees in the Oakland diocese since the end of the Vietnam War. Refugees resettled through the current co-sponsorship program came from Afghanistan, Bhutan, Burma, Eritrea, Iraq and Yemen. A Syrian family will arrive in late September.
Every refugee coming into the U.S. today has undergone a long and thorough vetting process that starts with registration with the United Nations High Commissioner for Refugees. The UNHCR determines whether the refugee can be resettled in their native country, in the country to which they fled, or in a third country.
Those designated to come to the United States must be approved by the U.S. Refugee Admissions Program, coordinated by the State Department. "Because of all the security vetting, these refugees are the safest people coming into the U.S." said Christopher Martinez, chief program officer for Catholic Charities of the East Bay.
Upon approval, the individual refugee or refugee family is assigned to one of nine approved agencies for resettlement, among them the U.S. Conference of Catholic Bishops. The bishops' conference only accepts refugees who have a recognized "U.S. tie," a person already living in the U.S. who is either a relative or friend of the refugee.
Based on the tie's location, the bishops' Migration and Refugee Services asks a local Catholic sponsoring agency, usually Catholic Charities, to receive them. These affiliated Catholic agencies resettle about 30 percent of the up to 70,000 refugees coming to the U.S. each year. The entire process can take about 18 months, but once the final approval takes place, the refugees often arrive very quickly.
In the case of Htoo and Blay, the Dublin parish's resettlement team had less than a week to clean and furnish the two-bedroom rental, stock the kitchen with culturally appropriate foods, and begin planning how to help the couple and their sons adjust to life in northern California.
Both adults had been living in the Thai camp since they were young teenagers. They had fled civil war in their native Burma (also known as Myanmar) because of their ethnic Karen identity and Christian faith. The couple met at the camp, where their three sons, now 7, 5 and 2, were born.
"There would be no hope for us if we stayed in the camp," said Htoo in a video posted on the Catholic Charities' website. "Every day was the same. There was no future." Added his wife, who'd lived in the camp since she was 12: "I felt like my children had no future."
Tess Chiampas, a Filipina who came to the United States in 1995, led St. Raymond's team in resettling the family. She called upon parish groups, including the Knights of Columbus, the Catholic Daughters of the Americas, and the St. Vincent de Paul Society, to help with what she describes as a "gigantic task."
Besides preparing the house, team members took the family to apply for assistance programs, arranged for the couple to get private tutoring in English (paid for by the parish), and helped enroll the two older boys in an Oakland public elementary school with special programs for newly arrived immigrants.
The youngest child remains at home with his mom while the dad travels daily with other Burmese refugees to a job at a high-volume thrift store in neighboring Hayward.
Six months after the family's arrival, Chiampas and other team members continue to offer emotional support as well as help with shopping and how to use public transportation, parks and libraries. The parish's financial assistance has also continued. Recently, they bought public school uniforms for the two older boys.
In Alameda, the deanery-based resettlement team is relieved that its young family was housed in time for a child's first birthday. But other needs remain, including ongoing assistance with government paperwork to qualify for certain benefits. Members found a pediatrician who treated the baby at no charge when he got sick, and one parishioner bought some bilingual (Dari/English) books to help the 21-year-old mother begin to learn English. The couple's families in Afghanistan are still at great risk, so the resettlement team asked that the couple's identity remain anonymous.
Peterson and Anna Rossi, co-chair of the resettlement core team, extol the generosity shown by parishioners who donated more than $20,000 toward the family's resettlement. Initially, the money covered the hotel bill and now helps the couple make up the difference in rent between what is owed and what the husband earns.
What advice do Rossi, Peterson and Nagle have for other parishes that will soon welcome a refugee family?
Learn as much as possible about the distinct cultural and social mores of the area from which the refugees are coming. For example, when their Alameda family was offered a chance to share a house with another Muslim refugee family, neither husband would agree. The reason? To leave a wife in a house occupied by an unrelated man would bring permanent public shame to the woman. What seemed to the team like a logical solution to the housing search clearly was not.
Be sensitive to the traumas refugees have experienced. "Most of us don't know what it's like to live with war, with constant fear, with no freedom to move, with family members saying each time someone leaves the house, 'I hope to see you again,' " Rossi said.
Be slow about imposing American customs and beliefs. This is particularly important around differing expectations of women, said Nagle.
Remember that the family is likely to feel isolated, especially if they are living in an area without many members of their ethnic or faith community. Yet be careful about making introductions unless you know it is culturally appropriate to do so. The U.S. tie can be helpful with adjustment, but might not have many financial or social resources to offer.
Foster the refugee family's independence rather than rushing in too quickly to fix every situation. The goal is to have each refugee family achieve self-sufficiency as soon as possible, added Jude Stephens, Family to Family coordinator at Catholic Charities, who is assisting in the resettlement effort. Every refugee receives an orientation before leaving for the U.S., she said. They are told that they will be expected to find work as soon as possible. Those who left behind good jobs and a level of influence or affluence are reminded to lower their expectations. It will take time and lots of hard work to achieve success.
Keep parishioners informed through bulletin announcements about the team's activities and how the family is progressing.
[Monica Clark is NCR West Coast correspondent. Her email address is mclark@ncronline.org.]
Editor's note: "The Field Hospital" blog series covers life in U.S. and Canadian Catholic parishes. The title comes from Pope Francis' words: "I see the church as a field hospital after battle. It is useless to ask a seriously injured person if he has high cholesterol and about the level of his blood sugars! You have to heal his wounds. Then we can talk about everything else. …"
We can send you an email alert every time The Field Hospital is posted. Go to this page and follow directions: Email alert sign-up.