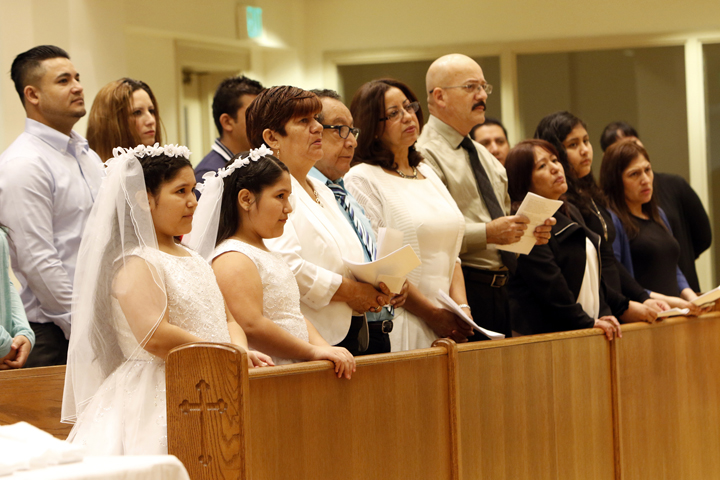 Twins Lisbeth and Lisseth Cano, 8, attend Mass April 2 with their family at St. John of God Church in Central Islip, N.Y. The girls were baptized, confirmed, and received their first Communion at the liturgy. (CNS/Gregory A. Shemitz)
NCR continues to report on responses to Pope Francis' reflection on family life, Amoris Laetitia ("The Joy of Love"). You can also read reactions from Part 3 of this series, Part 2, and reactions from the day the document was released.
Keep checking back throughout the day for more updates.
---
Family life ministers find Amoris Laetitia enlightening, affirming, challenging
A trio of long-time family life ministers found Pope Francis' apostolic exhortation Amoris Laetitia ("The Joy of Love") a mix of exciting, enlightening, encouraging, affirming and also challenging for the future of their work.
Colleen Gerke, head of the Cincinnati archdiocesan family life office and president of the National Association of Catholic Family Life Ministers, said Francis is "reaffirming" the beauty and goodness of sacramental marriage and the domestic church.
"And that we need to be about listening and walking with people, and helping them to experience the joy that is possible and that they're already experiencing," she said.
While still working through the 263-page document, Gerke can already see some ways it may be used, both by family life ministers and families themselves. For instance, she can envision married couples using Chapter 4, titled "Love in Marriage," as a tool to enrich their marriages, either individually or with other couples.
The language in Chapter 4 on ideal standards of marriage particularly struck Lydia Pesina, director of the family life office for the Brownsville, Texas, diocese.
In paragraph 122, Francis wrote, "There is no need to lay upon two limited persons the tremendous burden of having to reproduce perfectly the union existing between Christ and his Church, for marriage as a sign entails 'a dynamic process…, one which advances gradually with the progressive integration of the gifts of God.'"
"We always talk about the ideal," Pesina said, "that when we get married as couples we're meant to mirror and reflect the union of Christ and his church. And that's true, but it takes a lifetime to build a marriage."
She said that the passage offers "a wonderful reflection" for all married couples, whether for a few years or many, "to say we're all in process and we keep working at building a marriage -- and building a marriage that's both healthy, happy and holy."
Pesina, a National Association of Catholic Family Life Ministers board member and nearly 30-year veteran of family ministry, added she was happy to see the exhortation acknowledge that longer lifespans also mean the close, and exclusive, marriage relationship now must persist for as many as six decades, bringing with it new endurance challenges for their love.
"I've noticed that just in how many more couples are living longer and how much there is a need for us to assist one another in living healthy marriages across the lifespan at every age and stage of the family lifecycle," she said.
Pesina highlighted Francis' practical description of what she called the "healthy tension" that's often necessary for not merely a long marriage, but one that's alive.
"Marriage is an inevitable mixture of enjoyment and struggles, tensions and repose, pain and relief, satisfactions and longings, annoyances and pleasures, but always on the path of friendship, which inspires married couples to care for one another," Francis wrote in paragraph 126.
"That describes just about any stage of the marriage lifecycle or a family lifecycle. And it is within that tension that we can live the love of God within our everyday struggles," she said.
Toward the beginning of marriages, Pesina read Amoris Laetitia as both affirming and challenging efforts at accompanying married couples. Affirming for the one-on-one pairing sessions the southernmost Texas diocese offers engaged couples through lead married couples, but challenging in asking that accompaniment to extend throughout the marriage lifecycle.
"I think that's one of the things where we've been talking a lot. We do offer some marriage enrichment but we see the need of really assisting couples, especially the first few years of marriage," she said, adding the goal is to offer assistance for couples in crises, but to also be with them beforehand to mitigate the potential that such events even emerge, or to manage them in a healthy way.
That today's social climate poses numerous distractions and deterrents to family life offered Francis and the synod fathers a window for a refocus on family issues, Gerke said.
"The culture has changed radically since Familius Consortio. Yet we are still dealing with some of the same things," she said.
Lauri Przybysz, president-elect of National Association of Catholic Family Life Ministers, said she was pleased to see the pope address the issue of domestic violence and concerns for women. The education director of Catholics for Family Peace, an initiative aimed at addressing domestic abuse, Przybysz said she plans to return to paragraph 54, where Francis first addresses domestic violence, for "words of wisdom from him."
As for Amoris Laetitia more broadly, she said a primary takeaway from families must be a feeling of welcome, not just from the text but from the Catholic response to it.
"I hope that the hearts of individual Catholics will be full of compassion for their neighbors and for their family members who may be in not perfect situations yet, but that they would be embraced as part of the community and come along as part of the family," Przybysz said.
In a way, the exhortation, she said, is a document for those involved in family ministry but also the larger engaged Catholic community, who are charged to be ambassadors sharing Francis' message with those estranged from the church unlikely to encounter it during a sermon. She hopes that an early effect will see more couples encouraged to pursue sacramental marriage.
"[Francis] is really calling on people to think first of people before they think of the rules, to really see people," she said. "And it's important for us to know what the rules are, but to first think of the people."
"Certainly, the pope wants us to open the door wider," Przybysz added.
-- Brian Roewe, posted at 9:56 a.m. Central