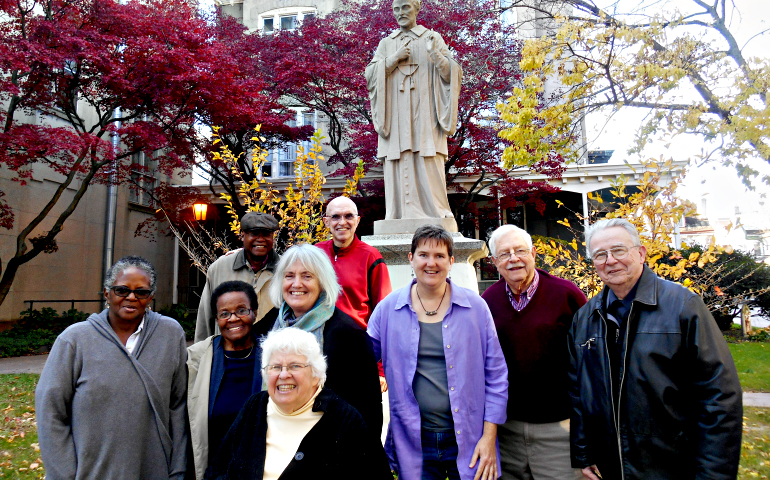 Members of the St. Vincent de Paul Catholic Community in the Germantown section of Philadelphia pose in front of a statue of the parish's patron saint. (Mercedes Gallese)
Philadelphia — December 8, 2016
Vincentian Fr. Sy Peterka, pastor of St. Vincent de Paul Church in the Germantown section here, likes how people describe his congregation.
"That's the social justice parish," Philadelphia Catholics will tell him.
If one equates social justice with efforts to reach the poor and the threatened, Peterka can build a good case for the label. St. Vincent offers:
An emergency food pantry;
Participation in the "New Sanctuary" movement, assisting immigrants to gain legal status;
Welcoming to gay, lesbian and transgender Catholics;
A twinning relationship with a parish in El Salvador;
A program focused on racial reconciliation;
Assistance to poor parents who send their children to Catholic schools;
Shelters for the long-term homeless, those transitioning to work, and for former convicts;
A Catholic school whose enrollment has increased from 225 students to 425 over the past four years, drawing parents — many non-Catholics — seeking an alternative to the hard-pressed Philadelphia public schools;
Active membership in Philadelphians Organized to Witness Empower and Rebuild (POWER), an ecumenical organization devoted to social justice concerns, such as minimum wage legislation and racial justice.
And that is just a partial list.
Parish leaders interviewed by NCR suggested the social action dimension of the parish is rooted in its Vincentian mission. At a parish conference room, a painting of St. Vincent, the 17th-century French priest known for his ministry to the poor, hangs alongside a portrait of Martin Luther King Jr.
"There is a sense of ownership among the parishioners," said Sharon Browning, a self-described "Germantown Catholic" with a long affiliation with the parish.
Creative ministry is in part a response to the parish's location. It is the last of what were once 12 parishes in Germantown, a section of Philadelphia that features older restored houses, spacious parks and some of the most difficult poverty in the city. The Philadelphia archdiocese has closed scores of parishes in recent years, both in the city and in nearby suburbs.
It is a neighborhood where Philadelphia's issues of housing, unemployment, crime and gentrification collide. St. Vincent takes a stab at tackling most of them.
For example, the parish hosted an archdiocesan-sponsored series on racial reconciliation this year, bringing together Catholics from all over the metropolitan area.
There, African-American parishioners told stories about the historical struggle of being black Catholics in Philadelphia, including accounts of being spat upon by white Catholics going to Mass, as well as recollections of rules that forbade black Catholics from many parishes. There were also the bright spots in Philadelphia Catholic history, such as St. Katharine Drexel, who ministered to both black and white Catholics in early Philadelphia.
"It was one of the most moving experiences," said Browning, who noted, "We have the resilience of black folks who have endured." It's a lesson, she said, appropriate for those discouraged by this year's elections.
The discussion process, which lasted over weeks, provided a safe space for all to share concerns, said Wiley Redding, co-chair of the parish council. "When you mention race, the room becomes quiet" in many places, but not so at St. Vincent.
St. Vincent itself has come a long way on racial issues. Begun in 1851, it began as an Irish parish, attacked early on by Know-Nothing mobs in anti-Catholic, anti-immigrant actions. In the style of many ethnic-centered Philadelphia parishes, African-Americans and, later, Italians and other later immigrants were discouraged from joining. One parishioner, Joy Wuenschel, was baptized in a nearby parish because her family was told that St. Vincent would not baptize those who were not Irish. Her background is half-Italian.
The consolidation with nearby parishes has brought St. Vincent a diverse ethnic mix, with its 400 families consisting of African-Americans, whites and Latinos (a Spanish-language Mass began in November). St. Vincent is a parish of choice, as many parishioners travel in each weekend from the suburbs and other city neighborhoods, drawn by the welcoming liturgies and social action commitments.
"It hasn't been an easy process," said Sheila Sharpe, 30 years a parishioner, active in Bible study, RCIA, and now a student at St. Charles Borromeo Seminary's program in black Catholic ministry. "No matter how painful it is, we keep plugging along."
Peterka said the parish's welcoming extends to many in the neighborhood, including non-Catholics who are drawn to Mass by the parish's extensive social service commitment. A Catholic Leadership Institute survey of 90 national Catholic parishes put St. Vincent as No. 1 in welcoming newcomers. While there is no formal LGBT group, gays and lesbians are among those attracted by the welcoming.
The parish embraces Pope Francis' focus on the church as a field hospital, binding the wounds and open to all. "We are trying to live what Pope Francis says. We reach out to the margins, not just to the center," said Peterka.
Not that there aren't disagreements. Browning, for one, would like to see the parish embrace women's issues more fully. The parish used to allow women to preach at Sunday Mass, but that is no longer allowed, per archdiocesan edict. Philadelphia Archbishop Charles Chaput recently said in a speech at the University of Notre Dame that he would prefer a smaller church that was more devoted than a wider church with members who lack adherence to Catholic teaching.
St. Vincent de Paul prefers to set out a wide net.
Liturgical rubrics can be enforced, said Peterka. But, he added, "you can't legislate compassion. You can't legislate love. You can't legislate reaching out to another person where they are at."
[Peter Feuerherd is a correspondent for NCR's Field Hospital series on parish life and a professor of journalism at St. John's University, New York.]
We can send you an email alert every time The Field Hospital is posted. Go to this page and follow directions: Email alert sign-up.
A version of this story appeared in the June 2-15, 2017 print issue.