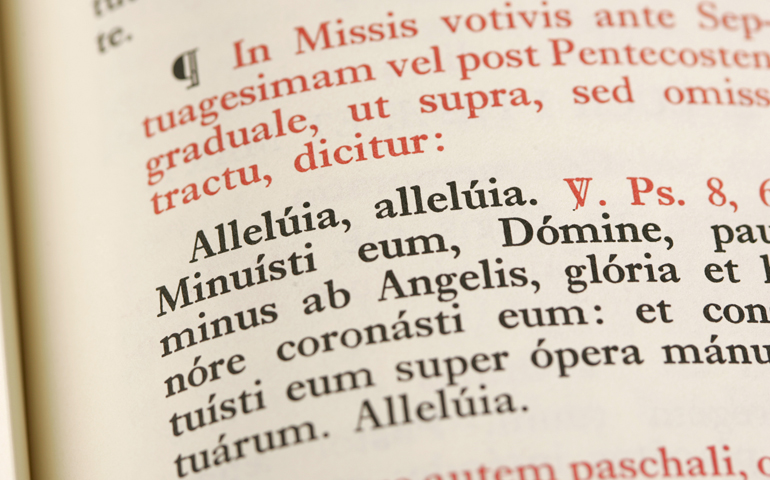 Page of a reproduction of the 1962 Roman Missal (CNS/Nancy Wiechec)
Within church circles, restorationism, a movement to "renew the renewal" of Vatican II by bringing traditionalist approaches to liturgy and governance of parish life, is often denied and frequently argued about.
It might be akin to how a Supreme Court Justice famously viewed pornography: hard to define, but you know it when you see it.
In parishes across the country, young pastors, raised in a post-Vatican II world, are incorporating costumes, vestments, music and other elements that have their roots in practices preceding 1965.
---
Related: North Carolina parishioners clash with pastor, petition for his removal (Dec. 8, 2015)
---
For some, including Pope Francis, one of its most acerbic critics, the movement is rife with clericalism, asserting priestly powers in parishes where laypeople had grown accustomed to participation in ministries and governance. The pope has railed against a resurgent clericalism, in one case telling a group of religious formation directors about "little monsters" who use ordination to lord it over others.
Benedictine Fr. Anthony Ruff, associate professor of theology at St. John's University in Collegeville, Minn., told NCR that restorationism is a reaction to growing secularization and rapid social change, such as the widespread acceptance of same-sex marriage and declines in Mass attendance.
"There is fear of a rapidly changing world. I think it is driving people to bad solutions," he said.
---
Related: North Carolina 'Church in Exile' battles restorationists (Jan. 26, 2017)
---
The idea that the changes of Vatican II needed "a reform of the reform" rooted in traditional practices developed during the papacy of St. John Paul II via Cardinal Joseph Ratzinger, then the head of the Congregation of the Doctrine of the Faith.
"These ideas developed into a school of thought," said Ruff, noting they took on more power when Ratzinger became Pope Benedict XVI.
In 1984, permission was given to allow for the Latin Tridentine Rite Mass with the permission of the local bishop, a right extended four years later. The changes were noticed in seminaries.
Ruff noted that younger seminarians have been raised in a time when practicing the faith was more of an intentional, and less of a cultural, act. Part of a generation that is less inclined towards formal religious practice, a cohort of seminarians have latched on to distinctive features of Catholicism.
Some seminary rectors have encouraged these developments, with their seminaries viewed as restorationist pipelines. Sometimes restorationist groups among seminarians are more informal. Some go to internet sites, such as one run by Fr. John Zuhlsdorf of Madison, Wis., for inspiration. Zuhlsdorf's site is heavy with photos of colorful vestments, liturgical regalia, and scathing criticism of Pope Francis.
Ruff regularly hears reports that, while Francis is extraordinarily popular among practicing Catholics, restorationist adherents remain energetic.
"They are more motivated," he said.
[Peter Feuerherd is a correspondent for NCR's Field Hospital series on parish life and a professor of journalism at St. John's University, New York.]
We can send you an email alert every time The Field Hospital is posted. Go to this page and follow directions: Email alert sign-up.
A version of this story appeared in the Feb 24-March 9, 2017 print issue under the headline: Priests from the restorationist pipelines.