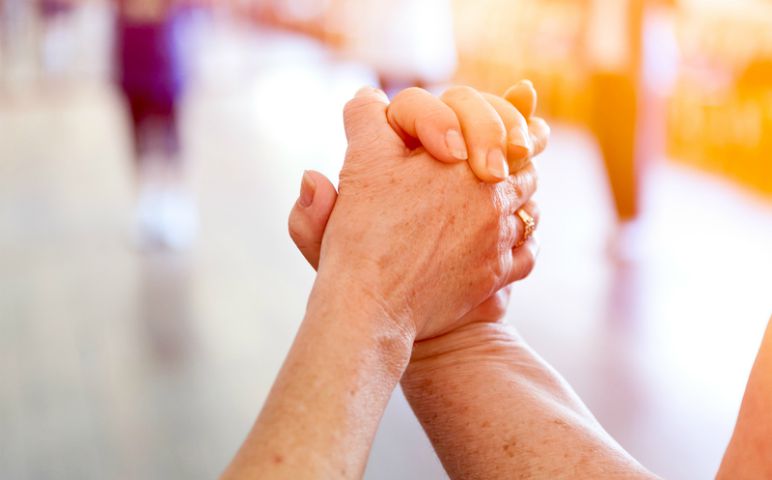 (Dreamstime/Leosanches)
The vast majority of those who follow NCR via social media are a friendly bunch who don't mind holding hands during the Our Father at Sunday Mass.
Responding to an article that first appeared online June 29, an overwhelming majority of readers say they either are hand-holders or don't object to others who are.
A total of 711 respondents from 50 states and 25 countries responded to an NCR Survey Monkey poll. In that survey, 43 percent say they were members of parishes that held hands communally during the Our Father. Seventeen percent said they were hand-holders, but only with friends and family.
Twenty-four percent don't hold hands, but don't object to others who do in their parishes. A minority said either their parish does not hold hands but it might not be a bad idea (four percent) or that the practice should not be allowed at all (11 percent).
A Twitter survey had similar results but with less enthusiasm for hand-holding.
Twenty-four percent said they did it and thought it was a good idea to link hands with fellow parishioners. Twenty-two percent opt only to hold hands with family and friends. About a third (32 percent) don't belong to hand-holding churches but have no objection to the practice. About a fifth (22 percent), responded that hand-holding during Mass should be discouraged.
Some who commented on Facebook wondered what the big deal was. "There are important things to consider, like feeding the poor, clothing the naked and feeding the hungry. God doesn't care one way or another. So why do we? This is a silly debate. If you want to hold hands, do it, and if not, don't. Simple," wrote Jeffrey Huot.
Others, however, felt that the Our Father hand-holding was an important symbol.
"It is a powerful statement of unity by the congregation," wrote Mary Poundstone Miller.
Some felt that opponents of the practice are overly stringent. "Being instructed that we may not hold hands was one of the final reasons my husband and I left the Catholic church," wrote Gigi Becker.
Elaine McCabe sees theological significance in the practice.
"We are praying the Our Father and not the My Father," she wrote.
Some objected on doctrinal grounds.
"How about more reverence for the real presence instead of feel good sentiment?" wrote Tom Grunhard. He added that the practice was Protestantism creeping into Catholic practice, which he sees as not a good thing.
The most opposition came from those who feel the practice is a health risk. "I don't because of my immune system. I just wish people the Peace. A lot of us elderly have a problem with our immune system," wrote Sue Whittaker.
"Hate it," wrote Margaret Gibbs McCain. "I have a chronic illness, and during flu season the last thing I want to do is to have to make hand contact."
Others argued that human touch is emotionally healthy.
"My mom always did it," wrote Kathleen Pitt Skidmore. "She said that you never know but that when you hold that person's hand, that may be the only physical human contact they have for the week. Don't deny them on legalistic grounds."
Brittany Wilmes, engagement editor for NCR who organized the social media discussion and the surveys, said interest in the topic was high. Contrary to many online discussions, where ideological brickbats are thrown regularly, this was a more personal debate.
"People were really sharing their own experiences," she said. "People cared about the topic."
According to Wilmes, a total of 92,500 people were reached via Facebook; 1,500 looked at the surveys; and 10,500 went on to read the original piece on the topic. More than 2,000 shared the piece and commented.
The last word goes to Judith Gerharz, a Facebook responder, who offered a unique response. She said she is proud to be counted in a parish where Our Father hand-holding is common. That parish is very likely located about halfway between Chicago and Green Bay, Wisconsin.
"It's especially uniting because where we live, it's the only time Bears and Packers fans agree on something," she wrote.
[Peter Feuerherd is a correspondent for NCR's Field Hospital series on parish life and is a professor of journalism at St. John's University, New York.]
Editor's note: Want more stories from The Field Hospital? Sign up here for the latest parish news twice a week.