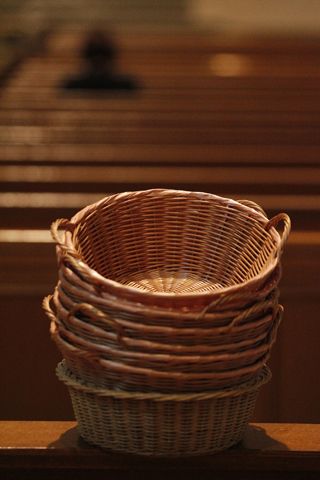 Collection baskets in a June 2012 CNS file photo (CNS/Bob Roller)
Some, but not all, dioceses and parishes are taking a new look at securing offertory collections, and that's a good thing, say critics of how the church has handled money.
"The bishops are finally recognizing that embezzlement doesn't help their moral standing," Charles Zech, the director of the Center for Church Management and Business Ethics at Villanova University, told NCR.
Zech noted that diocesan-wide procedures are in many ways answering long-time critics, such as Michael W. Ryan, who have long argued that collection procedures in parishes needed tightening. "He's been crying out in the desert," said Zech.
---
Related: From the collection basket to the bank: Lax practices mean lost money
---
Such cries are being heard in dioceses and archdioceses as diverse and geographically spread as Boston, Miami and San Bernardino, Calif. Videos on archdiocesan websites for Boston and Miami offer how-tos on best practices for parish collections to assure that cash dropped into the collection baskets each Sunday actually gets to the parish bank account. An estimated 40 percent of Sunday collections comes from cash donations, seen as particularly vulnerable to pilfering.
The Diocese of San Bernardino is presenting a conference in February that will address parish collection security.
These moves come as the church in the United States, after reeling from publicity around sex abuse cases, has been hit with bad press about theft. Archdiocesan offices in New York and Philadelphia have been hit with large embezzlement cases in recent years, and New York tabloid readers were jarred with accusations in December that a pastor in the Bronx had used parish donations for sexual encounters and drugs. Pastors and ushers have also been accused of embezzling funds in Connecticut, Michigan and Florida.
A secured collection system, said Zech, involves three counters who are unrelated. It means mixing up the collectors, so the same people are not always collecting at the same Masses. It also means at least two people delivering the final collection to the bank each week.
"It involves a separation of duties so that no one person does everything," said Zech.
Sometimes implementing secured offertories results in pushback from parish collectors and ushers, who wonder if their integrity is being questioned.
The answer, said Zech, is to assure all involved that a secured system "is for your protection and my protection" not only of the parish funds but also of the integrity of honest ushers, collectors and pastors.
"The problem has been that we have been too trusting, so we don't put in the controls common in the business world," he said.
A new secured parish collection system being implemented in the Boston Archdiocese is focused on securing collections "from the basket to the safe," Maureen Creedon, director of finance for the archdiocese, told NCR.
The new process involves labeling and locking secured standardized bags provided by the archdiocese that account for all offertory funds. "It's a clear donations process that protects everyone," said Joseph McEnness, director of risk management for the archdiocese.
The process, endorsed by Cardinal Sean O'Malley, is not mandated, but the half of the archdiocese's 289 parishes not yet on board are being encouraged to join. Since the process was implemented a year ago as a pilot project, there has been no noticeable impact on the amount of monies collected, said McEnness.
Fr. Joseph Raeke, pastor of three collaborative parishes in Brockton, Mass., was among the first to implement enhanced parish collection security measures in the Boston Archdiocese last summer at St. Edith Stein Church.
The program has been a success, according to the pastor.
"People who are making the contributions feel greater confidence that what they give is valued," he said.
[Peter Feuerherd is a professor of communications and journalism at St. John's University in New York and contributor to NCR's Field Hospital blog.]
---
Editor's note: "The Field Hospital" is NCRonline's newest blog series, covering life in Catholic parishes across the United States and Canada. The title comes from the words of Pope Francis: "I see the church as a field hospital after battle. It is useless to ask a seriously injured person if he has high cholesterol and about the level of his blood sugars! You have to heal his wounds. Then we can talk about everything else. Heal the wounds, heal the wounds. ... And you have to start from the ground up."
"The Field Hospital" blog will run twice weekly on NCRonline.org along with feature stories and news reports about parish life in the U.S. and Canada. If you have a story suggestion, send it to Dan Morris-Young (dmyoung@ncronline.org) or Peter Feuerherd (pfeuerherd@ncronline.org).