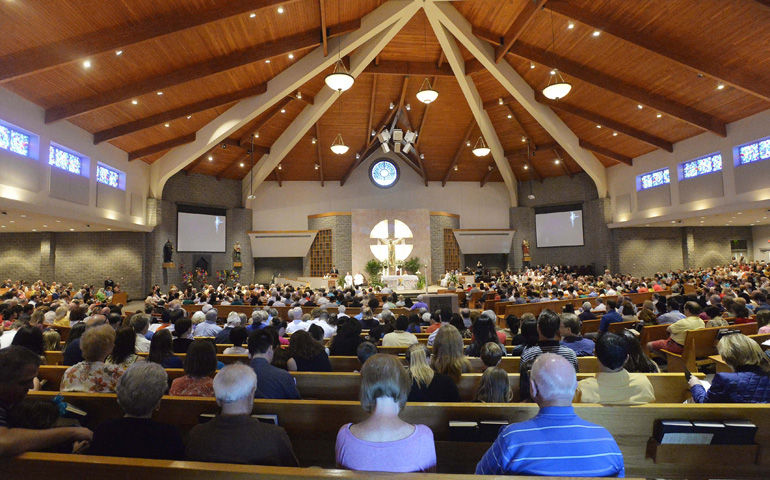 Members of the congregation at St. Matthew Catholic Church in Charlotte during the 10:45 a.m. Mass in this 2014 photo (Robert Lahser/Courtesy of The Charlotte Observer)
St. Matthew Catholic Church, off the southern fringe of this city's interstate, is considered by many to be America's largest Catholic parish. Reported stats support this distinction. St. Matthew claims some 35,000 members -- that's the population of a medium-sized North Carolina city.
St. Matthew's has 10,370 registered families, beating out Houston's St. Elizabeth Ann Seton Parish by about 100. Other statistics point to the large-scale: It has an annual budget of $9.5 million, 7,000 volunteers and 63 full- and part-time staff.
If it is the largest U.S. parish, it also may well be the best organized.
Sundays the parking lot of the massive parish campus empties in and empties out, with no traffic jam to gum up the works. That's with even four Masses that frequently fill the 2,000-seat modern sanctuary. Signs warn drivers DO NOT PARK HERE, clearing the way, preventing obstacles getting in the way of exit and entree.
It is a church made possible by President Dwight Eisenhower, credited with enacting the massive interstate highway system which spurred the growth of the area. Charlotte is a New South city, largely a collection of disconnected suburbs that have become home for migrants, both domestic and international. Many of them are Catholics who transformed what used to be the least-Catholic state in the nation.
Off Ballantyne Commons Parkway leading from St. Matthew are scores of new developments, some filled with McMansions and others with basic townhouses. The developments carry names containing monikers such as Oaks, Creek, and Stonecrest, invoking feelings for elegant country homes.
The massive church complex is a rarity for a Catholic parish, mimicking the model put forth by evangelical megachurches which dot the American exurban landscape. That is intentional: The parish scouted out similar-sized churches around the country to see how they do things.
Surrounded by acres of parking, the campus — and it looks very much like one — is graced with a water fountain in front of the main church building. Two crosses atop the main buildings brand the place as Christian, but there are relatively few other outward signs, unless one looks closely. The parish has planted hundreds of trees on the grounds, which this summer day are in full shady bloom.
The campus boasts the Giving Hope Gift Shop. A sign proclaims the parish's World Hunger Drive. From womb to tomb, parishioners can find a home at St. Matthew: a nursery, the parish grade school, a gymnasium and a mausoleum located near a reflective woods. Included are a pet cemetery and a counseling center.
Overseeing much of this growth for the past 18 years has been Msgr. John McSweeney, who is retiring from the pastorate in July. He will be replaced by Fr. Patrick Hoare, a former member of the parish, who will become its fourth pastor.
St. Matthew was formed when the Diocese of Charlotte bought a large open space in 1985 in anticipation of massive population growth. The parish opened the next year.
It was intended, said McSweeney, as "a spiritual oasis" in the burgeoning suburbs, a parish built in the spirit of Vatican II, which has evolved into the nation's largest.
As St. Matthew's grew more than threefold from when McSweeney became pastor, teams went out across the country to see how other churches accommodated large congregations. What they found was a reliance on small-based communities, affinity groups for every need.
The parish bulletin — all 20 pages making it more like a magazine — proclaims "We Are a Welcoming Parish."
Pointedly, that includes all, "whatever your status in the Catholic Church," including a welcome for those of any race and ethnicity, and also adding marital status and sexual orientation. "There is a lot of room in the tent called the church," said McSweeney, who personally wrote the declaration of inclusion. The declaration concludes: "You are invited, welcomed, accepted, loved and respected by the Catholic Community of St. Matthew."
Ushers greet visitors with a friendly smile and hello (part of a welcoming outreach for everyone who visits the church). Once a parishioner is registered, there is ample opportunity to get involved: ministries include a JustLife chapter, a group devoted to social justice and pro-life concerns; support groups for the widowed, divorced, alcoholics, families of alcoholics and drug abusers, women who have had abortions, bereavement support for men and women, weight loss, couples who have experienced miscarriage, job seekers and cancer sufferers.
To service those needs, the parish has some 7,000 volunteers who work in 103 different ministries.

Statistics source: The Charlotte Observer
"We train lay leaders," said McSweeney, a native of upstate New York who moved to Charlotte and became the Diocese of Charlotte's first ordained priest in 1974. "There are opportunities to grow as Vatican II Catholics." He is particularly proud of how many women are involved: of 63 staff positions, all but two are filled by women.
Every activity, he said, is geared to what he described as Three Ss: spiritual life, service and social. That commitment to each element extends to all aspects of parish life, whether it's the ministry to HIV/AIDS patients or the pinochle club.
What makes the parish different can be found at Sunday Mass, particularly the 10:45 liturgy which draws the largest crowds. On one early summer Sunday, the sanctuary's 2,000 seats are packed.
Before Mass begins, the sounds of Gregorian chant resonate around the building, offering a particular reflective Catholic air to the proceedings. Yet the liturgy borrows freely from megachurch Protestant evangelicals.
On each side of the sanctuary are large television screens. Before Mass they advertise an upcoming parish conference on the late spiritual writer Fr. Henri Nouwen. During Mass, the words of hymns are flashed across the screens. The choir, whose repertoire is focused on contemporary Christian songs, is more than 40-strong, with a wide array of instruments, including keyboard and electric guitar. Two technicians monitor the sound and lighting.
The homily, delivered this Sunday by Fr. Elias Khalil, parochial vicar, is a reflection on the Gospel of the day, when Jesus tells his disciples not to fear in Matthew 10: 26-33. Khalil, a Maronite-rite priest from Lebanon, uses a vivid example of the phobias of the titular character from the television show "Monk," illustrating how fear can be paralyzing. He connects to a Sunday gathering of people who may not feel everything is OK in their world.
"Christ is not for the fearless. Christ is for those of us who must control our fears," he proclaimed.
The screens come alive when promoting the parish World Hunger Drive. Interspersed are photos of children from Haiti and Jamaica, as well as North Carolina, indicating that this effort is for a universal approach to world hunger. It is far more memorable than a bulletin announcement read aloud from the pulpit.
It's early summer, but the church lobby is filled with Giving Trees reminiscent of Christmas, all done to promote the hunger drive.
That emphasis on fighting poverty reflects the views of the pastor. McSweeney, in his retirement, plans on taking care of some medical issues and then ministering with the poor in either Haiti or Jamaica.
St. Matthew will go through a transition to a new pastor. Hoare arrives after serving as a pastor of another parish in Charlotte. He is a former member of the parish who was mentored in part by McSweeney.
The parish style should continue more or less unabated, said McSweeney. In any case, he said, it's not about the pastor. What St. Matthew parishioners who visited other megachurches discovered is that many focused on the pastor's personality, something that McSweeney publicly avoids. No cult of personality here.
"The superstar of this parish is Jesus Christ," he said about America's largest parish.
[Peter Feuerherd is a correspondent for NCR's Field Hospital series on parish life and is a professor of journalism at St. John's University, New York.]
We can send you an email alert every time The Field Hospital is posted. Go to this page and follow directions: Email alert sign-up.