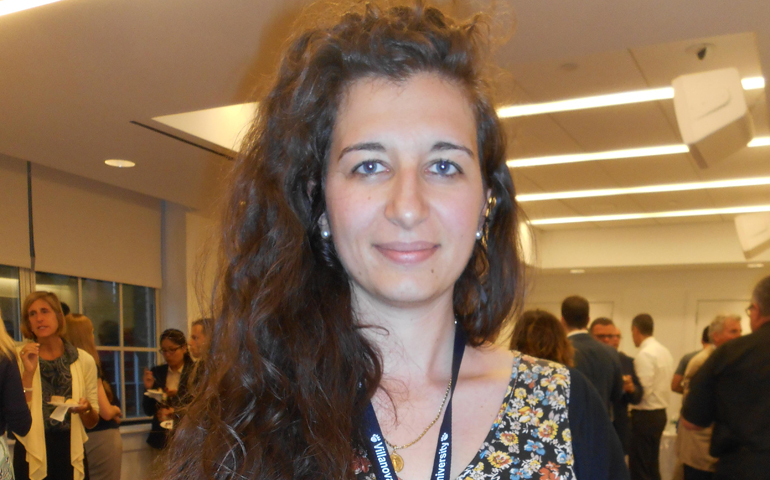 New York — August 25, 2016
Italian parishes could use American organizational know-how combined with a pastoral sense, noted participants in a seminar sponsored by Villanova University's Center for Church Management and Business Ethics, held here June 27.
The 21 participants, including students, faculty and administrators from the Pontifical Lateran University in Rome, came to Villanova's program for a week of seminars and informal visits with pastors and parish workers in the Philadelphia area. Their sessions concluded with an address here at the Sheen Center as they heard from New York archdiocesan officials about the role of parish business managers.
"The diocese is like a company here. It is very structured," Caterina Mainini, a finance administrator from the Reggio Emilia-Guastalla diocese in northern Italy, told NCR. Like others at the seminar, she questioned whether American business practices applied to parish and diocesan life might affect pastoral sensitivities.
Amidst the back-and-forth discussions, as translators interpreted a presentation on the growing use of parish business managers in the New York archdiocese, the pastors and lay workers from Italy sought nuggets they could take from their American experience. In Italy, parish structure is often highly pastor-centric, with few paid workers to assist, with much of the funding coming from a government income tax subsidy.
"Now with the economic crisis (in Europe) the dioceses and the parishes are suffering a lot," said Mainini, one of the few women in Italy to hold a high-level diocesan finance position.
One presentation described the workings of the New York archdiocese, which in recent years has moved from 368 parishes to 296, in a series of mergers and consolidations. In one example, a pastor on Manhattan's East Side is now in charge of a parish, consolidated from three neighborhood churches, which now comprise nine separate buildings. A professional business manager is crucial in directing the operations.
In the archdiocese there is a renewed emphasis on professional management, including the hiring of 19 directors of finance for parishes grouped in deaneries to advise pastors on administrative issues. An online program by the Villanova school, said Charles Zech, Villanova professor and director of the church management program, has trained 66 students from the archdiocese over the past two years.
Fr. Gabriel Christy, a student in Italy, is a priest of the Bangalore, India, diocese, where he hopes to apply what he has learned about church management. He sees American parish life as "very professionally done" and "very clearly organized." The use of job descriptions are important points of management that American parishes routinely bring to their ministries, as individuals are held accountable for the areas of catechesis, the operation of schools and finances.
He emphasized that parish workers "should be pastorally oriented" no matter what responsibilities they may have.
Giulio Carpi, director of the School of International Pastoral Management at the Pontifical Lateran University, echoed that sentiment in a discussion at the end of the seminar.
Business managers, he said, still need to be experts in pastoral life. Sometimes "they only see the cost of a project" and don't factor in its value to parish life.
In bringing professionalization to church finances, the question often arises, said Carpi, about the differences between corporate and church life. "Is there some difference between the two models of management?" he asked.
In any case, he emphasized, the church cannot ignore the insights provided by modern management expertise. "It is important to ignite the change," he said about what the group of visiting scholars will bring back to Italy.
[Peter Feuerherd is a correspondent for NCR's Field Hospital series on parish life and a professor of journalism at St. John's University, New York.]
We can send you an email alert every time The Field Hospital is posted. Go to this page and follow directions: Email alert sign-up.