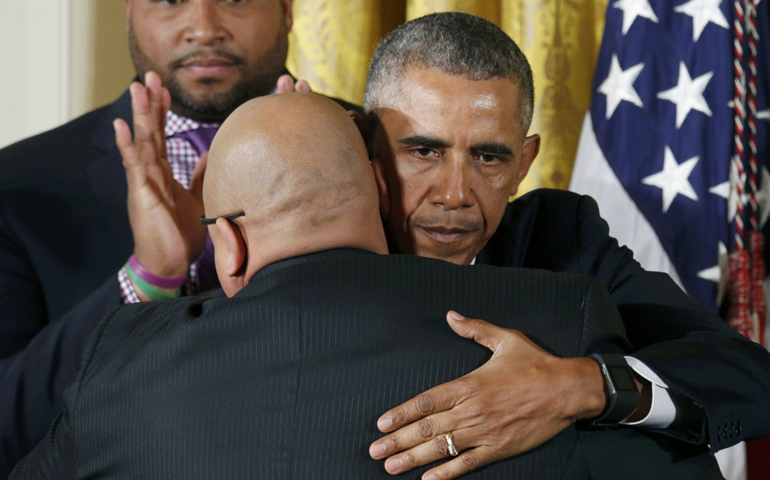 President Barack Obama hugs an unidentified man in the East Room of the White House in Washington Jan. 5 after announcing steps the administration is taking to reduce gun violence. (CNS/Kevin Lamarque, Reuters)
In a powerful, emotional speech, flanked by gun control activists and the families of gun victims in the White House East Room on Tuesday, President Obama outlined a series of executive actions designed to enhance U.S. gun safety.
Where some say common sense measures like background checks won't work to reduce gun violence in America, so why bother trying, "I reject that thinking," the president said.
"The gun lobby may be holding Congress hostage right now, but they can't hold America hostage," he said.
The executive actions* tackle the issue of gun control from a variety of angles.
Some aim to keep guns out of the wrong hands through an enhanced background check system. Now, anyone who sells guns, whether online or at a gun show, must be licensed to do so.
New rules will also be put in place to require checks for those attempting to buy guns through a trust, corporation or other legal entity.
Additionally, the FBI "is overhauling the background check system to make it more effective and efficient," says a fact sheet put out by the White House. "The envisioned improvements include processing background checks 24 hours a day, 7 days a week, and improving notification of local authorities when certain prohibited persons unlawfully attempt to buy a gun. The FBI will hire more than 230 additional examiners and other staff to help process these background checks."
Other executive actions address community safety.
Provisions in the President's 2017 budget will include funding for 200 new Alcohol Tobacco and Firearms (ATF) agents to enforce gun laws.
Additionally, ATF is establishing a bureau designed to track illegal online firearms trafficking, and is finalizing a rule designed to ensure the gun dealers report stolen guns to law enforcement.
Other executive actions still address the question on mental health.
The Obama administration is proposing a $500 million investment to increase access to mental healthcare across the country.
According to the fact sheet, "the Social Security Administration has indicated that it will begin the rulemaking process to include information in the background check system about beneficiaries who are prohibited from possessing a firearm for mental health reasons."
Finally, new mandates on gun safety technology are being pursued. The Departments of Defense, Justice, and Homeland Security have been told to conduct or sponsor research into gun safety technology.
If smartphones and iPads require a finger print or code in order to be unlocked, so too should guns, the president said in his speech.
Vincent DeMarco, national coordinator of Faiths United to Prevent Gun Violence, who was present in the White House East Room during the president's remarks, told NCR, "It's wonderful that the president is doing this."
"Since Congress won't do anything, he's doing the best that he can do, and we think that's wonderful," DeMarco said.
*An earlier version of this story incorrectly cited an outdated PDF of executive actions.
[Vinnie Rotondaro is NCR national correspondent. His email address is vrotondaro@ncronline.org.]