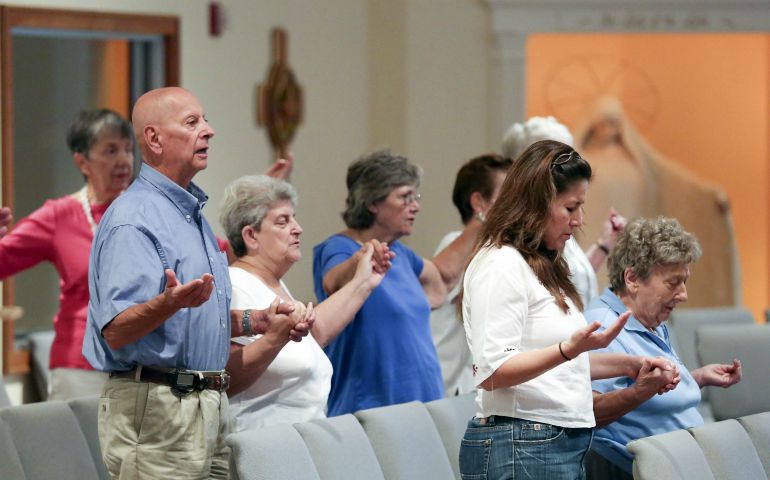 Parishioners join hands as they pray the Our Father during an Aug. 27, 2015, Mass at Resurrection Catholic Church in Moneta, Virginia. (CNS photo/Chris Keane, Reuters)
Editor's Note: We want to hear more about your parish's practice. Take a moment to answer our brief survey here.
Do I reach out to that strange hand across the church pew in prayerful solidarity? Or should this remain a private moment?
When it comes to the Lord's Prayer (Our Father) at Sunday Mass, these are the questions Catholics on the road visiting parishes in the summer vacation season face.
Awkwardness aside, holding hands or not is an indication of regional and cultural differences in liturgical practice, with some parishes seeing the prayer as an opportunity to link, while others maintain a hands-off posture.
Official church teaching is agnostic on the matter.
The United State Conference of Catholic Bishops' directive is that "no position is prescribed in the Roman Missal for an assembly gesture during the Lord's Prayer."
For some, an agnostic position translates into "no."
In the heated Catholic blogosphere, where liturgical practice is debated, traditionalists hold to the view that there should be no additions to liturgical practice that are not prescribed. "We should avoid this practice during celebration of Mass," noted the Christian website Aleteia, for example.
The origins of the hand-holding during the Our Father remain murky. Some see it as an American Protestant concept brought into the Catholic sanctuary, with some noting that it has taken off in the South and the West, in regions where evangelicals are strong. In the Northeast, an informal survey would indicate that the practice as part of regular parish life is rare.
Bishops have weighed in, pro and con and in-between, but they have declined to address the issue as a full body.
Bishop Christopher Coyne of Burlington, Vermont, acknowledged, in a video he made on liturgical concerns when he was administrator of the Indianapolis Archdiocese, that "it's hard to get a clear answer" about the legitimacy of the practice. Hand-holding during prayer is a symbol of a family coming together in spiritual unity, frequently invoked during grace before meals.
Whether that should extend to the wider parish family is another question.
"We shouldn't be telling people to do this," Coyne advised celebrants, noting that those who feel awkward about holding strangers' hands should be respected. "For us to add to the liturgy is to add confusion," he said, arguing against impromptu liturgical innovation.
But if the practice is well established in a particular church setting, Coyne offered some practical advice: "Let it go." It is not worth fostering division over what is largely a benign practice, he said.
Bishop Roger Foys of Covington, Kentucky, argued in a statement issued in 2011 that hand-holding during the Our Father is not part of church rubrics. He argued that because of that, it should be avoided. Asked whether the practice continues in Catholic parishes in northern Kentucky, the diocese did not return NCR inquiries.
Benedictine Fr. Anthony Ruff, a liturgist and theology professor at St. John's University in Collegeville, Minnesota, told NCR that the practice is neither allowed nor forbidden.
"You could make a loose comparison to the common practice, at the announcement of the Gospel reading, of crossing ourselves on our forehead, lips and heart. For a long time that wasn't in the official books either, but people just did it in imitation of the deacon's (or priest's) action. Then it became official. That's oftentimes how liturgy evolves," he emailed to NCR.
As pertaining to almost all things liturgical, the issue can offer insights into deeper meanings about church life. Or maybe not.
"Some people are critical of Vatican II and the reformed liturgy, and unfortunately they have felt encouraged by Pope Benedict XVI in this. Mix in some legalism and judgmentalism, and you'll get some people attacking the piety and prayer style of others. Some fear that the liturgy is getting too horizontal, and they think Mass would be more reverent with less emphasis on community. But others experience God's presence especially when the sense of community is strong," noted Ruff.
But, he added, it's hard to speculate about the motives of Our Father liturgical hand-holders. Sometimes a hand-holder is simply a hand-holder, with perhaps little deeper meaning attached.
"They probably just do it because they saw it somewhere and kinda like it; it's nice for the family to be united. At least in my experience that's how people in the pews think," he wrote.
[Peter Feuerherd is a correspondent for NCR's Field Hospital series on parish life and is a professor of journalism at St. John's University, New York.]
We can send you an email alert every time The Field Hospital is posted. Go to this page and follow directions: Email alert sign-up.
A version of this story appeared in the July 28-August 10, 2017 print issue.