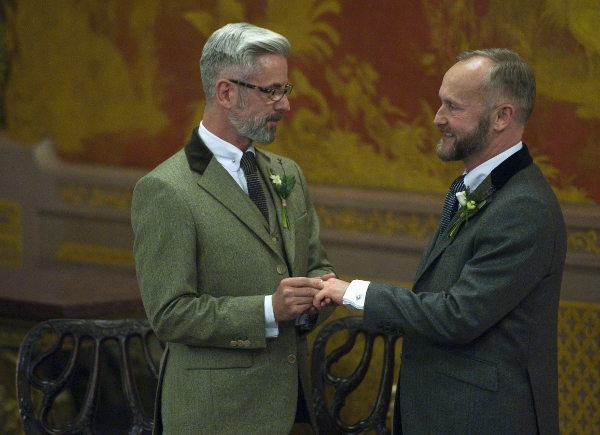 Two men exchange rings during their marriage ceremony in 2014 in Brighton, England. In his postsynodal apostolic exhortation on the family, "Amoris Laetitia" ("The Joy of Love"), released April 8, Pope Francis repeated his and the synod's insistence that the church cannot consider same-sex unions to be a marriage, but also insisted, "every person, regardless of sexual orientation, ought to be respected in his or her dignity." (CNS photo/Will Oliver, EPA)
I was up at 5:30 a.m. last Friday to watch the live stream of the release of Amoris Laetitia, (The Joy of Love), Pope Francis' long-awaited apostolic exhortation following the Synod of Bishops on the family conducted over two sessions in October 2014 and October 2015.
Since at two previous synods I had spearheaded efforts to engage bishops about the worldwide priest shortage and restoring women's stories to the lectionary*, I was curious to see how Pope Francis would parse this most vigorously debated synod in recent memory.
Unlike previous post-synod exhortations, Amoris Laetitia is not an afterthought. It references numerous passages from documents created by bishops at the synod on the family. By way of contrast, Pope Benedict's post-synod exhortations for the Synod of Bishops on the Eucharist in 2005 and the one on the Word of God in the Life and Mission of the Church in 2008, contained minimal to no reference to what synod fathers had actually said.
While the theological language in both of Benedict's documents is lovely, it also tended to the obscure. This cannot be said for the highly accessible language of Amoris Laetitia. Timing is important too. The exhortation for the synod on the Word appeared almost three years after that synod concluded. (Yes, an afterthought.)
Overall, I give Francis high marks for encouraging widespread consultation and debate among bishops at the synod on the family and then including many of those perspectives in his treatise.
If Francis has done nothing but change the paradigm for how a worldwide synod of bishops should be conducted, he will have done the church a service.
When it comes to the document itself, I find much that is encouraging, even uplifting. I also find some disheartening elements.
Let's start with the encouraging first because, in the main, I believe the exhortation has more good news than bad.
Perhaps the most foundational sentence occurs at the very beginning:
... I would make it clear that not all discussions of doctrinal, moral or pastoral issues need to be settled by interventions of the magisterium. Unity of teaching and practice is certainly necessary in the Church, but this does not preclude various ways of interpreting some aspects of that teaching or drawing certain consequences from it. This will always be the case as the Spirit guides us towards the entire truth (cf. Jn 16:13)... . (3)
As many commentators have already reported, the pope has now validated pastoral practice that invokes the internal forum (conscience) with regard to complex personal situations that don't always correspond to doctrinal ideals.
As James Carroll writes in The New Yorker, internal forum discernment has been discreetly practiced -- at least in the U.S. -- by priests and lay persons for decades in personal decisions about birth control, Communion for the divorced and remarried and, yes, committed unions between same-sex couples.
In one of the document's most celebrated phrases, Francis teaches that the church is called "to form consciences, not replace them" (37). As Chicago Archbishop Blase Cupich later noted, the pope is calling us to an adult spirituality. This can only bode well for transforming clericalist mindsets where they exist.
Amoris Laetitia's soaring theological reflection about committed spousal love and family life is truly uplifting. It will undoubtedly be used in marriage preparation programs throughout the world:
... [T]he couple's fruitful relationship becomes an image for understanding and describing the mystery of God himself [sic], for in the Christian vision of the Trinity, God is contemplated as Father, Son and Spirit of love. The triune God is a communion of love and the family is its living reflection... ." (11)
Likewise, the exhortation's ninth chapter shows keen insight into the holiness of a spousal love that draws one ever more deeply into divine love:
... spirituality becomes incarnate in the communion of the family. Hence those who have deep spiritual aspirations should not feel that the family detracts from their growth in the life of the Spirit, but rather see it as a path which [God] is using to lead them to the heights of mystical union. (316)
As a Catholic sister, I rejoice that the official church is no longer raising up the holiness of the celibate spiritual path at the expense of the holiness of married love. About time!
Now for the not-so-uplifting parts of the exhortation.
The most distressing aspect of Amoris Laetitia is that it fails to incorporate the experiences of LGBT Catholics who also live deeply loving, holy and committed family lives.
Instead of pastorally validating that great goodness exists in these relationships, the exhortation simply repeats condemnations of same-sex unions and adoptions by same-sex couples. It even repeats the false claim that international aid to developing nations is dependent on openness to marriage equality. (251)
According to Frank DeBernardo, executive director of New Ways Ministry, many in the Catholic LGBT community, while not expecting progress on gay marriage, had hoped the pope would offer an affirming message to them.
"Where is the Pope Francis who embraced his gay former student and husband during his U.S. visit?" asked DeBernardo in a public statement.
In my experience, LGBT folks are among the most committed of Catholics and pretty much wrote the book about how to love and stay with a church whose hierarchy would often prefer that they go away.
How painful for them to read the exhortation's reflection about spousal and family commitment as imaging God -- knowing all the while that this is also true for them –- only to have their love denigrated as not "even remotely analogous to God's plan..." (251).
It reminds me of when Pope Benedict wrote soaringly about the beauty of the Eucharist without "getting it" that half the world's Catholics have no access to Mass because there aren't enough priests.
Of course, the exclusion of gay and lesbian grace and giftedness is worse because it cuts to the core of one's being. I grieve with them, and I long for the day that my church finally welcomes the beautiful diversity that is part of God's plan for humanity.
One final quirky observation that helped me laugh and put things in perspective a bit:
Did anyone besides me notice that the metaphorical language of a family, with a mother, a father, and a child as imaging a Trinitarian God, doesn't quite cut it?
As the metaphor stands now (see above), we have the Father, the Son and the Holy Spirit (subsequently always referenced as "he") described as the Godhead imaged by faithful Catholic families.
So the divine Trinitarian family comes down to two guys raising a son.
God has such a great sense of humor.
*Due to an editing error, an earlier version of this story included inaccurate language to describe the author's role at the Synod on the Word.
[A Sister of St. Joseph, Sr. Christine Schenk served urban families for 18 years as a nurse midwife before co-founding FutureChurch, where she served for 23 years. She holds master's degrees in nursing and theology.]
Editor's note: We can send you an email alert every time Christine Schenk's column, Simply Spirit, is posted. Go to this page and follow directions: Email alert sign-up.