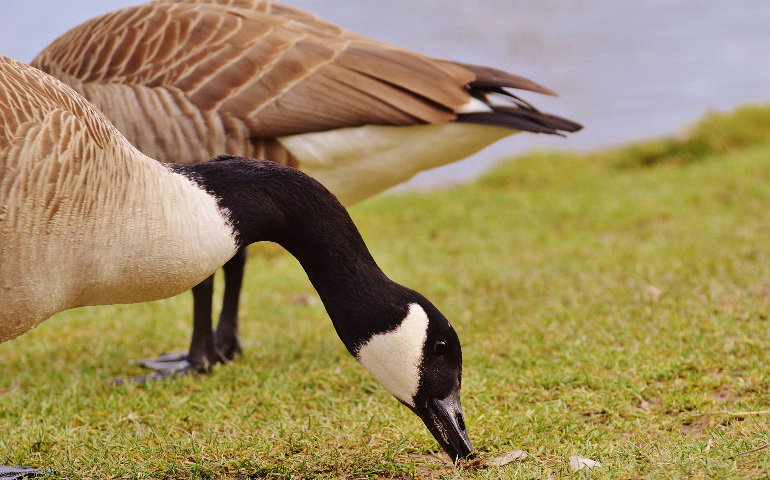 Pixabay/Alexas_Fotos
I didn't think the little creature was going to live to see the next day.
I was walking on the people path along the Schuylkill River in Philadelphia's famous Fairmount Park, among the blushing cherry blossom trees and the sun flashing off the river like diamonds, when I saw a man with his dog crouched behind a bush, eyeing a gaggle of geese munching on the grass. Suddenly, the man unleashed his dog and it bounded off in a sprint toward the geese. Sensing danger, the birds, en masse, flew off. One goose, though, slipped on takeoff, and the dog came close to pouncing on it. Fortunately, the bird recovered just in time, and escaped.
It wasn't the first time I had seen geese preyed upon here. I've seen people throw stones at them. I've heard about others capturing them to eat.
It's awful.
These birds, with their black heads and necks and white patches on their faces, are as much a part of the mystical, spiritual and physical poetry and synergy along this 3-mile park path as the trees, the water and the sun.
I have been coming to this piece of paradise in the city for more than 50 years, to run, to sun, to walk, to talk, to write, to pray. I drink in my time here in passionate and prayerful gulps. The geese are part of those gulps.
Geese have things to teach humans. In Job, it says: "But ask now the beasts, and they shall teach thee; and the fowls of the air, and they shall tell thee."
Geese inspire me with their alertness, devotion to the flock and the musical honking that is their unique communication. I often hear a mature goose honking wildly to younger ones when the finely chiseled rowers approach and encroach on that part of the river where the geese are leisurely sidling. The birds then fly off in a perfect V, with the elegance of an airplane squadron in full formation, to the banks of the river.
For sure, creatures are teachers, and the more we learn from and about animals — their intelligence, beauty, patience, adaptability, ingenuity, elegance and physical prowess — the deeper grows our respect for the sanctity and interrelatedness of all life.
---
More: "St. Francis Alliance proclaims protection of all God's creatures" (April 4, 2017)
---
Author Henry Beston wrote: "We need another and a wiser and perhaps a more mystical concept of animals. … In a world older and more complete than ours they move finished and complete, gifted with extensions of the senses we have lost or never attained, living by voices we shall never hear. … They are other nations, caught with ourselves in the net of life and time."
Instead of ignoring their skills and talents, we should appreciate their knowledge: to establish hierarchies, to build labyrinth societies, to hunt, to withstand the cold, to forge elaborate mating rituals, to fly thousands of miles, to communicate. The furred, the feathered, the finned are of a divine nature; they are the antithesis of the Cartesian idea of "mindless machines."
Yes, animals are different from humans, but they have the same desire to live, and live in peace, to be apart while at the same time sharing certain environments. We are linked to them.
One day last May, I got the surprise of my life when I saw a lone goose waddling side-by-side with a human on the path along the river — it was like watching two people strolling hand-in-hand. The human was smiling at the goose as they moved in tandem, synchronized in motion, and he was feeding it some peanuts he was eating. They became friends, the goose following him around like a child does a parent. The same scene played out the next two days as well.
Science and nature writer David Quammen wrote in his essay "The Miracle of the Geese" that geese are images of humanity's own highest self. They show us the apogee of our own potential. They live by the same principles that we, too often, only espouse. They embody liberty, grace and devotion. When they honk so musically, we are treated to a glimpse of the same sort of sublime creaturehood that we want badly to see in ourselves.
Quite literally, when I am in this particular environmental tableau of trees and water and sun and, yes, geese — there is a reawakening of an innocence that often gets lost, or at least misplaced, in becoming an adult. I can close my mouth and open my mind.
So, one day I bought some peanuts from the street vendor down there.
And I fed a lone goose.
We became friends.
[B.G. Kelley is a widely published writer who has edited the AV Magazine, an international magazine on animal rights.]
A version of this story appeared in the May 5-18, 2017 print issue.