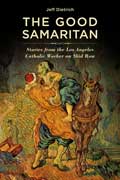 THE GOOD SAMARITAN: STORIES FROM THE LOS ANGELES CATHOLIC WORKER ON SKID ROW
By Jeff Dietrich
Published by Marymount Institute Press, $19.95
When I reviewed Catholic Worker Jeff Dietrich's 2011 book Broken and Shared: Food, Dignity, and the Poor on Los Angeles' Skid Row, I wrote, "To read Broken and Shared, you need intentionality and the willingness to step into Jeff Dietrich's shoes and see the world, church, government -- indeed, the institutions of power wherever they exist -- as this disciple of Jesus, a man who chose to follow Christ long ago and continues to grow in wisdom and understanding. He seems tireless to me."
This new book is autobiographical for Dietrich and is again a collection of essays from Los Angeles Catholic Worker newspaper, Catholic Agitator. These reflect Dietrich's untiring service of feeding and aiding the poor, and his unabated passion for speaking truth to power.
As I write this review, I am listening to the news about the killing of another homeless person, a man on Skid Row, a 50-square-block section of downtown Los Angeles. No one knows his real name, but he was known by his street name, "Africa."
The Los Angeles Police Department's long-standing crusade against the homeless, especially veterans, is well-documented in The Good Samaritan: Stories from the Los Angeles Catholic Worker on Skid Row, which details some of the court cases won by the homeless, with support of the American Civil Liberties Union. Dietrich describes the city's uneasy and sometimes cruel relationship with the homeless and calls it "punitive policing."
The stories that Dietrich features, such as "The Reluctant Saint," about Catholic Worker co-founder Dorothy Day, and "Wheelchair Bob," are told with humor, great honesty and sometimes tenderness. In one piece, a homeless woman, Rosa, gave birth above the Catholic Worker soup kitchen -- the "Hippie Kitchen," as their guests like to call it.
Dietrich admits that it is difficult to like the poor. They are demanding, especially when they are hungry.
Most visceral are Dietrich's descriptions of what it was like for him personally to be arrested and placed in overcrowded Los Angeles jail cells for "crossing the line" at protests. He has experienced the same indignity that the poor are subjected to all the time -- because most of the incarcerated are the poor, picked up for minor transgressions to keep them off the streets.
Dietrich writes with stunning clarity about how easy it is for us to love the hard-working poor of Third World countries whom we do not see, but cannot stand the homeless, the detritus of our capitalism system, whom we do see.
Dietrich also talks about a difficult time at the Catholic Worker house in Los Angeles, when a community disagreement led to a smaller band of people to serve the poor. While the goals and spirit of the Catholic Worker continue mostly to reflect Day's ideals, Dietrich reveals that of everyone living in community today, only he continues to participate in Sunday Mass.
When a comprehensive history of the Catholic Worker movement is written, Dietrich's books will be invaluable to the spiritual and physical texture of the story.
I was especially moved by his compassion for the military veterans of Los Angeles' Skid Row, the largest population of homeless vets in the country.
In January, the Department of Veterans Affairs reached a settlement with the ACLU, which had filed a class action lawsuit that charged the department has misused its 387-acre West Los Angeles campus, leasing it out to private businesses. The settlement committed the VA to design a plan to end veterans' homelessness in Los Angeles County. In February, the VA announced its intention to use its West Los Angeles Medical Center to provide permanent housing and supportive services to homeless veterans.
I am sure when and if this comes to fruition, the Catholic Workers will rejoice for their guests.
The final chapter of the book describes what a week looks like to a Catholic Worker and focuses on some themes that are important to Los Angeles Catholic Workers. One of those themes is that the poor need beauty, too. The kitchen opens up to a lovely garden where the homeless eat.
Many people say this oasis could be used to open a restaurant and really make some money. Dietrich remembers how Day used to quote Dostoyevsky -- "The world will be saved by beauty" -- even in the face of a paradox that some people cannot accept, that the poor and homeless may soil the very place that welcomes them.
The Good Samaritan is a lighter read than Broken and Shared and just as inspiring. It is filled with photos and the cover features an embossed reproduction of Vincent van Gogh's "The Good Samaritan." Editor Theresia de Vroom's stirring introduction titled "Who Is My Neighbor?" contemplates the image and what it means in today's world.
If you or someone you know is interested in the various services that the Catholic Workers carry out in Los Angeles -- including picketing federal buildings against nuclear testing, getting up early, and creative cooking in large amounts with donated food -- check out the final chapter. Here, a Catholic Worker internship, offered every year for a few people, is described in detail. With a stipend of $25 per week plus room and board, prayer, and intense but necessary community meetings, it can change your life.
[Sr. Rose Pacatte, a member of the Daughters of St. Paul, is the director of the Pauline Center for Media Studies in Los Angeles.]
Advertisement