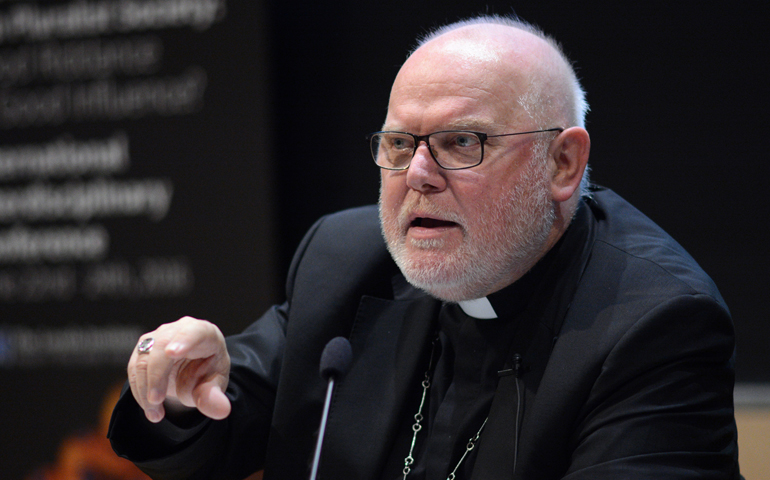 Cardinal Reinhard Marx of Munich and Freising, Germany, speaks June 23 at Trinity College in Dublin. (CNS/Dermot Roantree, Irish Jesuit Communications)
German Cardinal Reinhard Marx wants the church to do more than apologize to gay people -- a statement Pope Francis affirmed June 26. He said society must create structures to respect their rights, like civil unions, and the church should "not to be against them."
He also told NCR that the reforms Francis wants to make at the Vatican depend on "a new relationship between lay people and clerics, that is clear" and suggested that this is taking place.
Marx made his comments to journalists in Dublin, where he had delivered a keynote address at the conference "The Role of the Church in a Pluralist Society: Good Riddance or Good Influence?" hosted by the Loyola Institute in Trinity College.
Marx, who is president of the German bishops' conference and a member of the pope's advisory council of nine cardinals, called on not just the church to apologize to gays and lesbians, but society as a whole, which he said was implicated in this "terrible scandal."
"The history of homosexuals in our society is a very bad history because we have done a lot to marginalize them. It is not so long ago and so as church and as society we have to say sorry."
The 62-year-old cardinal archbishop of Munich and Freising reiterated his view, expressed at the first Synod of Bishops on the Family in 2014, that, "You cannot say that a long-term relationship between a man and a man, who are faithful, is nothing. That it has no worth." He admitted his views had shocked some at the synod.
Referring to the passing of legislation in Germany recognizing civil partnerships, he urged the church "not to be against them".
He said the state had to make arrangements for homosexuals so that their rights are recognized as equal but he also suggested that marriage is something different. So far, there has been no move in Germany to permit gay partners to marry.
"Up to now we have this difference -- some are against it; some are for it. There was an open discussion. We [the church] have our moral position [on marriage] and that is clear, but the secular state has to regulate these [same-sex] partnerships and to bring them to a just position and we as church cannot be against it," he said.
Marx underlined that throughout human history, marriage had been understood as "a relationship between one man and one woman who are open to give life." He added, "And that is a special relationship, I think."
In his keynote address, "The Church and the Challenge of Freedom," Marx, who is president of the Commission of the Bishops Conferences of the European Community, said he believed the church can be a protagonist in the development of pluralist societies.
He said friends in the Middle East talk about the necessity of a secular state for democratic society. "The state must be secular -- not a Christian state; but the society is not secular -- the society is Christian or religious or non-religious or multi-religious."
Asked for his advice on the future direction of the Irish church, Marx said the way forward is "not to look back."
"I think the Irish church -- and the German church and the Catholic church in Europe -- has to look forward to the future and not to the past. The majority has not learned it yet, they are looking back, thinking the great history of the church is behind us. You cannot find enthusiasm from such a position."
He warned against trying to "defend every meter in the last battle" as the battle may be "lost or a false battle."
The image of the church as a fortified castle, or "cittadella," fighting against enemies all around who want to destroy the church is a perspective found among some of the faithful.
Another image is to think about the "future of the world and about the future of others and being in communities as a sign of hope, not of distrust."
This second way is a vision of the Second Vatican Council (1962-1965), which says, "We are a settlement of the community of the people of God where people come together. We are helpful to you and we are showing you a better life, something wider, more spiritual and providing more encouragement."
Marx suggested that some of the younger generation have this outlook but many older people were still "in the spirit of looking back."
Vatican reforms
Marx laughed when NCR asked if changes Francis was making at the Vatican were part of a process of serious reform or a matter of moving furniture.
"It is a long way," he said. Francis' changes are an ongoing process because "the notion of reform is not so easy" to tie down as everybody has their own ideas on the next reform.
He expressed concern over those who look back with a view to restoration. "Restoration is making a copy -- making a museum," he warned. "I said to Benedict when he was pope, there is a difference between renaissance and restoration."
On the reform of the institutions and the organization of the church, Marx stressed, "There must be a new relationship between laypeople and clerics, that is clear and that is going on. I say always at the Vatican, there must also be a de-clericalization of the Curia and the working of competent people together. Human resources must not only look at clerics."
With another laugh, he added, "I am not against clerics! You have difficult laypeople and difficult priests -- that is not the question."
Instead, he envisages women and men together in working groups, and even if this is not the answer to every situation, it should be the norm. "It gives the impression that we are a modern organization."
"First of all, we have to make the organization more professional," he said. Then we can have theological discussions about the priesthood and the Eucharist, he said.
Financial transparency
He also stressed that transparency in financial matters was essential.
Marx, who is coordinator of the Vatican's Secretariat for the Economy, the dicastery with authority over all the Vatican's economic activities, cited his own diocese as an example.
Last week the diocese of Munich published a financial statement that showed it has assets totaling 6 billion euros, about 6.6 billion US dollars.
He admitted that some people might have been shocked by the figure but for most people what was important was the diocese's willingness to be transparent and getting the information out there.
"Better to be open, transparent and bring in lay experts to look into it -- it is the same for sexual abuse."
There are those who don't want such transparency or to mix in lay experts, believing "only clerics can cover the church" but he underlined, "that is not true."
As to reforming questions of moral theology, Marx said most conservatives want the pope to state very clearly what is forbidden and make a list of what is not permitted with no discussion. On the other hand, progressives want the opposite -- a list of what is now allowed.
"That is not the way to go with conscience," he said. "The pope is choosing another way. The world is very complex and there are challenging pastoral situations. The people see how the church is looking on my life and understanding and seeing that my marriage is in a difficult situation ... but it is not just saying yes or no or black or white."
He added, "That is reform in my eyes."
Bishops' accountability
Marx also responded to questions about Francis' motu proprio, Come una madre amorevole ("As a Loving Mother"), which provides for the removal of bishops when they have "through negligence, committed or omitted acts that have caused grave harm to others, either with regard to physical persons, or with regard to the community itself." This includes cases of abuse of minors or vulnerable adults.
The new law, made public in June, takes effect in September.
By placing the authority to review cases of bishops' accountability in four Curia offices, the motu proprio seemingly replaces a single tribunal that would judge bishops, a proposal Francis made last year.
Asked by NCR if the shelving of the proposed tribunal for bishops' accountability was a defeat for Francis, Marx hinted that the pope himself had changed his mind.
"It was clear that it was not so easy to make judgements about bishops; only the pope can judge the bishops. So there was a lack in the laws. Now it is more formalized. Now they see it is possible to go to Rome when my bishop is doing something I cannot or the public cannot accept. This is not just sexual abuse but other failures of bishops. We will see how it functions."
As to whether the pope caved into the pressure from the Curia to scrap the tribunal, Marx responded, "No, I don't think so. I got the impression he heard the critics, but he decided. I think he changes his mind sometimes. He is not a man that is fearful, that is my impression."
[Sarah Mac Donald is a journalist based in Dublin.]