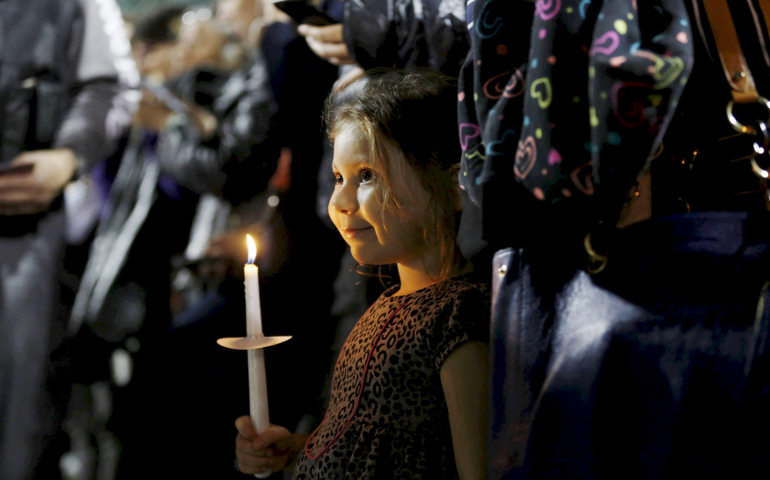 A girl attends a candlelight vigil in San Bernardino, Calif., Dec. 3 for the victims of a mass shooting the previous day at the Inland Regional Center. (CNS/Reuters/Mario Anzuoni)
Editor's note: this story appeared in the Dec. 4-17 print edition of National Catholic Reporter. After NCR went to press, the tragic mass shooting in San Bernardino took place, with 14 dead and 21 wounded. The incident brings yet another layer of complexity to the gun violence debate. Guns and mental illness; guns and gangs; guns and Islamic extremism. The assault rifles used in the San Bernardino shooting were variants of the AR-15, a semiautomatic civilian version of a military M-16. They were bought legally in California, but illegally modified, one becoming fully automatic, the other using a large-capacity magazine.
Sixteen years have passed since the school shooting at Columbine, eight since Virginia Tech, and as of Dec. 14, three since the massacre at Sandy Hook Elementary School in Newtown, Conn., which took the lives of 20 first-graders and six adults.

In between, before and after, dozens of other mass shootings have occurred. In the same period, hundreds of thousands have died in gun-related homicides, suicides and accidents. Yet even as large majorities say they would support sensible regulations like universal background checks and handgun purchaser licensing laws, which drastically reduce firearm deaths, the nation seems paralyzed with inaction.

"The fundamental problem is that many of the people who support gun violence prevention don't really believe that anything can be done about it, and as a result they're not as motivated as people on the other side," said Vincent DeMarco, national coordinator of Faiths United to Prevent Gun Violence, which was set to host its annual National Gun Violence Prevention Sabbath Weekend Dec. 10-14 in Washington, D.C.

The pro-gun-rights crowd is passionate, convinced of their argument and ready to go to the mat, DeMarco says. Everyone else, including many gun owners, may support anti-gun-violence measures, but don't truly believe they will work.

DeMarco says that educating the public is "the best thing the Catholic church and all of us could do."

Franciscan Sr. Marie Lucey, director of advocacy and member relations for Franciscan Action Network, agrees. The American Catholic church can "frame gun violence as a pro-life issue and a health care issue," she wrote in an email.

"Bishops and pastors have the pulpit. They can bring the issue home, to their own state, city, town," she wrote. "They can speak with law enforcement, hospital personnel and teachers, and arrange meetings with parishioners to talk about gun violence, using statistics about children killed, the fact that most gun deaths are by handguns, and the majority of these are suicides. An environment of listening has to be created. Respectful dialogue is needed. There are very good films that can be used. Some schools already have programs in place."

Implementing change will necessarily mean taking on the National Rifle Association, corporations, and the money involved. It will also hinge on convincing the public of an overarching strategy while not letting misunderstanding and mistrust build up across an array of related pro-life issues.

Anthony Granado of the U.S. bishops' Office of Domestic Social Development said that many gun rights activists' approach is a "very simple perspective, which is: Do not touch guns, do not touch our right, it is absolute, there should be no infringement. And that's something that is repeatable, it's not nuanced, it's not complex, it's just a strict interpretation of the Second Amendment, and so they're able to rally people around that."

On the other end of the spectrum, people feel overwhelmed by the "complexity of the issue," he said.

"Are we seeking to stop or at least limit mass shootings in schools? Are we trying to address the gun violence in our inner cities? Are we talking about domestic violence?" Granado asked. "The nuance creates areas where people can say, 'Well, I agree with you here, but I don't agree with you there.' "

Take the question of mental illness, which is often mentioned in the same breath as mass shootings. Many of the shootings involve mentally ill young men, but studies regularly show that people suffering from mental illness are not violent. Instead, they are more likely the victims of violence.

The mass shootings grab our attention, then lead us astray, said Jason Adkins, executive director of the Minnesota Catholic Conference.

When we talk about the correlation between mental illness and gun death, we ought to be talking about "suicide deaths from people who have mental illness," he said, as suicide gun deaths vastly outnumber deaths that occur annually as a result of mass shootings, and even outnumber the murders that occur in day-in, day-out settings.

"We live in a culture that's dependent on drugs, because it's depressed, it lacks hope," Adkins said. "Are we giving people hope? Are we reaching out, are we treating mental illness effectively, with effective services? Are we embracing a culture of encounter, and reaching out to the people who are troubled most?"

Other gun-death-related issues are equally problematic, like inner-city shootings, where a cultural and political rift exists on the question: What causes a life of crime?

The "progressive" tendency views the issue through the lens of economic inequality and racial injustice, as many inner-city neighborhoods with high levels of firearm death are populated by poor African-Americans. The "conservative" mindset tends to focus on cultural and moral problems.

"Why does a person resort to a life of crime?" asked Adkins. "There are certainly socio-economic reasons, but there are also the moral reasons: the breakdown of the traditional family, a culture of fatherlessness, gang violence as a way of belonging."

How does one thread the needle?

"Every day, when you pick up the paper, that's what you see, another African-American has been killed," said Thomas Buckley, general counsel for the St. Louis archdiocese.

In a recent study, the Brennan Center for Justice at New York University School of Law reported that St. Louis had the highest murder rate in the country, as measured per capita.

"We are way ahead of murders this year compared to last year in St. Louis," Buckley said. "Unfortunately, it does seem to impact certain socio-economic segments of our area, and it's most impacted the poor African-American areas and regions of the greater St. Louis area."

What Buckley finds most disturbing is the "increase in holdups [where] the person gives them their wallet and turns to go away, and the attacker shoots them in the back." Not a "drug deal gone bad or some gang infighting or gangs fighting other gangs," just random, senseless death.

"I think most people recognize that this is a problem of our culture, of the moral fabric of our society," he said, mentioning both the realities of "lower life expectancies across zip codes" in the St. Louis area, and "the collapse of the family."

"We have to acknowledge the legitimate points on both sides of the debate and root that in first principals," said Adkins. "Catholic social teaching could play a role here."

At the same time, "just because guns are not the first point of the problem, it doesn't mean we can't regulate reasonably," he said. "And keep people away from guns who can't exercise their rights responsibly."

Granado agreed about reasonable regulation: "One of the things that Congress can do immediately is to address the issue of background checks, universal background checks for all people. This is a simple thing."

Even in a state like Minnesota, where "there is a sensitivity because we are a hunting state, we are an agricultural state, guns are a part of everyday life," focusing on background checks are the way to go, said Adkins.

"Clearly, when you look at polling, there is a broad consensus in the public about reasonable regulation of firearms. Background checks typically have strong support even in a gun-friendly state like Minnesota," he said. "The real challenge is to try get the debate out of this false either/or, partisan dynamic."

DeMarco said the most "constructive, positive" thing the church can do would be to focus on educating the public about the effectiveness of background checks and handgun licensing laws.

"There needs to be more networking," he said, and he hopes the Dec. 10-14 anti-gun-violence Sabbath weekend event will help put various groups on the same page.

"People think about this differently in different areas," he said, "but I think that everywhere people don't know about the effective measures. And that's what we need to get out."

[Vinnie Rotondaro is NCR national correspondent. His email address is vrotondaro@ncronline.org.]

Vigil for victims
On Dec. 10-14, hundreds of places of worship and other groups across the country will participate in the National Vigil for Gun Violence Victims and the National Gun Violence Prevention Sabbath Weekend, an interfaith call to action. For more information and for sample worship services, visit marchsabbath.org.

Access a print-friendly version of this article to include in your parish bulletin.
A version of this story appeared in the Dec 4-17, 2015 print issue under the headline: Complexity mires action on gun violence.