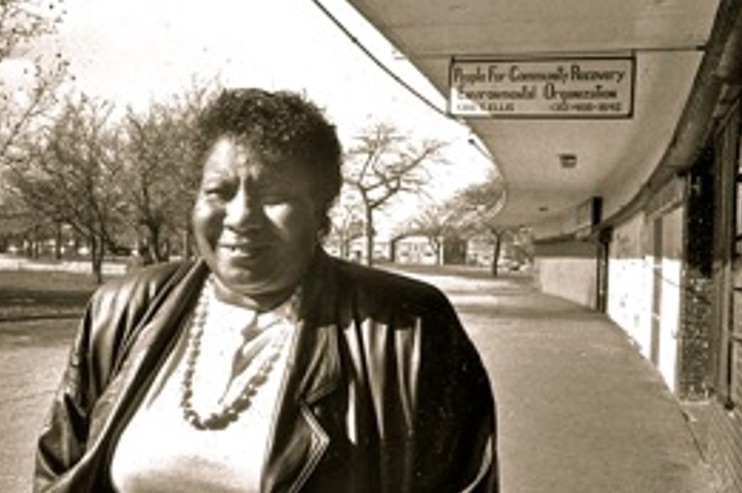 Johnson stands outside the office of People for Community Recovery, the organization she founded in 1979. (Courtesy of People for Community Recovery)
Editor's Note: EarthBeat Weekly is your weekly newsletter about faith and climate change. Below is the Feb. 26 edition. To receive EarthBeat Weekly in your inbox, sign up here.
EarthBeat is marking the end of Black History Month with a profile of Hazel Johnson, a Black woman who left an indelible mark on national environmental policy while remaining deeply rooted in Altgeld Gardens, the southeast Chicago neighborhood where she spent her life fighting polluters.
Johnson, who died in January 2011, is considered the mother of the U.S. environmental justice movement. She is known for her relentless battle against the evil that surrounded her neighborhood in the form of toxic dumps, lead paint and other pollution that sickened her neighbors and shortened their lives.
Less known, writes NCR environment correspondent Brian Roewe, is that her Catholic faith helped sustain her in the struggle.
Roewe spoke with her daughter, who carries on the work of the organization her mother founded, and others who knew and worked with Johnson. The portrait that emerges is of a woman who had to battle racism and government apathy as well as polluters.
As he delved into Johnson's legacy, Roewe says, two things surprised him: "that Altgeld Gardens was built essentially on top of a toxic waste site, and that the community's discovery of that reality did not lead to an immediate response from city officials in Chicago."
Activists note that "I can't breathe," the phrase that became a rallying cry for the Black Lives Matter movement after the murder of George Floyd, also applies to communities where people of color are systematically exposed to high levels of toxic substances. Those neighborhoods are also hit harder by deadly heatwaves — another reminder, as Johnson knew, that environmental justice and racial justice are inextricably intertwined.
Johnson stands beside a map of her community's "toxic neighbors." (Courtesy of People for Community Recovery)
Today's profile of Johnson is particularly timely. Just over a week ago, on Feb. 18, the U.S. Centers for Disease Control and Prevention announced that because of the coronavirus pandemic, life expectancy in the U.S. dropped from 78.8 years in 2019 to 77.8 years in 2020. That is the largest decline since World War II. The decrease was even greater — 2.7 years — for Black Americans, whose life expectancy dropped from 74.7 to 72 years.
That disparity underscores the toll the virus has taken on communities of color, which are disproportionately affected by contaminants, including air pollution, from nearby industrial plants and waste dumps. Places like Louisiana's "Cancer Alley," where Catholic activist Sharon Lavigne is leading a fight to stop construction of a plastics factory, have higher rates of lung diseases, which have made residents more vulnerable to COVID-19.
At EarthBeat, we regularly draw those connections in our coverage of climate issues. For more background, I recommend Jesse Remedios' interview with Sylvia Hood Washington, an environmental health scientist and historian, and Roewe's conversation with Robert Bullard, who is considered the father of the U.S. environmental justice movement.
One thing Roewe learned from listening to those who knew Hazel Johnson, he says, "was just how relatable she came across in practicing her Catholic faith."
"They did not describe her as part of an archdiocesan council or project. She wasn't dropping lines from Scripture (and there was no Laudato Si') or weaving theological citations into her powerful testimonies for why her neighborhood deserved clean air, water and land as much as any other."
Above all, she showed how much of a difference one person can make.
"She wasn't someone who publicly led with her faith, but friends say it was still a driving force for why she cared, and just as much what sustained her through the difficult struggle of going against corporations and government officials," Roewe says.
"She was a regular parishioner, and I think that aspect of her story is important for Catholics who may think that they have to operate in formal church channels to make a difference," he adds. "It can certainly help, and the wider church certainly has a bigger role to play. But Hazel shows us you just have to start working, keep pressing and wait for no one."
---
Here's what else is new on EarthBeat this week:
Here's what's new in other climate news:
---
Upcoming events:
"The Human Roots of the Ecological Crisis," the fourth of seven virtual talks marking the fifth anniversary year of Pope Francis' encyclical "Laudato Si', on Care for Our Common Home", will begin at 7:30 p.m. Central Time on March 4. Sponsored by the Center for Catholic Thought & Culture at the University of San Diego, it will feature Julia Cantzler, Andy Tirrell, Kate DeConinc and Jeffrey Burns.
You can find more information about this and other upcoming events on the EarthBeat Events page.
---
Closing beat:
Several weeks ago, I asked readers to share the resources they are using for reflection during Lent.
In response, Nancy Lorence of the Church of St. Francis Xavier, in New York City, wrote, "It is the third year that the St. Francis Xavier Environment Ministry has published a Lenten Carbon Fast Calendar. We offer it to other parishes, etc., to use as they see fit."
The calendar, which you can download here, includes reflections for each day of the week throughout Lent, from "Sustenance Sundays" through "Simple Saturdays." I can't help looking forward to March 25, when the calendar calls attention to the award-winning children's book We Are Water Protectors by Carole Lindstrom and illustrator Michaela Goade. Inspired by Indigenous-led movements in North America, this book for young readers won the 2021 Caldecott Medal for its illustrations.
Is your family, parish or faith community using resources with a climate or environmental theme during Lent? If so, we'd love to hear about it at earthbeat@ncronline.org.
If you like EarthBeat Weekly, please spread the word! Feel free to pass along the link to EarthBeat Weekly on our website. Or if you prefer, you can sign up here to receive the newsletter in your inbox every Friday. Thank you for reading EarthBeat!