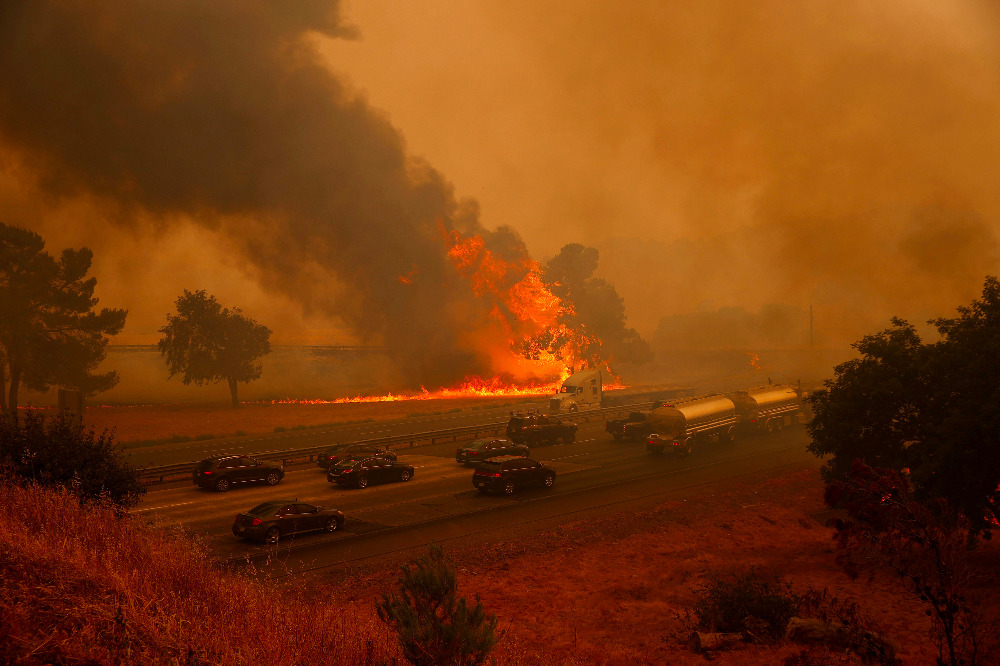 Motorists on Interstate 80 drive past flames from the LNU lighting complex fire near Vacaville, CA, on Aug. 19, 2020. (CNS photo/Stephen Lam, Reuters)
Editor's Note: EarthBeat Weekly is your weekly newsletter about faith and climate change. Below is the Aug. 21 edition. To receive EarthBeat Weekly in your inbox, sign up here.
If we need another reminder of what a warmer future could mean for the world, we have only to look out West. California appears to be heading for another fierce fire season, with more than 5,000 fires reported to have burned more than 100,000 acres as of Aug. 16, compared to 28,000 acres in the same period in 2019. Four of the 20 largest fires on record for the state, and four of the deadliest, occurred in the past three years, according to the state Department of Forestry and Fire Protection's Cal Fire website. The fires are linked to climate change in a vicious circle, as a warming climate makes intense fire seasons more likely, and destruction of forests exacerbates climate change.
But all fires are not the same, experts say, partly because the ecosystems where they occur vary widely. Fires in the Amazon basin are eating away at a tropical forest that, left to its own devices, is too wet to burn naturally. That means the fires are set by humans, usually after they have cut down trees to build a road or clear land for farming or ranching. Whenever part of the forest is cut down, new forest edges are created.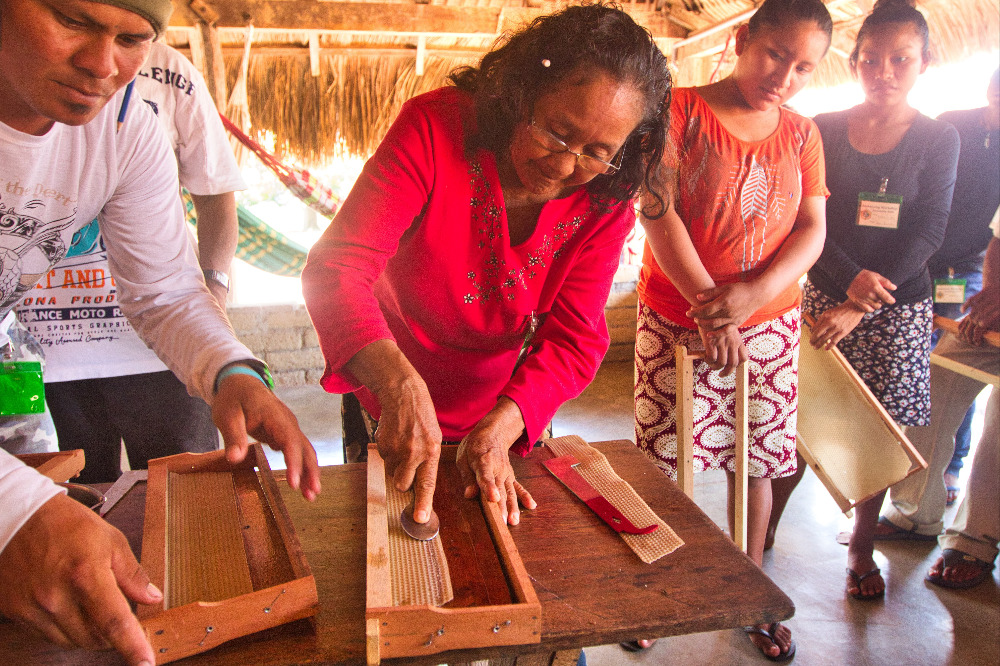 Guyanese villagers who collect wild honey by setting fires to smoke out bees learn to build beehives to avoid wildfire risk. (NCR photo/Barbara Fraser)
The blaze burned out of control for two weeks in a "bush island" — a forested area that provides critical wildlife habitat — near the Karanambu Ranch, which caters to nature tourists. The fire had gotten out of control when local villagers were smoking bees out of a tree hive to collect wild honey. Ranch manager Melanie McTurk
organized workshops
to teach the wild honey collectors to keep beehives instead, along with helping them to market honey to other ranches and agencies in the tourism industry.
With global temperatures rising relentlessly, we need creative and effective ways of addressing the causes of both the climate crisis and its corollaries, like wildfires, more than ever.
---
Here's what's new on EarthBeat this week:
---
Elsewhere, in the world of climate news:
---
Upcoming Events:
The Association of U.S. Catholic Priests is launching a series of monthly webinars to mark the Season of Creation and. The first, Meatless Mondays and Climate Change: A Calling and a Solution, is scheduled for 4 p.m. Aug. 24.
---
Closing beat:
If you like EarthBeat Weekly, why not share it with a friend? Feel free to forward this newsletter or pass along the
link to EarthBeat Weekly
on our website. And if you're reading this issue of EarthBeat Weekly in your browser and would like to receive it in your inbox,
you can sign up here
for weekly delivery.
Barbara Fraser
NCR Climate Editor