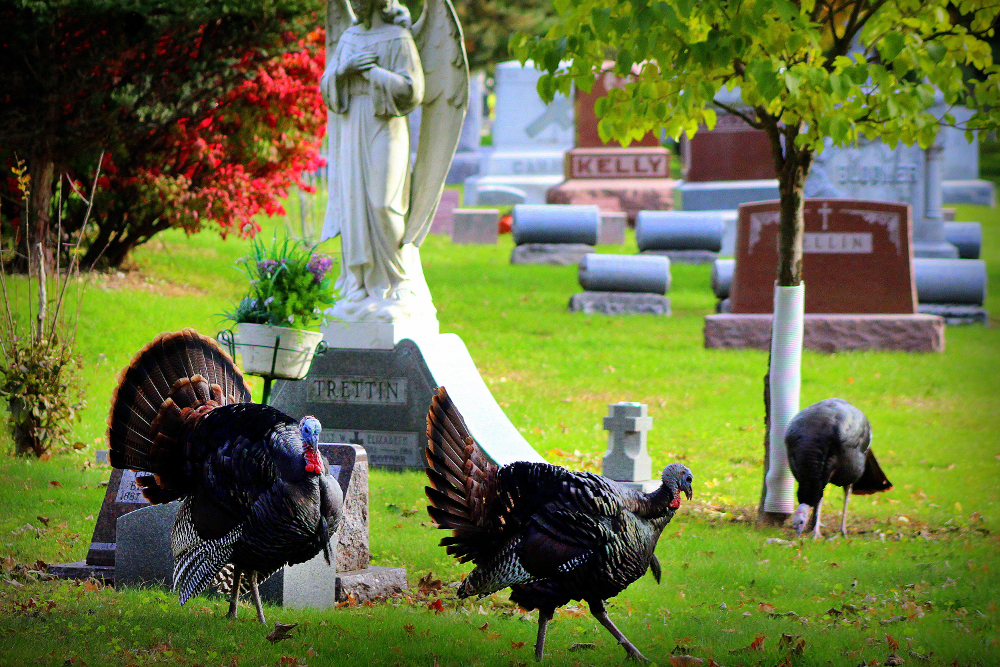 Wild turkeys graze on the grounds of St. Mary Catholic Cemetery Oct. 24 in Appleton, Wisconsin. (CNS/Brad Birkholz)
This week, as folks in the United States sit down to tables full of food for Thanksgiving, NCR columnist Colman McCarthy warns against enjoying that turkey or ham as a centerpiece, explaining that emissions from animals raised to feed people worldwide is greater than the air pollution by cars, trucks, planes and boats combined. NCR staff writer Brian Roewe also talks about the upcoming COP24 Summit which will discuss just how well countries across the globe are holding up to their promises of lowering carbon emissions.
On the show today:
Background reading:
How do I listen?
We can let you know when new podcast episodes are published. Sign up for emails here.
From your iPhone or iPad: Open the preloaded app called "Podcasts." It has a purple icon. If you're reading this from your phone, tap this link, which will take you straight there. (You can also use the magnifying glass icon to search; type "NCR in Conversation.") Once you're on the series page, you can tap on an episode title to play it. Tap on the "subscribe" button to have new episodes sent to your phone. If you prefer another podcast player, you can find "NCR in Conversation" there. (Here's the RSS feed.)
From your Android phone or tablet: You can listen and subscribe using the preloaded Google Play app. If you're reading this from your phone, tap this link to play the latest episode and learn more about the app.
From your desktop or laptop: You can also simply press the play button above to listen on this page. Make sure to keep this window open on your browser, or the audio will stop. You can always find the latest episode of NCR in Conversation at NCRonline.org/podcast.