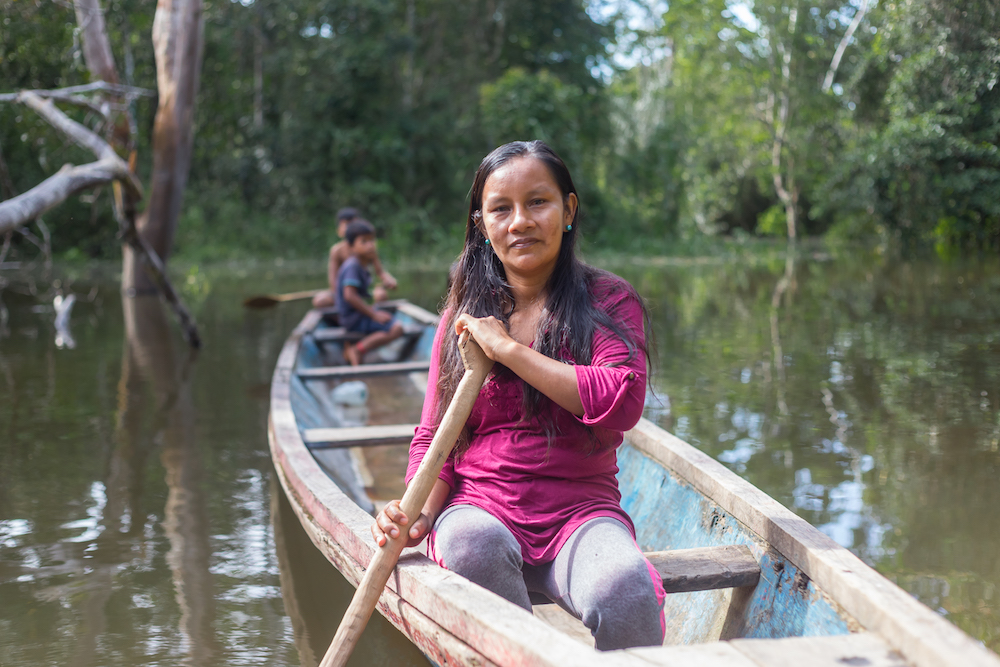 Liz Chicaje Churay paddles a canoe near her home on the Ampiyacu River in Peru's northeastern Loreto region. (Goldman Environmental Prize)
Editor's Note: EarthBeat Weekly is your weekly newsletter about faith and climate change. Below is the June 18 edition. To receive EarthBeat Weekly in your inbox, sign up here.
This week, Sharon Lavigne, a Black Catholic environmental justice advocate from Louisiana, was honored for fighting to keep companies from building more petrochemical plants in St. James Parish, Louisiana.
Lavigne received the Goldman Environmental Prize for North America, as Claire Schaeffer-Duffy reported for EarthBeat. The award goes to six people — one in each of the inhabited continental regions of the world — who work at the grassroots for a better environment for all.
The award for Central and South America went to Liz Chicaje Churay, a Bora Indigenous woman from the Amazonian region of Loreto, in northeastern Peru. I first met Chicaje in 2014, when I traveled to her remote community on the Ampiyacu River while I was reporting on protected areas.
At the time, there was an effort under way in that region to create a new national park. Several protected areas already existed, but there were gaps between them, and people took advantage of the lack of protection to hunt, fish and log illegally. Yaguas National Park, an area the size of Yellowstone, with the highest level of protection possible in Peru, was created in January 2018.
The area protected by the park had long been sacred to local Indigenous people, because it was the dwelling place of the spirit that protects the forest animals. Scientists later found that it is also a place of great biological diversity, where many animals reproduce. As in many other places, science has borne out traditional wisdom. That interdependence of humans and ecosystems is also a theme throughout Pope Francis' encyclical "Laudato Si', on Care for Our Common Home," which was issued six years ago today.
It is "virgin forest, a sacred forest, a forest where our ancestors died," Chicaje told me when I interviewed her recently. "For us, those things are very important. The forest means a great deal to us."
Chicaje, a leader of the federation of communities along the Ampiyacu River, received the award for her fight against illegal logging and in support of the park. There had been some opposition to the park's creation, but she said her arguments eventually won out.
"The message we took was that we wanted children to have clean, healthy water, that they have a healthy diet," the 38-year-old mother of five told me.
Children play in 2014 in Pucaurquillo, Chicaje's home community on Peru's Ampiyacu River. (Barbara Fraser)
When I visited her community in 2014, the local people had managed to stop the illegal logging. They also had organized to manage hunting and fishing sustainably, gaining the necessary government permits and certifications to market their goods legally. That helped boost family income in an area where a subsistence lifestyle had given way to a cash economy.
The park's creation was also meant to give greater impetus to sustainable activities that could increase the incomes of families in the 29 communities in the surrounding area. But the pandemic put most of those projects on hold.
"We were finding markets," Chicaje said, "but with the pandemic, that all broke down." Some people were tempted to return to illegal activities, but in general the agreement to resist that has held, she said, adding, "There's tranquility now, but there is also need."
Chicaje's eyes filled with tears when she recounted that the pandemic had taken the lives of two older community members — Benjamín Rodríguez and Mauricio Rubio — who had also worked for the creation of the park. That is a sobering reminder of the tenuousness of life in remote Amazonian communities, where there is no cell phone or Internet service, and where the nearest hospital is hours — or days — away by river.
Chicaje hopes that the plans for new health centers, better communications and support for sustainable use of the forest, which were in place before the country locked down in March 2020, will get on track again once the pandemic is past.
"All we want," she said, "is quality of life."
---
In other news on EarthBeat this week: