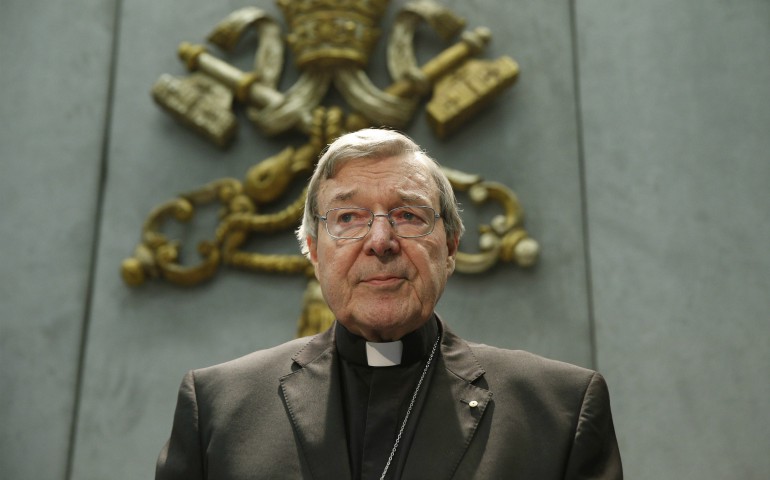 Australian Cardinal George Pell arrives to deliver a statement in the Vatican press office June 29 after Australian authorities filed sexual abuse charges against him. (CNS/Paul Haring)
Cardinal George Pell, on a leave from his Vatican finance job and presumably from ministerial work, will return to Australia later this month to face charges of sexually abusing minors decades ago. That is a sign of the progress the Catholic Church has made in addressing the abuse of children by clergy.
Indeed, this is not 1985, when the U.S bishops' conference and the Vatican could bury detailed reports on the abuse of minors and cover-up in Lafayette, Louisiana, and ignore advice from a priest, a lawyer and psychiatrist on how to proceed in transparency and justice. The U.S. bishops would go blithely on for another decade before some individual dioceses would begin to implement policies to handle abusive priests.
This is not 1995, when Austrian bishops elected as president of their conference Cardinal Hans Hermann Groër, archbishop of Vienna, just days after media reports broke about Groër's sexual affairs with seminarians under his care two decades before. Groër resigned as archbishop by the end of the year, but another three years passed with continual media coverage of Groër's misconduct with students and adults and a desperate plea from the Austrian bishops directly to Pope John Paul II "to bring the burden of the Groër matter to an end soon," before Groër went into quiet retirement. John Paul met privately with Groër twice and defended the cardinal against "unjust attacks" until Groër died in 2003. The pope called him one of God's "faithful servants."
---
Related: Marie Collins: Cardinal Pell's leave from Vatican service comes 'far too late' (June 29, 2017)
---
Throughout his pontificate, too, John Paul staunchly defended Fr. Marcial Maciel Degollado as "an efficacious guide to youth," even though the founder of the Legionaries of Christ was a serial sexual abuser and fathered multiple children with at least two women. Only after John Paul had died could Pope Benedict XVI force Maciel out of public ministry.
This is not 2002, when Cardinal Bernard Law of Boston could withstand a year of withering, daily news coverage of how he damaged a generation of Catholics by denying and systematically covering up clergy abuse. Finally forced out of Boston, Law found refuge in well-paid Vatican jobs and continued to influence the work of the church for another decade.
This is not 2013, when a documents cache forced open by lawsuits showed that Cardinal Roger Mahony, archbishop of Los Angeles from 1985 to 2011, withheld information on abusive priests from civil authorities and used tough, combative legal fights to keep payouts to victims low and archdiocesan records confidential in hundreds of lawsuits. (The subjects of Pell's legal strategies would recognize these tactics.) Already retired, Mahony would defy his predecessor's order to withdraw from administrative and public duties because of "his failure to fully protect young people entrusted to his care." In less than a month, Mahony was in Rome to elect a new pope and expressing "amazement" that anyone would suggest he not join the conclave.
The church has changed. Benedict helped the change immensely. While still prefect of the Congregation for the Doctrine of the Faith, he took charge of church cases brought against abusive priests, and as pope, his high-profile meetings with abuse survivors were signs of the change the church desperately needed.
Institutional changes came under Benedict and Pope Francis. They amended church laws to better serve this cause, established the Center for Child Protection at the Pontifical Gregorian University in Rome to train church personnel in child protection, and have seen policies implemented throughout the world to protect children and vulnerable adults. Francis created the Pontifical Commission for the Protection of Minors to advise him directly.
These structural changes have been matched with a few hopeful actions: Auxiliary Bishop Gabino Miranda of Ayacucho, Peru, was laicized in July 2013 for sexually abusing a young girl. Charged with multiple counts of sex exploitation of children, Archbishop Jozef Wesolowski was removed as nuncio to the Dominican Republic in 2013, laicized in 2014 and faced a church trial in 2015, though he died just after that trail was underway. This month, Pell will defend himself in Australia's justice system.
We have seen Francis trying to hold bishops accountable. In 2015, he forced the resignations of three U.S. bishops who failed in handling sex abuse cases: Bishop Robert Finn of Kansas City-St. Joseph, Missouri, and Archbishop John Nienstedt and his auxiliary, Bishop Lee Piché, of St. Paul-Minneapolis.
The institution is on the path of change, but recent events raise questions about its sustainability. Laws and policies have been updated, but hearts and minds not so much.
Francis authorized the establishment of a tribunal to hold bishops responsible for "abuse of office." That has not happened. The two abuse survivors on the pontifical commission have been forced off. Peter Saunders was sidelined last year for being outspoken, and Marie Collins resigned this March after losing hope that Vatican officials would cooperate with the commission. Collins' resignation poses serious questions about the commission's credibility that no one at the Vatican, including Francis, has addressed.
What continues to thwart the work of the church in finally putting this scandal behind us is that the hierarchy has yet to undertake the deep and likely painful examination of the role the all-male clerical culture of the church has played in this scandal. At its core, this scandal is not about sex, it is about how power and authority are wielded in the church. Until that changes, little else will.
A version of this story appeared in the July 14-27, 2017 print issue.