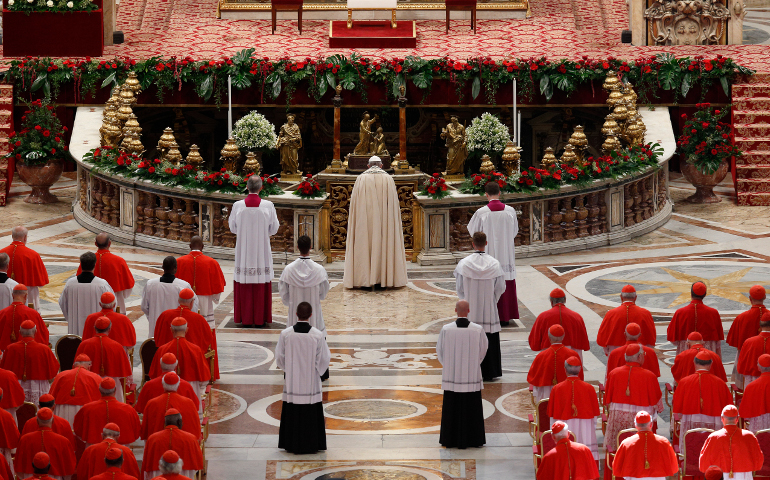 Pope Francis prays as he arrives for a consistory in St. Peter's Basilica at the Vatican June 28. The pope created five new cardinals at the service. (CNS/Paul Haring)
Although no pope would say it openly, appointing cardinals is the most overtly political act of any papacy. It is the only time a pope makes a decision that is almost strictly electoral, namely: Who should vote for my successor when I'm done with the job?
The process is, of course, entirely sexist and undemocratic. One man — and it is always a man — appoints the other men — and it is always only men — who will some day elect a leader responsible for ministering to one-seventh of the world's population.
For a wide swath of Catholics, the appointment of cardinals only underscores the gap between the official church's talk about the rights and dignity of women and its lack of action on women's behalf. This certainly dashes the hopes of all who share Pope Francis' stated desire "to create still broader opportunities for a more incisive female presence in the church."
Yet, for all that, Francis is doing something interesting and laudable with this most unaccountable group: He's making it a bit more representative of the 1.3 billion Catholics to which it ministers, and of the world in which they live.
Francis is also clearly beginning to acknowledge that he cares more about who it is he's empowering to elect his successor than about which diocese or church office that person leads.
In his four consistories since 2014, Francis has appointed 49 of the 121 cardinals under age 80 who will one day elect his successor. Of that number, he has chosen 13 from countries that had never before had a cardinal.
This list of countries says something all by itself, and is worth repeating in full: Haiti, Myanmar, Panama, Cabo Verde, Tonga, Syria, the Central African Republic, Bangladesh, Papua New Guinea, Mali, Sweden, Laos and El Salvador.
As you read that list you find isolated and poverty-stricken island nations, nations torn apart by civil war and 21st-century Western efforts at colonization, and countries that have little Catholic population to speak of.
That last aspect is quite fascinating. Laos and Myanmar, for example, have miniscule Catholic communities living in societies and cultures imbued with Buddhism; Sweden's Catholics account for less than 1 percent of the population in a country that is nominally Lutheran but overwhelmingly secularized.
New Swedish Cardinal Anders Arborelius explained the sentiment behind Francis' cardinal choices in a June 28 interview by saying the pope "has this love for the small, poor little communities ... and also for those who live far away."
In one sense, Francis' choices place him squarely in the line of his predecessors John XXIII, Paul VI, John Paul II and Benedict XVI, who over decades sought to internationalize representation in the church's most select group. But those efforts stalled in the last years of Benedict's watch. To get a sense of the change under Francis, one need only look at Benedict's second-to-last consistory, held in February 2012, when a stunning 10 of the 18 new cardinal electors named held plum Vatican posts.
Imagine the difference in perspective brought to the College by Arborelius, who leads the only diocese in his country, versus that brought by the head of the Pontifical Council for Legislative Texts or the president of the Administration of the Patrimony of the Apostolic See.
Arborelius, like many of the other cardinals appointed by Francis, knows the church is not the dominant force in his culture, and must learn to evangelize through example rather than by power or fiat. He spoke in his interview of things the church might learn from, rather than teach, his secularized country.
Likewise, new Laotian Cardinal Louis-Marie Ling Mangkhanekhoun spoke in a June 24 interview about identifying priorities for a Catholic population of 45,000 in his country of 7 million. Catholics, he said, must be in dialogue with other religions and the country's government, in order to "establish relationship with them and talk with them."
Think of the perspective that Salvadoran Jose Gregorio Rosa Chávez, a retirement-age auxiliary bishop who literally walks in the footsteps of martyred Archbishop Oscar Romero, will bring to the College of Cardinals. Think of the message that appointment sends to all who work on the behalf of the poor and disenfranchised.
Even in naming cardinals from countries that have had them before, Francis is making changes. In 2016, Cardinal-elect Joseph Tobin — known for bringing sanity to the Vatican's investigation of women religious — was archbishop of Indianapolis, a place no cardinal had served, and then moved to Newark, New Jersey, another spot never served by a cardinal.
In February 2015, Francis made two Italians cardinals but bypassed the traditional cardinalate sees of Venice and Turin. One red hat instead went to Archbishop Francesco Montenegro of Agrigento, Sicily, who heads the Italian bishops' commission on migration, an issue of particular importance to Francis. Another red hat that year went to Mexican Archbishop Alberto Suárez Inda of Morelia, a diocese under siege by organized crime and violence.
While we await wider reforms of the church's governance structures, most especially the full inclusion of women in decision-making roles, Francis' efforts to give shape to the Catholic peripheries are a significant and praiseworthy step forward.
A version of this story appeared in the July 14-27, 2017 print issue under the headline: Cardinals from peripheries: a step forward.