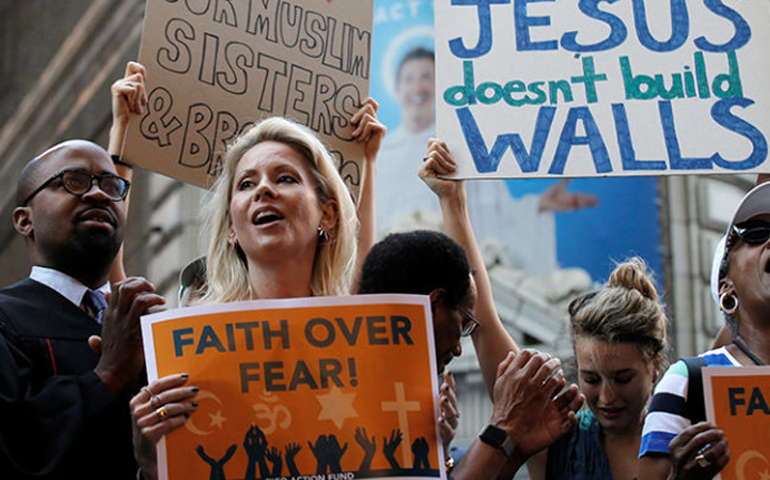 Interfaith religious leaders protest against Republican presidential candidate Donald Trump outside a hotel where he was to meet with evangelical leaders in New York on June 21, 2016. (Reuters/Brendan McDermid)
Donald Trump's flagging presidential bid is enjoying a boost of that old-time religion after conservative Christian leaders gave the candidate high praise and standing ovations at a critical closed-door meeting that one observer described as a "campaign rally."
Trump would look back on the June 21 meeting as "the seminal event and turning point in taking you to the presidency," former Arkansas Gov. Mike Huckabee, a Baptist and Trump backer who moderated the talks, told the presumptive Republican nominee in front of nearly 1,000 mainly evangelical leaders gathered at a Times Square hotel.
Huckabee's remarks were among the many enthusiastic comments about Trump that leaked throughout the day on social media and elsewhere.
"Mr. Trump is a bold and fearless leader who will take the fight to our enemies and to the radical Islamic terrorists, whether they attack in San Bernardino, Orlando or Paris," the Rev. Jerry Falwell Jr., president of Liberty University in Virginia and a longtime evangelical Trump supporter, said in his speech at the unprecedented event.
At a news conference after the meeting, Bill Dallas, head of United in Purpose and a chief organizer of the summit, said the encounter with Trump was "overwhelming" and "exceeded our expectations on many levels."
Others at the panel generally echoed that excitement while being careful not to formally endorse Trump.
"Donald Trump did himself a great favor today," said Kelly Shackelford, head of the First Liberty Institute, a legal advocacy group that fights for religious freedom causes and has strongly opposed the Obama administration.
Trump himself brimmed with characteristic confidence in a statement to the Christian Broadcasting Network, whose correspondent, David Brody, was one of a handful of friendly journalists invited to watch the proceedings.
"I just had record-setting attendance with evangelicals from all over the country," he said. "Unbelievable event -- great people!"
The meeting came at a critical moment for Trump: In recent days he fired his longtime campaign manager, financial disclosures showed his campaign coffers are nearly empty, and his poll numbers are flagging worse than expected after a series of controversial remarks.
Perhaps most worrying for Trump and the GOP are surveys showing that his support among white evangelical Christians -- the key to Republican electoral success in November -- is not nearly as strong as it needs to be.
There had been grave reservations about Trump among leading Christian conservatives, especially evangelicals, and many had backed his vanquished rivals, such as Ted Cruz and Marco Rubio.
But some had supported Trump and others started to come around, or seemed to want to find reasons to support him over his likely Democratic rival, Hillary Clinton, who has long been the bane of many evangelicals.
This meeting seemed to provide all the reassurance they needed.
"Several times several people commented, 'I'm impressed. I'm leaving more hopeful.' Certainly, that reflects where I'm at," said Curt Smith, president of the Indiana Family Institute and an at-large delegate to the GOP convention.
Marjorie Dannenfelser, a longtime abortion opponent who heads the Susan B. Anthony List, acknowledged that Trump "was not my first choice" and that her group had lobbied against him during the primaries.
But, she added, "I have come along on a journey" and she said that if she wasn't ready to endorse Trump today, she would likely do so in light of his assurances to defund Planned Parenthood and nominate anti-abortion Supreme Court justices.
His commitment is "very clear," Dannenfelser said.
The leaders who spoke to the media also made it clear that the conversation with Trump, which lasted several hours, was not a theological inquiry or an attempt to turn him into a rock-ribbed Bible thumper, as one put it.
Many said they clearly had some policy differences with him and they recognized that Trump has not always been a saint. But they all stressed that Christianity is about forgiveness, and it is important to recognize when people are on a pilgrimage toward faith.
They also underscored that the election is about policies -- and on that score Trump did not come empty-handed.
Yes, he invoked Scripture and said his own Presbyterian background was important to his life. But he repeatedly returned to policy proposals where he was more comfortable, such as pledging to defend religious freedom and attacking Clinton for failing to do so.
He also impressed many by vowing to revoke long-standing statutes that threaten the tax-exempt status of congregations that engage in open politicking. "I think maybe that will be my greatest contribution to Christianity and other religions," he said during the meetings.
Could Trump's political salvation come from these Christian conservatives?
The meeting was initially seen as a gamble, given that the thrice-married New York real estate mogul has been repeatedly blasted for his personal lifestyle and for his caustic comments about women and minorities – not to mention his often cringe-inducing struggles in articulating his Christian bona fides.
But it was a bet that Trump apparently couldn't pass up.
He knows how important the evangelical bloc is, and he has ramped up his efforts to court those voters in recent weeks; on Tuesday, he also unveiled his new evangelical advisory board.
Several participants in the meeting said privately that political operatives in the campaign at first resisted proposals to hold this meeting, fearing that if some of the participants came out bad-mouthing their candidate that criticism would dominate the headlines and undermine any progress in solidifying this crucial electoral bloc.
Other Trump advisers, however, mainly Huckabee and former rival Ben Carson, convinced Trump that it was worth it.
The Trump campaign did insist that the meeting take place on his home turf, which led to the rather unusual scene of hundreds of largely Bible Belt Christians wandering out into the glitz and hustle of midtown Manhattan -- Trump's natural environment, but an exotic venue for those who felt the meeting should have been some place like Texas.
Also, the meeting was initially billed as a "conversation" between a few hundred faith leaders and Trump, and it grew to 500 and then 900 and then nearly 1,000.
It also grew increasingly scripted, with special prayers for the meeting's success distributed to participants and pre-selected questions given to the candidate ahead of time.
That initially caused some private grumbling among a few of those in attendance.
But the careful choreography appeared to work as the predominant feeling coming out of the meeting was that the author of "The Art of the Deal" may have finally closed the deal with evangelicals.
"It was basically a campaign rally, folks," tweeted Fox News columnist Todd Starnes, who was also allowed inside.
The question now, however, is whether the good feelings from this event -- and several other recent efforts Trump has made to court conservative Christians -- will translate into support among voters.
Some of the very same leaders who were at Tuesday's gathering backed other GOP candidates in the primaries, but most evangelical primary voters went for Trump -- as the presumptive nominee himself was quick to point out.
It's all about turnout at this point, and Trump would need at least 75 or 80 percent of the evangelical vote to win and to compensate for his shortfall among other key demographics in the electorate. That's about the percentage that voted for Romney in 2012, whereas Trump is drawing just 62 percent evangelical support currently.
But several participants believe it can happen, and already is.
Evangelicals across the country "want to be with Donald Trump because they can't accept the alternative," said Tony Perkins of the Family Research Council.
If everyone's mind is not quite made up yet, Perkins said, Trump "will have increasing wind in his sails from the grass roots." And that's exactly the kind of network he said Trump needs given the struggles and small size of his own campaign staff.
"I think we're on a great path," added Ken Blackwell, also of the FRC. But Blackwell said "to get the intensity … to turn out the vote, to beat the Clinton machine, it's going to take a continuation of this conversation."