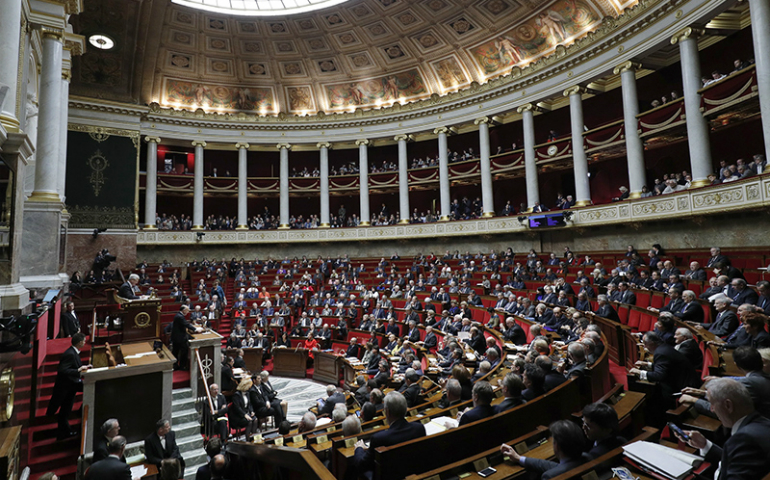 French Prime Minister Bernard Cazeneuve delivers a speech outlining his new government program at the National Assembly in Paris on Dec. 13, 2016. (Reuters/Philippe Wojazer)
France will soon create a new crime that will make someone running an anti-abortion website as liable to a lawsuit as a protester blocking the door to an abortion clinic.
The new crime, called the "online obstruction of abortion," won't be an outright ban, because that would amount to government censorship.
But the law will be so broadly worded that abortion rights activists could sue websites that promote alternatives to ending a pregnancy or discuss abortion's possible psychological effects.
The French National Assembly, or lower house of Parliament, and the Senate have taken the first steps toward creating the new crime and the final bill to do so should be passed into law by February.
The bill has sparked some public debate, unusual in France, where abortion has been legal since 1975. Only two years ago, the National Assembly passed a resolution almost unanimously declaring it a fundamental right for women.
Still, abortions are only allowed during the first 12 weeks of pregnancy. After 12 weeks, two doctors must approve the procedure and only if there is grave danger of injury to the woman or the fetus.
France has about 14 abortions per 1,000 women, roughly comparable to the U.S., where the rate was 13.2 abortions per 1,000 women in 2012.
The numbers may be somewhat misleading because French women seeking an abortion after the legal deadline can have one in nearby Spain or the Netherlands.
France's Roman Catholic Church, which opposes abortion but does not wage a U.S.-style culture war about it, issued a ringing denunciation of the bill late last month in an open letter to President Francois Hollande.
Archbishop Georges Pontier, head of the bishops' conference, called it "a serious precedent for limiting freedom of expression on the internet (and) a limitation all the more serious as it affects questions of freedom of conscience. This seems to me to be a very serious attack on the principles of democracy."
Laurence Rossignol, the Socialist government's minister for women's rights and families, disagreed.
"Freedom of opinion is not the right to lie," she said in defense of the bill that treats the anti-abortion websites as frauds.
"These internet sites spread false allegations," she said in the National Assembly. Their counselors "are not professionals, but in fact anti-abortion activists hiding behind the anonymity these hotlines give them."
Francois Fillon, candidate of the center-right Republicans in next year's presidential election, surprised voters by revealing during his party's primary campaign this autumn that he, as a Catholic, was personally opposed to abortion. But he does not want to ban it and did not try to limit it when he was prime minister from 2007 to 2012.
Fillon's comment came as the government, which has staunchly promoted social reforms such as same-sex marriage while its other political and economic policies earned it record-low popularity ratings, prepared for the latest in a series of laws it has passed to ease access to abortion.
The bill in question would expand the scope of a 1993 law aimed at stopping protesters from blocking access to abortion clinics. Once it is voted into law, violators would risk up to two years in prison and 30,000 euros ($31,900) in fines.
The bill would make it a crime to spread "by any means of communication to the public, including through the dissemination or transmission by electronic or online means, of allegations (or) indications likely to intentionally mislead (people) — with a goal of deterring them — about the characteristics or medical consequences of abortion."
Since coming to power in 2012, the government has made abortion completely free as part of the National Health Service, scrapped a requirement that a woman must be "in distress" to obtain permission to abort, and dropped a weeklong "reflection period" between applying for and carrying out an abortion.
It decided to act again in part because several anti-abortion sites were found to be ranked higher on search engines than the government's own abortion information site.
Although their home pages appear to be neutral, the sites and their advice hotlines — run mostly by Catholic anti-abortion activists — are on closer inspection clearly against abortion and stress the physical and psychological damage they say the procedure can cause.
For its part, the government website presents abortion as a routine medical procedure and even carries a warning against websites that take a different perspective:
"You should systematically mistrust sites and hotlines that devote a large part of their contents to maternity and the so-called complications and traumas linked to abortion," it says.
The anti-abortion movement in France is relatively small. In the early 1990s, there were scattered sit-ins at abortion clinics inspired by reports of similar protests in the United States. The 1993 law on "obstruction of abortion" effectively ended them.
A "Marche pour la Vie" (March for Life), also copied from the U.S. model, has been held in Paris annually since 2005. It attracts tens of thousands of marchers, far fewer than the hundreds of thousands who turn out in Washington every January.
Because France is so centralized and does not have powerful states, local laws to restrict legal abortion as much as possible — such as the "heartbeat bill" that Gov. John Kasich of Ohio vetoed Dec. 13 — are unknown.
Ironically, a major obstruction to abortion in France is the lack of appropriate facilities in state hospitals around the country. Main cities such as Paris have sufficient facilities, but budget cuts and a lack of doctors ready to work in provincial towns and villages mean that many parts of the country have only a few overbooked clinics that offer the procedure.