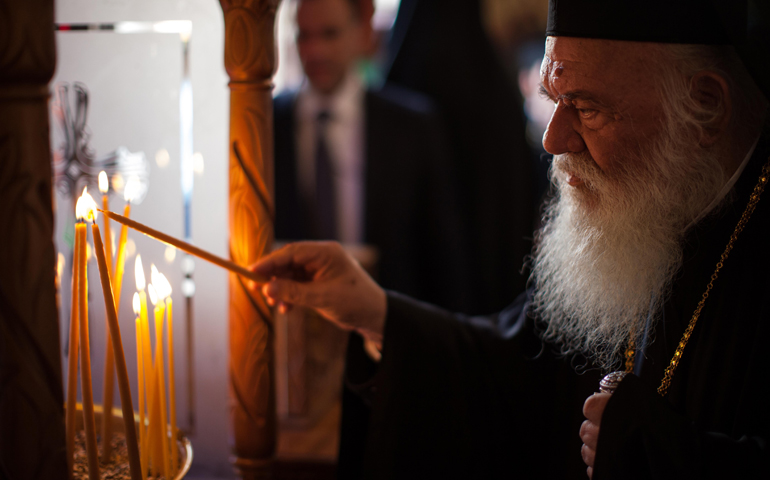 Orthodox Archbishop Ieronymos II lights a candle as he enters St. Mena Cathedral in Heraklion, Greece, June 19, 2016. (CNS/Sean Hawkey, handout)
Antiparos, Greece — July 31, 2017
Just up from the harbor of this breezy Aegean Sea island, on a cobbled walkway overhung with bougainvillea, Elena Antopolou seeks a modest living hawking clothes and jewelry to seasonal tourists, while her husband tops up their earnings working in a nearby taverna.
Like many Greeks, they spend spring and summer trading on the country's far-flung islands. But for the rest of the year, they're back in the stuffy, teeming metropolis of Athens, coping as best they can with the effects of their country's economic crisis.
"We couldn't stay there all year — so we're lucky to have this place where the children can swim and wander freely," Antopolou told NCR. "But whether we're in Athens or here in Antiparos, it's really tough for small businesses like ours. The more you make, the more they tax you — while the rich just seem, whatever happens, to keep on doing well."
Such grievances are widely shared, not least in Greece's small, thinly dispersed Catholic minority.
Despite severe hardships, the church has continued to aid poor citizens via its Caritas charity, as well as give shelter to refugees from Syria and Iraq, who are still reaching Greece despite tightened controls in neighboring Turkey.
There are warnings, however, that its capacity to help could soon be curbed, unless Greece's Catholic dioceses receive more backing from abroad.
"Our whole church faces great difficulties," explained Archbishop Nikolaos Printezis of Naxos, Andros, Tinos and Mykonos, secretary-general of Greece's six-member bishops' conference. "The state won't help us, since it says we're supported by the Vatican; and the Vatican can't help us because we're still considered a relatively rich country in the European Union."
When world financial markets crashed in 2008, the EU and international institutions demanded draconian austerity measures from Greece in return for bailing out its faltering economy. In January 2015, a Coalition of the Radical Left, or Syriza, won a surprise victory in elections, pledging under its youthful leader, Alexis Tsipras, to renegotiate the rescue package and ditch austerity until conditions improved.
But within half a year, amid violent street protests, Greece's banks had been forced to close and there'd been talk of the country having to quit the EU altogether. Since then, statistically at least, things have tentatively looked up.
In mid-July, the EU's governing commission said it could soon lift its oversight of Greek government spending in recognition of the country's new budget surplus and 2.1 percent growth forecast. And on July 25, the Tsipras government claimed the country had "turned a corner" and began, for the first time in years, issuing financial bonds.
However, besides huge debts, Greece still has unemployment of 22 percent, the highest in the European Union. The International Monetary Fund and European Central Bank have warned against over-optimism, insisting pensions and welfare payouts may need to be cut further, and taxes raised even higher, before the country's third bailout ends in August 2018.
Talk of an upturn has yet to be heard in the Catholic church, whose six dioceses and archdioceses account for just three percent of Greece's population of 11 million, compared to 97 percent identifying with Orthodoxy, and have had to contend with the dual challenges of economic poverty and social isolation.
In 2013, a 48 percent tax rise drastically reduced the church's already parlous income, forcing it to close charitable projects and cut clergy earnings. Church leaders protested the hikes as a "condemnation to bankruptcy," pointing out that all Catholic assets had come from offerings, and were used to cover salaries and pensions denied to Catholic clergy by the Greek state. But the taxes remained in place, fueling further hardship within the church.
Despite everything, the church has remained well organized, running several highly noted periodicals, as well as a state of the art website, which stresses that Greece's Catholics are "a religious and not an ethnic minority," sharing common traditions with the Orthodox majority.
Meanwhile, Caritas has continued dispensing food, medicines and educational services from its offices in Athens, Thessaloniki and Lesbos — "to every person in need," according to its president, Fr. Antonios Voutsinos, "regardless of nationality, religion, race, gender and language."
In July alone, the organization handed over 156 housing units, or "hospitality structures," donated with German church backing, for refugees in northern Greece.
The church's leaders have also been outspoken during the crisis, urging the EU Commission, Central Bank and IMF in a 2015 letter to "show goodwill and practical solidarity" with their country's hard-pressed population.
In a July Vatican Radio interview, Archbishop Sevastianos Rossolatos of Athens, the bishops' conference president, painted a dire picture of beggars on the capital's streets, recalling that 450,000 young people, including virtually all university graduates, had now left in search of opportunities abroad. He urged his country's creditors to treat Greeks "as people, not just numbers."
"The EU shouldn't just be an economic union — it should also, above all, be a group of united nations and peoples," Rossolatos added. "Our economic crisis was undoubtedly the fruit of irresponsible local government decisions. But many desperate people have already taken their own lives, and must we continually pay with rising taxes and unemployment? If so, what hope can our young generation ever have in the future?"
Printezis is grateful to Pope Francis, who visited Lesbos in April 2016, for speaking out for the downtrodden and marginalized; and in early July, after a synod meeting at Pasakrotiri on Tinos, his bishops' conference wrote to Francis, assuring him that Orthodox Christians also admired his "gestures for the poorest and weakest."
But he wishes other church leaders would show more regard for the situation in his country. When Greece's bishops sent a letter to Europe's 33 Catholic bishops' conferences, seeking their help, Printezis says three-quarters either ignored or rejected the request.
"Almost half our clergy have come from other European countries, so we must be grateful," the bishops' conference secretary-general, whose diocese covers eight islands, told NCR. "But we often have nowhere for them even to celebrate Mass, while we'll soon have to close up more church premises because of our heavy tax burden. Despite what's now being claimed, nothing has really changed on the ground here."
Economic hardships aren't the only problem facing Greece's Catholic Church.
The constitution of Greece, an EU and NATO member-state, declares Orthodoxy the ''prevailing religion" and requires all public office-holders to take an Orthodox oath. The salaries of Orthodox clergy are paid by the state, and the highly conservative church has defended its ascendancy on every count, shunning contacts with Catholics and other Christian groups, who are denied legal recognition.
When Tsipras won power, his Syriza party promised to abolish Orthodox tax exemptions and fiscal privileges, and reform the constitution "to guarantee separation of church and state." But the radical prime minister has been too preoccupied with the economic crisis, Catholics say, to risk a head-on conflict with Greece's powerful Orthodox hierarchy.
Calls for church-state separation have rumbled on, and there have been tensions over government attempts to commandeer unused church properties, as well as over the refusal of Tsipras and some of his ministers to take the religious oath.
But when the education minister, Nikos Filis, tried to reform religious education in Greece's schools, his ideas were branded "unacceptable and dangerous" by the Orthodox church's leader, Archbishop Ieronymos II of Athens and All Greece, and Filis lost his government post.
Article 16 of Greece's constitution, Ieronymos and his metropolitans pointed out, required the education system to instill "national and religious consciousness" among citizens. In June, a joint commission duly agreed religious classes would remain Orthodox in content, and religious textbooks "at the church's disposal for the required dogmatic monitoring."
In June, Ieronymos assured a TV interviewer that church and state have "distinct roles."
"But they can't be separate, since their maternal relationship goes back through the ages," the Orthodox archbishop added. "I won't back down on my principles — and I'll find a way, even a dangerous way, to mount my defense to the end."
None of this bodes well, Printezis fears, for Greece's beleaguered Catholics. Ties are often better, he points out, in the country's mixed island communities, where Orthodox and Catholic inhabitants often cooperate and get along well. But in the towns and cities of the mainland, patterns of influence remain strong, and Catholics are routinely branded "papists" and "heretics" by aggressive Orthodox preachers.
"Orthodox communities have been given churches all over Europe to help their life and worship, whereas here in Greece, where our parishes can't even provide for their priests, they won't loan us a single room," Printezis told NCR. "Of course, everyone hopes something may change. But if not, even the government can change Orthodox attitudes, no one else is likely to. We're set to remain at the forefront of Orthodox indifference and hostility."
Back on Antiparos, Elena Antopolou hopes she can make enough from her clothes and jewelry for her family during the vital summer months, when the small Cyclades island is full of visitors, mostly from Scandinavia. Down on the nearby harbor, the Orthodox church, with its traditional cupola and white-blue exterior, is lavishly floodlit at night against a backdrop of dark cafes, scooter parks and fishing boats.
Antopolou says she can't recall meeting any Catholics and has long given up practicing as an Orthodox Christian.
"The church already owns so much here — it just wants to hang on to what it has rather than helping people," the shopkeeper told NCR. "Added to that, whenever anyone proposes any change, it just says 'no' and goes on saying 'no.' With so much hardship around, I feel sorry for anyone on the receiving end."
[Jonathan Luxmoore is a freelance writer covering church news from Oxford, England, and Warsaw, Poland, and serving as a staff commentator for Polish Radio. He is the author of several books, including a two-volume study of communist-era martyrs, The God of the Gulag.]