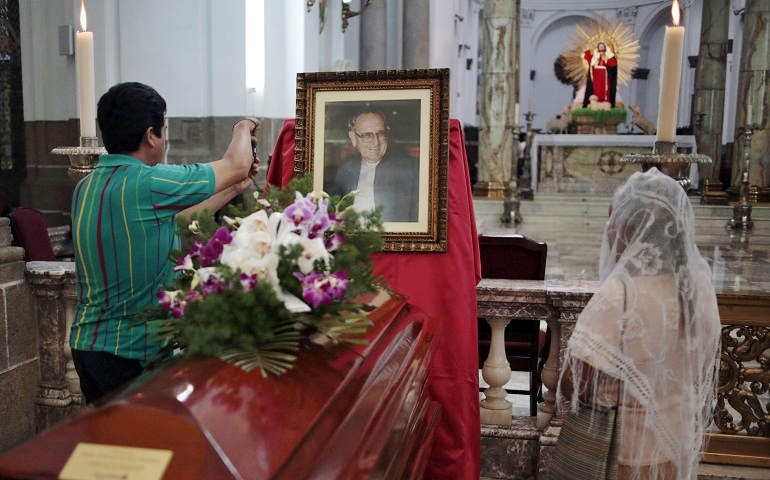 People stand around the casket of Auxiliary Bishop Juan Gerardi at the cathedral in Guatemala City April 25, 2013, in observance of the 15th anniversary of his murder. (CNS/Jorge Dan Lopez, Reuters)
A former Guatemalan military officer convicted of the assassination of Bishop Juan José Gerardi in 1998 has himself come to a violent end during a recent prison riot in a seemingly never-ending cycle of violence in a country with one of the world's highest murder rates.
Former army Capt. Byron Lima Oliva was first hit by a fragmentation grenade, followed by two shots to the head, during a July 18 attack ordered by a rival gang leader at Pavón Prison, according to Guatemalan Interior Minister Francisco Rivas.
Twelve others -- 11 inmates and an Argentine woman visiting Lima Oliva -- were also killed at the notorious prison where, Rivas said, Lima Oliva was running illegal operations while serving a 20-year sentence for the slaying of Gerardi.
The bishop was bludgeoned to death with a concrete block, his face destroyed beyond recognition, in one of the most infamous crimes in recent Guatemalan history.
Lima Oliva was a member of the Presidential Guard at the time of Gerardi's murder, which occurred near the rectory of San Sebastián Church, a short distance from the Presidential Palace in the nation's capital.
The bishop was assassinated two days after he had released a monumental report on the atrocities committed during Guatemala's 36-year civil war, which ended in 1996 and claimed the lives of more than 200,000.
The report, "Guatemala: Nunca más," blamed the U.S.-backed and trained army for more than 80 percent of the war crimes, most of them committed during genocidal scorched-earth campaigns against the indigenous Mayan population.
Lima Oliva's killing was ordered by Marvin Montiel Marín, a drug trafficker serving an 800-year sentence for 16 murders, Rivas said.
Four of those killed in the riot were decapitated and another burned to death, Rivas said. Montiel Marín and Lima Oliva were engaged in a deadly competition for drug sales and control of the black market at the prison, located in the city of Fraijanes, about 18 miles from the capital, Guatemala City. Lima Oliva, 46, was considered the country's most powerful inmate, and was facing corruption charges when he was killed.
He and two other army officers were convicted in 2001 of Gerardi's murder in a trial that marked the first time military personnel were tried in a civilian court. The trial was delayed for about three years, partly because a judge and prosecutors fled the country after they received death threats, as did witnesses, some of whom were killed.
Also convicted of the bishop's murder were former army Col. Byron Disrael Lima Estrada -- Lima Oliva's father -- and Sgt. José Obdulio Villanueva, who was decapitated in a 2003 prison riot.
Amnesty International said Villanueva's murder may have been orchestrated "to remove him as a potential witness against other military higher-ups allegedly involved in the bishop's murder."
A Catholic priest, Mario Orantes, was also convicted as an accomplice in the crime.
Lima Estrada, who was paroled in 2012, headed the notorious D-2 (later G-2) Military Intelligence Directorate during the army's savage campaign against Mayan villages. The bishop's report blamed D-2, in particular, for playing a "central role in the conduct of military operations, in massacres, extrajudicial executions, forced disappearances and torture."
Like scores of other Guatemalan military officers accused of war atrocities, Lima Estrada was trained at the U.S. Army's School of the Americas, now known as the Western Hemisphere Institute for Security Cooperation.
While Lima Estrada's name doesn't appear on the school's official alumni lists, a U.S. Defense Intelligence Agency document shows that he was in fact trained at the Army school, which has seen hundreds of its graduates linked to major human rights abuses.
[Linda Cooper and James Hodge are the authors of Disturbing the Peace: The Story of Father Roy Bourgeois and the Movement to Close the School of the Americas.]