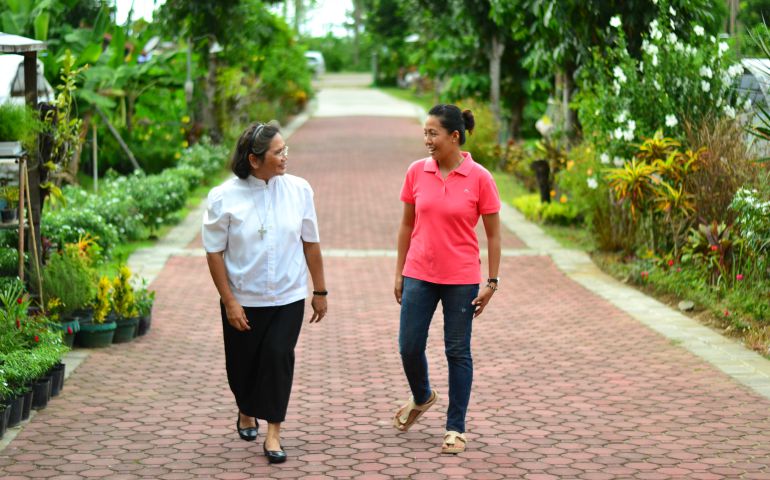 Sr. Lydia Collado, left, a Religious of the Sacred Heart works to create relationship in the community of volunteers at Sophie's Farm, one of the places where she ministers in Northern Samar, Philippines. (Syd Baradi)
For September, the panelists from congregations large and small described how their congregational charisms fit into the "great commission" of Jesus and gave examples of specific ways they carry it out. They also discussed how they have extended the call to discipleship to associates, volunteers, donors, students and co-workers in their responses to the following question:
"Go, therefore, and make disciples of all nations" (Matthew 28:19). In what ways have you and/or your congregation followed this command of Jesus?
______
Lydia Collado is a Religious of the Sacred Heart who ministers in Northern Samar, Philippines. She is the program director and head of the SHIFT Foundation, which does campus ministry, pastoral ministry, operates a nursery, and manages Sophie's Farm, an organic demonstration farm.
Our Society of the Sacred Heart has its inspiration to "make disciples of all nations" from our foundress, St. Madeleine Sophie Barat, who said, "I will go to the ends of the earth to gain one soul for God. I will stop at nothing," and from St. Rose Philippine Duchesne, our pioneer missionary to the Americas in 1818, who went beyond borders to the peripheries or margins of her time, where Pope Francis would call us to go today.
Our 2016 general chapter called us with the same vigor and passion: Set sail, live more humanly, create silence and act as one body.
In 1986, we "set sail" to a mission in Northern Samar, now the fifth-poorest province in the Philippines. It was like "going to the ends of the earth" and "to the margins." There, we created the Sacred Heart Institute for Transformative Education (SHIFT) Foundation, which coordinates our diverse ministries.
We live and work on a long- or short-term basis with volunteers and mission partners — young and old, local and international — learning, praying, recreating and celebrating.
To live and work with poor people demands a lot of time and energy. Discipleship needs prayer — individual and community — and silence and contemplation so we can listen to the Spirit.
"Living more humanly" is part of discipleship and implies dialogue and creation of loving and truthful relationships: becoming more human with one another. Spending quality time together gives us one mind and heart for the mission. By healing relationships, we become effective ministers.
In 2015, a strong typhoon flattened us to the ground. Our house, center and cottage roofs blew away, except a section where the children took cover. We organized ourselves afterward as a village community and tried to rise up together. As a local community belonging to a global community of the Society of the Sacred Heart, we "acted as one body" in our disaster response, drawing strength from the Heart of Jesus, whose love and life constantly flows out to care for us all, his disciples.