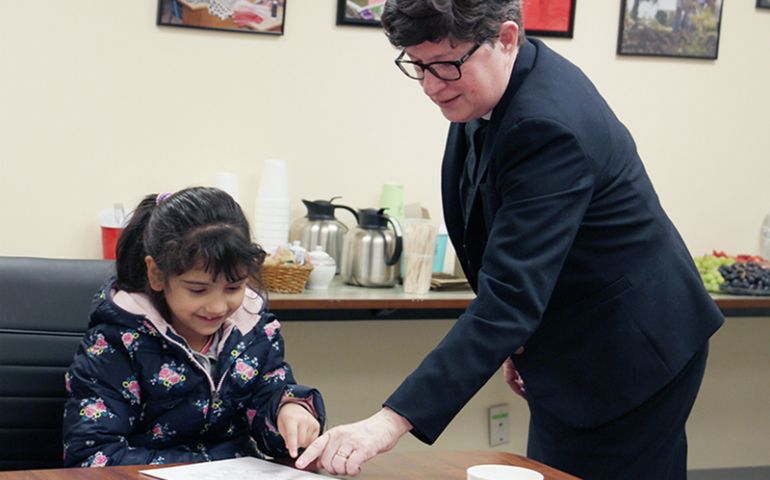 The Rev. Elizabeth Eaton, presiding bishop of the Evangelical Lutheran Church in America, talks with Dalal, a 6-year-old refugee from Syria, about her artwork March 21 at RefugeeOne in Chicago. (RNS/Emily McFarlan Miller)
It was her desire to hear the stories of real people — "not just faceless refugees or immigrants" — that brought the Rev. Elizabeth Eaton to a refugee resettlement agency that provides a range of services to refugees in the Chicago area.
"Especially now, when there's this fear that's been stirred up and anti-refugee sentiment, it's really critical to say, 'No, these people are our grandparents, our aunts and uncles," said the presiding bishop of the Evangelical Lutheran Church in America, the nation's largest Lutheran denomination.
Her visit on March 21 to RefugeeOne, a resettlement agency supported by Lutheran Immigrant and Refugee Service, comes at a time when the status of the U.S. refugee resettlement program is uncertain.
On March 15, a federal judge in Hawaii blocked an executive order by President Trump that would have more than halved the number of refugees accepted by the United States from the current ceiling of 110,000.
Now, Lutheran Immigration and Refugee Service is "cautiously hopeful" resettlement will return to the numbers that had been planned for 2017, said Kay Bellor, vice president for programs.
World Relief, an evangelical aid association, is another of the nine agencies authorized by the U.S. government to resettle refugees, often through regional partners. It took the judge's decision earlier this month to mean resettlement now will continue at the pace former President Obama had set, according to Jenny Yang, vice president of advocacy and policy.
World Relief is asking the State Department to speed up the processing of refugees to meet that goal.
Still, aid organizations have been tightening their belts: World Relief announced last month it is laying off more than 140 staff members and closing five local offices. LIRS also has reduced staff at its headquarters and field offices, according to Bellor.
And RefugeeOne has cut 10 percent of its staff, according to RefugeeOne Executive Director Melinah Kano.
The hardest part, Kano said, is "just the whiplash of every day changing."
During the recent visit to the refugee agency, Eaton was led into a classroom of 15 students learning English. They had come from Syria and Uganda and Myanmar, and had spent as long as 26 years in refugee camps. Some had been in the U.S. just 20 days.
One man named Mohmoud had left Syria with his wife and two daughters because, he said through an interpreter, there was "persecution going on, killing everywhere." After three years in Jordan, where they struggled to make ends meet and get medical care for one of their daughters who was ill, the family was admitted to the United States as refugees last June.
He remembers RefugeeOne staff picking up his family at the airport when they arrived in Chicago and taking him to the apartment the organization had furnished for them. He now is learning English, working as a food handler at a local market and helping care for his newborn daughter.
"After that, I felt like it's my home. There are people helping me, they are smiling to me, they are welcoming me," he said. "I felt that this is the real life, not the one where there was killing and leaving homes with destruction everywhere."
Mohmoud's story reminded Eaton of the story of her own grandparents coming to the U.S. from Transylvania, she said.
For Christians, the bishop said, the call to welcome and care for refugees like Mohmoud and his family is clear.
"The Holy Family were refugees. They fled for their lives from infanticide, and they weren't documented when they were in Egypt. When we welcome the least people, it's like we're welcoming Christ," she said.