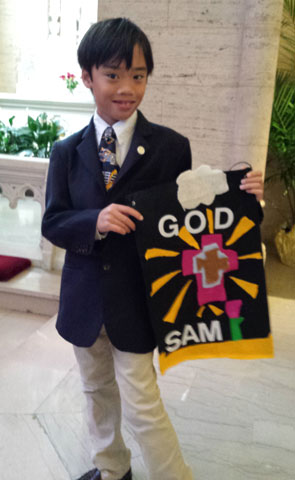 Sam Butler celebrates his first Communion at St. Gertrude Parish in Chicago May 7.
Your Dad and I stood proudly behind you as you received the body of Christ for the first time Saturday. You looked so serious, in your thrifted blue blazer and Grandpa's tie. After you sipped from the wine, your nose wrinkled, as if to say, "Yuck!"
But on the way back to your pew, you smiled and gave a fist pump of celebration. Earlier, you had been so excited you were bouncing in your seat, whispering, "I can't wait!"
Oh, that you could be that excited about your faith for the rest of your life.
That would be my fervent hope and prayer for you, though I worry it may not always be all smiles and fist pumps. For you, my first child, are a questioning one -- kind of like your mama.
Later on your first Communion day, you wondered to me: "Maybe now that I'm closer to God, I won't be so skeptical."
Skepticism has been your part of your religious outlook since you were old enough to talk. You have a lot of strong opinions about, well, about everything -- so I shouldn't have been surprised that includes God. Still, it took me aback when, as a 5-year-old, you asserted that you weren't sure if you believed in God.
It also shocked your first-grade religious education teacher when you announced to the entire class that clearly God had not created the world. "Haven't you heard of the Big Bang theory?" you asked.
This earned me a meeting with the director of religious education, who wondered if perhaps you weren't a bit "advanced" and might benefit from home instruction.
I convinced her that what you needed was not more time with your parents, but rather a wider community to support you both in your faith and in your doubts. I am so grateful our parish provides that, with its "here comes everybody" conglomeration of folks trying to live out Jesus' commandments to love God and love one another.
I'm grateful for the associate pastor who always remembers you with a gift for Lunar New Year, for the Pentecost drum corps leader who invites you to join with your sticks and toy drum, and for the adoptive families group that welcomed you when you first joined our family.
I'm also grateful for all the people in the pews -- liberal nuns and former nuns sitting next to LGBT couples and families; the African immigrants next to former priests and former seminarians; widows and widowers who have lived in the parish for decades next to women and married men with calls to the priesthood that cannot be answered.
I suspect that many of them have struggled with doubt and unbelief, too. Their presence says the church is not just for people who have faith all figured out.
They -- and I -- come back week after week for the body of Christ so we can be the body of Christ in the world. Without that sustenance, both from one another and from the Eucharist, we would spiritually starve. The Catholic church, while not perfect, feeds us.
As someone who loves to cook, you, of all people, understand the importance of feeding and being fed. As a toddler, all you wanted was milk and cheese, but now you are one of the world's most adventurous 8-year-old eaters. Sushi? Yes! Roasted Brussels sprouts? One of your faves. The other day I caught you making crème brûlée.
It's not surprising that you agreed with me that the bread (not hosts) and wine at your "second Communion" at Sunday's more informal "gym Mass" tastes better. That we occasionally take our turn at baking the bread makes it even more meaningful.
As is the case with many things in life, how much you get out of faith is directly related to how much and what you put in. So when you whine and say, "Church is boring -- and I don't believe in God anyway," I'll still insist that it's my job as your parent to teach you about and expose you to all that's good in the Catholic tradition. I'll share my own faith, which includes struggles with aspects of the institution, but I'll also explain how and why I keep coming back.
Someday, the choice will be yours. With the rise of the "nones" (people who check "none" when asked about their religious affiliation), I know there is a chance you may not follow in your father's and my footsteps.
But for today, I'll celebrate your enthusiasm at joining the Catholic table and encourage you to keep on keepin' on. Every night, I snuggle with you as you pray to that God you're not sure you believe in. May those prayers, and God's food, sustain you through whatever life brings.
[Heidi Schlumpf teaches communications at Aurora University, outside Chicago.]
A version of this story appeared in the June 3-15, 2016 print issue under the headline: To my son on his first Communion day.