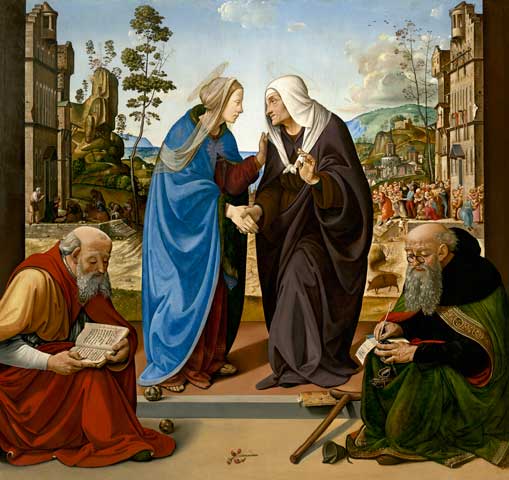 Piero di Cosimo, "The Visitation with St. Nicholas and St. Anthony Abbot" (circa 1489-90). Oil on panel. National Gallery of Art, D.C., Samuel H. Kress Collection.
The 400th anniversary of the death of the Greek painter Doménikos Theotokópoulos -- more commonly known as El Greco -- was met with a flurry of exhibitions last year. In late 2014, New York's Frick Collection and Metropolitan Museum of Art and Washington, D.C.'s National Gallery of Art each showed an exhibit of works by the painter, whose bold style was centuries ahead of its time.
So celebrated has El Greco become that it's easy to forget how much his star has risen since the late 19th century, when he was much lesser known. "He was discovered by collectors who were interested in modern art, because he seemed so out of kilter with the times, so individual and so modern," said Richard Townsend, director of the Museum of Biblical Art in New York and an early modern European art specialist.
In the rediscovery of El Greco about a century ago, Townsend sees a parallel to the painter's Italian predecessor Piero di Cosimo (1462-1521). The latter is the subject of the National Gallery of Art's exhibit "Piero di Cosimo: The Poetry of Painting in Renaissance Florence," open through May 3. It is being hailed as the artist's first retrospective.
"Piero presents an interesting case study of an artist who was very well-respected in his day, or else he wouldn't have had pupils like Fra Bartolomeo and Andrea del Sarto," Townsend said. "But he has lost the attention, because of this crowded field: from Ghirlandaio and Verrocchio to Lippi and Botticelli. Then you have Leonardo and Raphael. That's a lot of competition."
Where his more illustrious peers approached their subjects with "easy grace" and a softer touch, Piero put a "modern face" on his figures, which he approached with an "idiosyncratic style that has become particularly interesting to our modern eyes," Townsend said. "Yet another book on Raphael or another book on Botticelli is nice, but perhaps not as needed as a really careful look at Piero di Cosimo."
Born Piero di Lorenzo to either a blacksmith or a toolmaker, Piero adopted the name of his teacher Cosimo Rosselli. Although scholars have recently challenged the widely cited account placing Piero at the Sistine Chapel assisting Rosselli on the frescoes, Piero's work is undoubtedly important. It has also proliferated in U.S. collections, where about two dozen of his paintings reside.
"Many of these pictures had been in English country-house collections, and their owners were looking for cash. So it was in many ways a happy accident that these paintings were available," said Gretchen Hirschauer, the National Gallery's associate curator of Italian and Spanish paintings. "He certainly wasn't considered on a level of a Raphael or even a Botticelli. I think his individual works were appreciated for their beauty and for their eccentricities, because he was sought after."
Townsend points to a particular work of Piero's, one he got to know well in his decade as a curator at the Philbrook Museum of Art in Tulsa, Okla. His appetite was whet for the painting "Madonna and Child with Sts. John the Baptist, Margaret, Martin, and Angels" (circa 1515-18) when a scholar writing a book on the artist came to Tulsa to study the tondo, or round painting.
In the composition, Townsend notices a "symmetry that is asymmetrical," with a thicker crowd on the left side of the painting; in the center, the infant Christ, seated on his mother's lap, accepts a lamb from a young John the Baptist. Townsend described the exchange as a "sort of tug of war," and noted that John is almost pulling away from Jesus.
"These are stock characters," Townsend said, "but you have this young John the Baptist who offers the lamb to the Christ child. The way Piero has depicted it, though, with the child almost slightly off balance, it's as if he's either presenting it to Christ, who pets it like the little pet that it is, or he's pulling away."
However unusual and playful the exchange is, Piero is not simply depicting a biblical-styled petting zoo. John delivers the lamb as the one who, as an adult, prepares the way of the Lord and announces Christ's coming; Jesus accepts the lamb as the symbol of his Passion and death.
Townsend notes that Passion imagery proliferates throughout the work, from a blasted tree that refers to the wood of the cross to thorns, to an actual cross staff. "These are very, very clear Passion symbols in what is otherwise a lyrical picture," he said.
Another work, "The Visitation with St. Nicholas and St. Anthony Abbot" (circa 1489-90), shows the Virgin Mary (in blue robe) talking to an elderly St. Elizabeth, John the Baptist's mother. The two women shake hands, and Mary's left hand rests tenderly on Elizabeth's shoulder. The intimacy of the moment is surprising given the violent commotion (the Massacre of the Innocents) in the distance, which transpires amid beautiful landscape snapshots and architectural depictions. A small monkey or cat even scurries across rooftops, an attention to detail that surfaces as well in "The Adoration of the Child" (circa 1490-1500) where tiny tadpoles, and their transformation, symbolize the Incarnation and Virgin birth.
But Sts. Nicholas and Anthony can hardly be bothered, as they sit in the foreground. "They are completely disengaged. One is looking down at a book, and one is writing a grocery list," Townsend said. Where saints typically engage one another and point to the main subjects of the work, Piero's two figures appear almost as if a patron insisted on their presence, and the artist paid lip service.
"He just has this quirky take on things," Townsend said.
Writing in the catalog, Hirschauer also notes that the saints are "engrossed in their reading and writing, paying no heed to the activity around them," although she notes Piero intended to portray "study and deep focus."
Whereas Piero could approach his mythological scenes with a great deal of freedom, his church commissions required following certain rules and traditions, according to Hirschauer. "When he's dealing with the birth of Christ, he can choose what details to focus on, but he can't wander about in his interpretation of the story," she says.
[Menachem Wecker is a Washington, D.C.-based reporter and co-author of the new book Consider No Evil: Two Faith Traditions and the Problem of Academic Freedom in Religious Higher Education.]
A version of this story appeared in the March 27-April 9, 2015 print issue under the headline: The beauty and eccentricity of Piero.