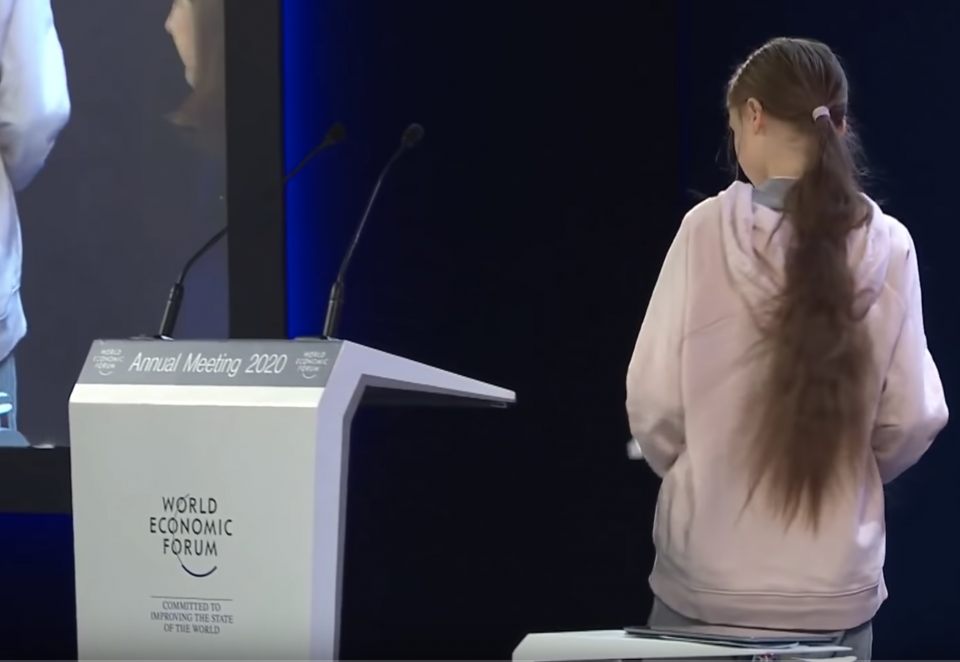 Greta Thunberg takes the stage at the World Economic Forum meeting in Davos, Switzerland (screengrab from WEF upload to YouTube)
Every week, the climate crisis presents us with one compelling, often disturbing image after another: bushfires in Australia, rising sea levels threatening the people of Kiribati, water disappearing in regions of Bolivia — and on and on.
But it's a different image that sticks with me this week: a 17-year-old young woman in a pink hoodie taking the stage at Davos, the annual gathering of billionaires, business leaders and, this year, 53 heads of state from around the world. Plus Greta Thunberg.
As Time magazine noted in selecting her as its 2019 Person of the Year, "For decades, researchers and activists have struggled to get world leaders to take the climate threat seriously. But this year, an unlikely teenager somehow got the world's attention."
How is it that Thunberg has been able to galvanize people around the climate crisis so much more so than, say, Mary Robinson, the former president of Ireland whom I watched make an impassioned plea on behalf of the planet at Boston College in September?
Robinson shared her own theory on why that's true with Time, noting that people she talks with about climate issues "just sort of say, 'Ah yeah, but that's not me.' " She added: "Having children say, 'We have no future' is far more effective. When children say something like that, adults feel very bad."
Thunberg says she got the idea for staging her skolstrejk för klimat (climate strike) outside the Swedish parliament from the strikes launched by survivors of the shooting at Marjory Stoneman Douglas High School in Parkland, Florida.
Thunberg's Friday Twitter feed reflects how far the influence of all these teenagers has rippled, her retweets helping to document the day's climate strikes gathering strength all over the world.
French President Emmanuel Macron didn't make it to Davos this year, but Time interviewed him for its Person of the Year issue: "When you are a leader and every week you have young people demonstrating with such a message, you cannot remain neutral. They helped me change."
For the 3,000 power brokers who did show up at Davos this week, the question remains: Will they change?
---
Here's some of what's new on EarthBeat this week: 
---
Here's some additional climate-related coverage:
---
Upcoming Event:
You can register via this page for a Jan 30 webinar about divestment from fossil fuel companies sponsored by the Global Catholic Climate Movement. You'll find more events like this — virtual as well as in person — on EarthBeat's Event Calendar. And don't forget to post upcoming events that you're involved in!
---
Closing Beat: 
Speaking of the Global Catholic Climate Movement, be sure to visit EarthBeat next week for an essay by the organization's co-founder and executive director, Tomás Insua, pegged to the fifth anniversary of "Laudato Si,' on Care for our Common Home."
We hope you'll forward this week's newsletter to anyone you believe might want to subscribe. They can do so here. 
Thanks for reading!
Bill Mitchell
NCR Climate Editor
bmitchell@ncronline.org