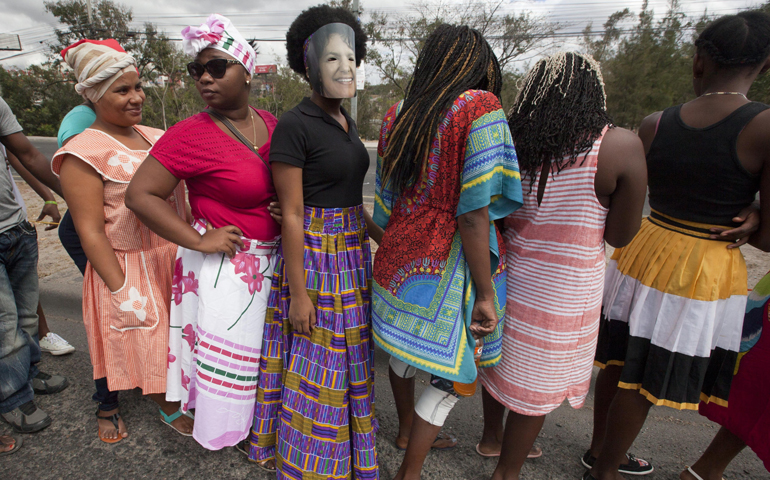 Women in Tegucigalpa, Honduras, protest the 2016 murder of environmental activist Berta Cáceres March 1. (CNS/Gustavo Amador, EPA)
It's been a year this March since a death squad broke into the home of Honduras' most prominent environmental activist and shot her to death in the middle of the night.
Berta Cáceres had worked to stop the Agua Zarca hydroelectric dam from being built on the Gualcarque River, a revered water source for indigenous Lenca people in western Honduras.
She fully knew the danger of her work, having learned she was on a hit list of U.S.-trained Honduran special forces and having received more than three dozen death threats, none of which were investigated by any government authorities.
For years, she'd incurred the wrath of multinational corporations and their political allies by spearheading campaigns to stop the plundering of indigenous lands by various mining, hydroelectric and logging interests. Her organization, the Civic Council of Popular and Indigenous Organizations of Honduras, also known as COPINH, was a force to be dealt with.
In 2015 she was awarded the prestigious Goldman Environmental Prize for her courageous leadership, but not even the international spotlight could protect her. Nor has the international outrage over her death led to the arrests of those behind it.
Her murder was a message: If she could be eliminated, no one was safe. And yet, many have not heeded the warning. There's a saying in Honduras that "Berta did not die. She multiplied."
---
Related: Honduran environmental activist's murder sparks outrage (March 4, 2016)
---
And so the assassinations of indigenous leaders and environmental activists have continued unabated. Within four months of her March 3, 2016, assassination, two other prominent COPINH members were slain. Nelson Garcia Laínez was fatally shot in the face, and Lesbia Yaneth Urquía was found dead in a garbage dump, with machete blows to her head.
The latest assassination just occurred in February when gunmen fatally shot José Santos Sevilla, a professor who led the indigenous Tolupán people's fight against illegal mining and logging projects.
A January 2017 report by the London-based watchdog group Global Witness called Honduras the deadliest place on the planet to be a land or environmental activist.
More than 120 activists, it said, have been murdered since the 2009 military coup that overthrew democratically elected President Manuel Zelaya, ushering in a succession of corrupt right-wing governments that have overseen "shocking levels of violence and intimidation suffered by rural communities."
The activist murders, the report said, "are part of an epidemic sweeping the country, which has its roots in corporate greed, corruption, and impunity for business-backed aggressors. They constitute a systematic campaign to terrorize local communities into accepting the theft and industrialization of their land."
The 2009 coup that toppled Zelaya was led by Gen. Romeo Orlando Vásquez Velásquez, a two-time graduate of the U.S. Army's School of the Americas (SOA), now the Western Hemisphere Institute for Security Cooperation, or WHINSEC. Another SOA graduate, Gen. Luis Javier Prince Suazo, the head of the Honduran Air Force, had Zelaya flown into exile.
The Obama administration refused to stop the training of Honduran officers at WHINSEC despite federal law requiring military aid and training be suspended when a country undergoes a military coup.
And then-Secretary of State Hillary Clinton resisted international pressure to help reinstate Zelaya, a wealthy rancher who'd alienated fellow elites by such things as raising the minimum wage.
---
Related: The US role in the Honduras coup and subsequent violence (March 14, 2016)
---
During her presidential campaign last year, Clinton denied that a military coup had ever taken place, despite documents released by WikiLeaks showing she'd received cables from U.S. Ambassador to Honduras Hugo Llorens stating unequivocally that there had been a military-led coup.
Dana Frank, professor of history at the University of California and expert on Honduras, called Clinton's denial "chilling" in an interview with Democracy Now.
Frank said elsewhere that Clinton and the Obama administration legitimized the post-coup dictator, Roberto Micheletti, and then the "fraudulent November 2009 election" of Porfirio Lobo Sosa. That election was boycotted by international observers, including the Organization of American States, the European Union and the United Nations.
Just months after Lobo took power, Human Rights Watch reported that eight journalists and 10 members of a political group that demanded Zelaya's reinstatement had been murdered, and four judges who challenged the coup's legality were dismissed.
Still, U.S. aid and the military training didn't stop.
In various interviews, Frank explained that the United States' support for the coup reflected the U.S. strategy to use Honduras as a bulwark against left-leaning governments being elected in some Latin American countries.
Clinton's actions, Frank and others have said, were similar to those of the State Department during the Reagan administration, which used Honduras as a base for its covert war against Nicaragua. The State Department approved the training of hundreds of Hondurans at SOA in the 1980s, and authorized the induction of one graduate, Gen. Policarpo Paz García, into SOA's Hall of Fame — despite the fact he had seized power in a coup.
SOA/WHINSEC has trained nearly 5,000 military officers from Honduras — one of its top clients, with 261 being trained last year alone — second only to Colombia. But U.S. training doesn't stop there.
Through Freedom of Information Act requests, the Washington Office on Latin America found that from 2007 to 2014, U.S. special forces trained the Honduran military more than that of any other nation in the Western Hemisphere, with most of the training occurring after the 2009 coup and despite "serious allegations levied against Honduran security forces — murder, torture, rape and extortion" that went uninvestigated.
---
Related: Unthinkable violence drives Hondurans north to United States (Aug. 18, 2014)
---
Blowback from U.S. policies has been enormous. Increases in aid and military training coincided with overall increases in violent crime, fleeing migrants and widespread corruption. The spike in crime after the coup made Honduras the homicide capital of the world, according to United Nations figures.
Rep. José Serrano, D-New York, for one, has denounced the grave human rights abuses and high-level corruption. Serrano and other representatives wrote a 2016 letter to then-Secretary of State John Kerry, saying Honduras' current president Juan Orlando Hernández and his National Party "have admitted that they stole funds from the National Health Service and diverted those funds into their 2013 election campaign coffers, yet the Attorney General has not prosecuted them."
Meanwhile, human rights groups point to the Hernández government's utter failure to prosecute those behind the assassinations.
In the high-profile case of Cáceres, the government arrested several suspects after tremendous international pressure. Three are ex-military and another was an engineer with Desarrollos Energeticos, the Honduran company building the Agua Zarca dam, but "the process has been blighted by false accusations, suspected cover-ups and the robbery of the case file on two separate occasions," Global Witness reported.
Amnesty International stated the "scandalous lack of an effective investigation to find those responsible for ordering [her] brutal killing … sends a terrifying message to the hundreds of people who dare to speak out against the powerful."
A few months after Cáceres' murder, Rep. Hank Johnson, D-Georgia, introduced the "Berta Cáceres Human Rights in Honduras Act," calling for the suspension of all U.S. aid. He and five other members of Congress wrote an op-ed in The Guardian, saying "As long as the United States funds Honduran security forces without demanding justice for those threatened, tortured and killed, we have blood on our hands."
---
Related: Panama's hydroelectric boom destroys ecosystems, threatens rural way of life (March 30, 2017)
---
While Congress refused to suspend aid, it put conditions on a portion of the aid. But to little avail.
On Sept 30, 2016, despite the murders of Cáceres and dozens of other activists, the State Department certified that Honduras met the congressional conditions and was taking effective steps to combat corruption, improve transparency and prosecute human rights violations.
Sen. Patrick Leahy, D-Vermont, who was instrumental in attaching the conditions, called the certification "a mockery."
Less than three weeks after the certification, two campesino leaders — José Ángel Flores and Silmer Dionisio George of the Unified Campesinos Movement of the Aguán — were assassinated. Flores was its president.
Their murders and the ensuing outcry did not stop the State Department from approving $55 million in aid to Honduras.
In mid-December 2016, Serrano and 17 other House Democrats called on then-Secretary of State John Kerry to revoke the certification, in light of "significant evidence that impunity, corruption, and human rights violations continue unabated."
In addition to the lack of prosecution of Hernández and his National Party for stealing funds from the National Health Service, they stated that "Héctor Iván Mejía, Director of Planning and Operations for the National Police (the third highest-ranking position), is documented to have committed gross violations of human rights and is still in office. Most recently, a captain in the Honduran Armed Forces and former DEA informant has charged that Samuel Reyes, the Minister of Defense, is a drug trafficker." They also noted that rather than improving transparency, the government enacted a new "Law of Secrets" sealing off government records.
Kerry did not revoke the certification. This month, Hernández flew to Washington to meet with Secretary of State Rex Tillerson and Vice President Mike Pence.
But Hernández was also met by protestors chanting "asesino" (Spanish for murderer), and carrying photographs of slain activists and demanding an independent investigation into the assassinations.
After Pence's March 23 meeting with Hernández, the White House released a statement, saying "The Vice President recognized the important progress that Honduras has made over the past two years in fighting violent crime and corruption and strengthening citizen security, including through its police reform efforts."
[Linda Cooper and James Hodge are the authors of Disturbing the Peace: The Story of Father Roy Bourgeois and the Movement to Close the School of the Americas.]