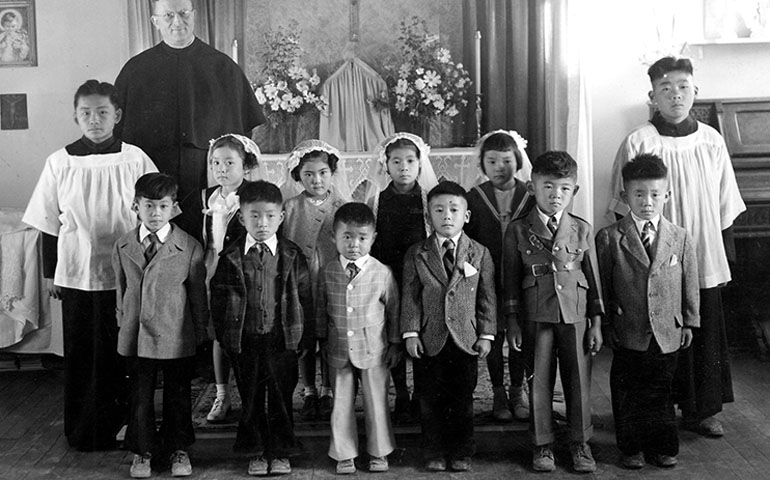 Japanese-American children pose on their first Communion day in the chapel at the Minidoka, Idaho, internment camp. Also pictured are their pastor, Maryknoll Fr. Leo Tibesar, and altar servers. (Photo: Courtesy Maryknoll Seattle)
Editor's note: The Field Hospital blog reports on parish and other grassroots efforts across the U.S. and Canada to accompany those on the margins. Pope Francis said he sees the church as a "field hospital" that labors "from the ground up" to "heal wounds."
President Franklin D. Roosevelt signed Executive Order 9066 on Feb. 19, 1942, about 10 weeks after the Japanese bombed Pearl Harbor. The order led to the internment of some 120,000 citizens and resident aliens of Japanese decent ("Nikkei") from the West Coast in "war relocation centers," including nearly 7,400 from western Washington state. The latter were imprisoned at the state fairgrounds in Puyallup, Washington, at a facility dubbed Camp Harmony by Army public relations personnel from about April through September 1942 before transfer to the Minidoka War Relocation Center in southern Idaho.
With the support of groups including the Seattle Archdiocese's Mission Office, the Seattle Maryknoll Community, and Puyallup's All Saints Parish, the Camp Harmony Committee will stage a 75th anniversary remembrance of Executive Order 9066 and its impact, Sept. 2, from 10 to 11 a.m. at the Puyallup fairgrounds' Coca Cola stage. A 10-foot, silicon-bronze memorial statue created by George Tsutakawa and his son Gerard Tsutakawa will be rededicated. It was commissioned for its site at the fairgrounds in conjunction with the 1983 proclamation by Gov. John Spellman recognizing the plight of Japanese citizens uprooted from their lives.
Maryknoll Fr. Leopold Tibesar, who had been pastor of the largely Japanese parish in Seattle, Our Lady Queen of Martyrs, ministered to Catholics at Camp Harmony and moved with them to the Minidoka facility.
The Seattle Maryknollers and the archdiocesan Mission Office helped sponsor an interfaith prayer service on the actual 75th anniversary date of Order 9066.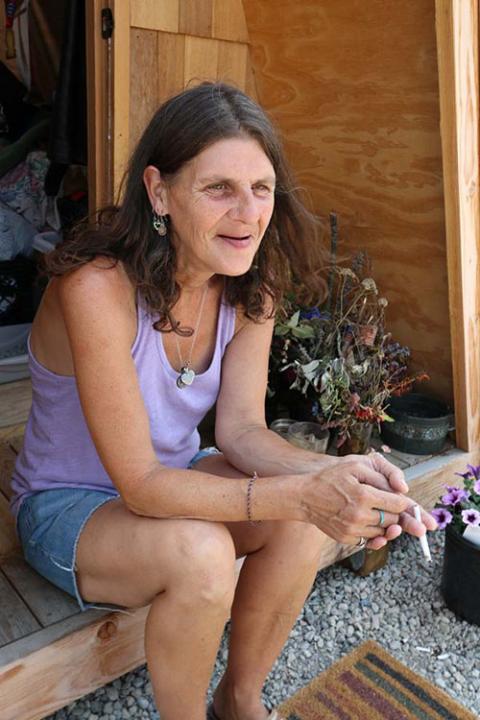 Martice Bauersfeld, 53, sits on the porch of her tiny house in Kenton Village. (Katie Scott/Catholic Sentinel)
It's not all peaches and cream, but a "tiny house" pilot project for homeless women in Portland, Oregon, has gained traction and is being watched closely by advocates for the homeless. Overseen by Catholic Charities of Oregon, Kenton Village is home to 14 women who are finding security, comfort and companionship even if their roughly 8-by-12 foot homes do not have running water or cooking facilities (which are provided in a common facility). The City of Portland "reached out to Catholic Charities to help with the project because of its experience providing low-income housing and working with homeless women," Margi Dechenne, program manager for Catholic Charities' Housing Transition Program told the Catholic Sentinel newspaper. It's the first government-supported, neighborhood-approved homeless village in the city.
The "rule" that Catholics should register at and attend the parish within which they reside, really never was a rule at all and "may very well be simply an American invention," according to canonist Cathy Caridi. A feature on "destination parishes" in the San Francisco Archdiocese's newspaper underscores the point.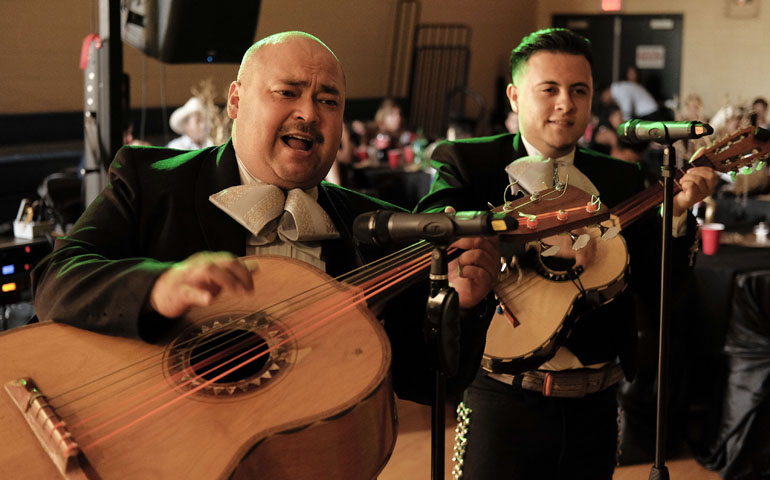 Mariachi Nuevo Guachinango band member Miguel Grima, left, sings as he, Luis Orozco and others play for a wedding reception July 15 at Girls Inc. in Sioux City, Iowa. (CNS/Jerry L. Mennenga)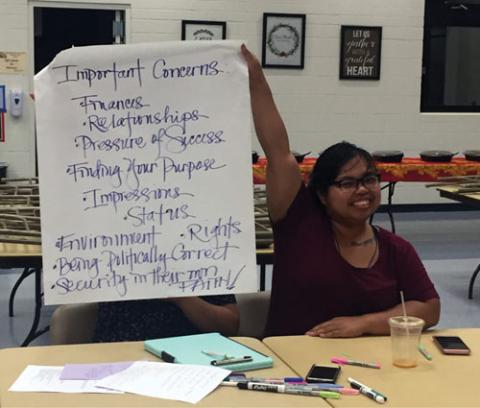 A participant in the young adult forum July 25 at Our Lady of Good Counsel in Pearl City, Hawaii shares results of her small group's discussion. (Photo by Gabriella Munoz/Hawaii Catholic Herald)