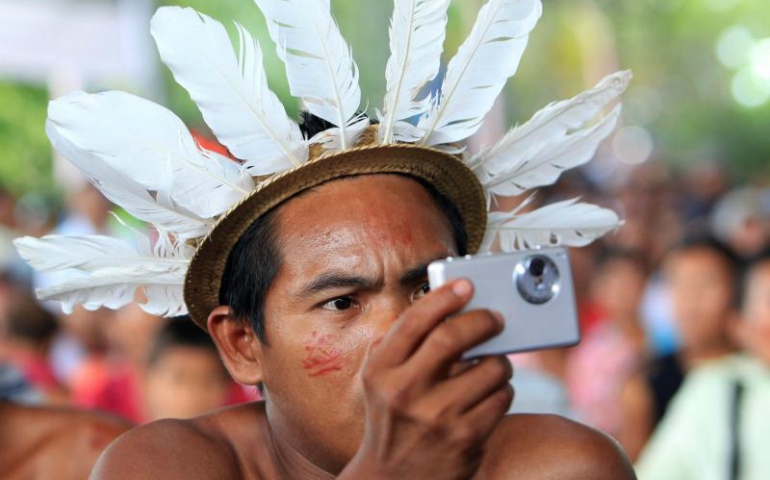 An indigenous member of the Desano ethnic group handles a camera during a meeting in Mitu, Colombia, Aug. 19, 2016. (CNS/Mauricio Duenas Castaneda, EPA)
Vatican City — May 16, 2017
Pope Francis is considering dedicating a meeting of the Synod of Bishops to the concerns of the indigenous people of the Amazon region, a Peruvian archbishop said.
Although the church has continued to assist the native populations in the Amazon, which occupies 63 percent of Peru, efforts must continue "to revitalize" the church and its work in the region, said Archbishop Salvador Pineiro Garcia-Calderon of Ayacucho, president of the Peruvian bishops' conference.
"The Holy Father told us he would like a synod for the Amazonian people in Venezuela, Colombia, Ecuador, Peru, Bolivia and Brazil," Pineiro told L'Osservatore Romano, the Vatican newspaper.
In an interview published May 16, the archbishop said the Peruvian bishops met with Francis for two and a half hours May 15 during the "ad limina" visit that bishops are required to make to the Vatican.
The challenge of evangelizing in remote communities was among the main themes the bishops discussed with the pope, Pineiro said.
Among the problems facing bishops, he said, is the difficulty in physically reaching the native populations. For example, he said, although they are in the same church province, one bishop is five hours away and another is 17 hours away.
"It's easier to meet in Rome," he told L'Osservatore Romano. "It isn't an easy area and the pope is very concerned."
As a nation, he said, "we have turned our back on" the native people of the Amazon and have been "insensitive to their suffering, their marginalization."
The church, he said, has been the only voice that has spoken out in defending the indigenous people of the Amazon. In the early 1900s, Saint Pius X strongly denounced the mistreatment of the native population in the rubber plantations of Peru, Pineiro said.
A synod, he said, would expand that message and strengthen current efforts to evangelize.
"It is difficult to evangelize the native population," he said. "Recently, the seeds have begun to be sown. Some of my brother bishops who are in that area have learned to speak the native language in order to draw closer to the population."