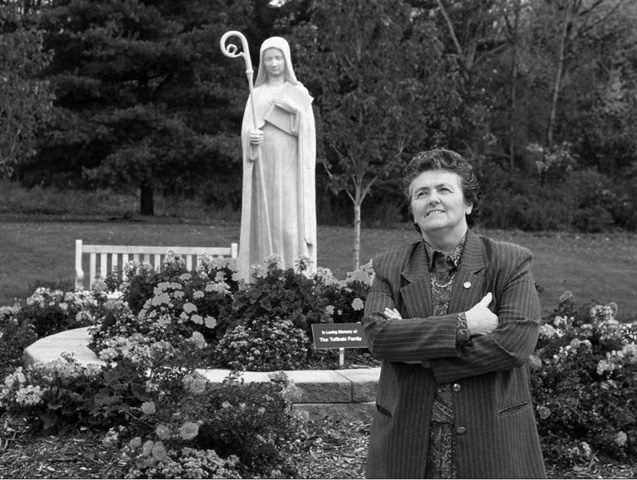 Benedictine Sr. Joan Chittister in the monastery garden (Courtesy of Benetvision)
Benedictine Sr. Joan Chittister is known as an inspiring writer and speaker, a tireless advocate for women's rights who refused to be silenced by the Vatican, a prophet often turned away in her own church and an unflagging champion for peace and justice.
In the biography Joan Chittister: Her Journey from Certainty to Faith, journalist Tom Roberts reveals the interior Joan Chittister: her difficult childhood in Pennsylvania, the young woman who found both refuge and purpose in her religious vocation, the public figure whose brilliance produced a body of written work that will stand as a profound expression of spirituality and women's concerns in this era.
This excerpt from Chapter 3, "The Monastery," describes a young Chittister determined to fulfill a desire she had since early childhood to become a nun.
---
They may not have been aware of it, but in their kindness to the new student the Benedictine sisters had sealed the deal. Before her freshman year of high school was completed Chittister knew she would become one of them. The moment couldn't arrive soon enough. At the end of her first year, Chittister rang the prioress's bell at the school.
"How did I know you weren't supposed to ring the prioress's bell? They were forever ringing bells, and I saw they had a card there with the sisters' bell numbers, so I just went and hit '1.' That was the prioress."
Mother Sylvester, the prioress, came out of her office. She looked a bit bewildered at seeing this youngster in front of her. Chittister got right to the point. "I said, 'Mother, I would like to talk to you about being a Benedictine.' "
She didn't get beyond that. The prioress asked her age, and when Joan said fifteen, the nun told her that the order did not take girls younger than sixteen.