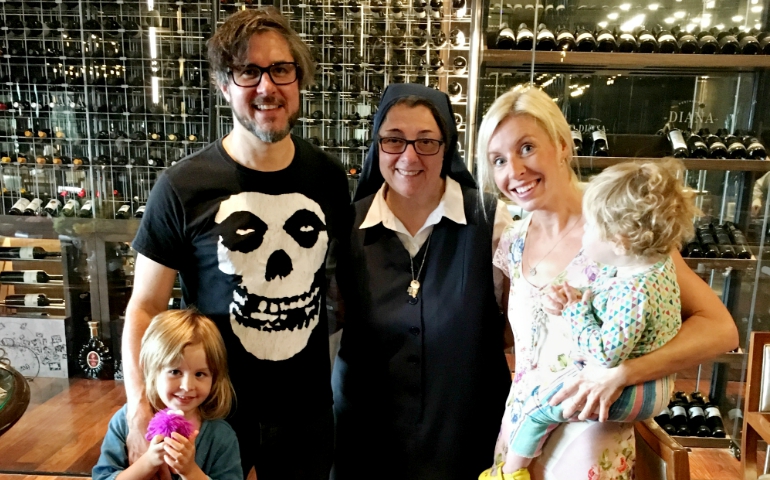 Sr. Rose Pacatte with Corin Hardy, director of "The Nun," and Hardy's wife and daughters (Provided photo)
Daughter of St. Paul Sr. Rose Pacatte, founding director of the Pauline Center for Media Studies in Los Angeles, has long claimed a special place in the hearts of filmgoers and readers of National Catholic Reporter: She has been a film critic for National Catholic Reporter since 2009 and has reviewed films for St. Anthony Messenger magazine for 15 years.
Pacatte firmly believes theology and film often intersect. In her just-completed dissertation for a doctorate in ministry from the Graduate Theological Foundation in Mishawaka, Indiana, Pacatte was inspired by a quote from the French film critic André Bazin: "Cinema has always been interested in God."
Pacatte's doctoral project, "To Seek God's Face: Theological Approaches to Film," was written as a textbook for undergraduate film students. The study has already received acclaim: Kendra Clayton, president of the Graduate Theological Foundation, awarded Pacatte the institute's Mother Teresa Prize in Spirituality and Community Service for her work, which came with a small cash prize to be used for further study. Pacatte also holds a master's degree in education in media studies from the University of London's Institute of Education.