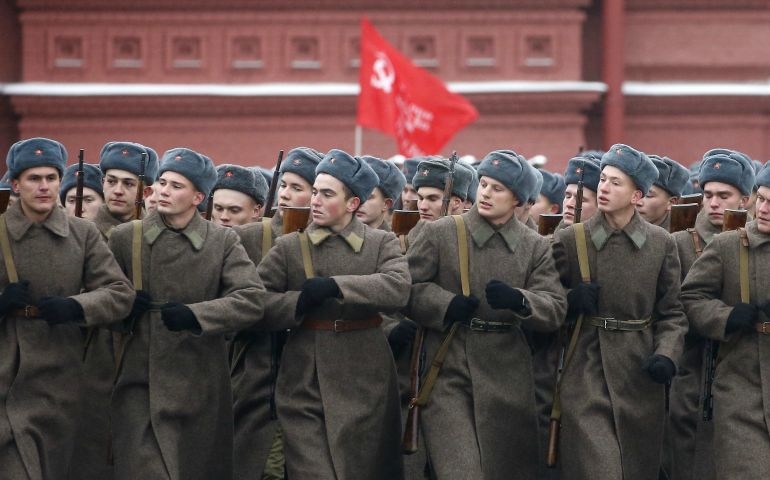 People in historical uniforms take part in the military parade in Moscow's Red Square in 2016. As preparations get underway for this year's 100th anniversary of the Russian Revolution, the country's small Catholic Church is keeping a low profile. (CNS photo/Maxim Shipenkov, EPA)
Warsaw, Poland — May 30, 2017
When Russians mark the centenary of their fabled October Revolution this autumn, it will be a chance to take stock of the successes and failures of an often-brutal century. For the country's Christian churches, however, the anniversary will have a tragic resonance — recalling a drama which unleashed decades of hardship and suffering.
"Our church views historical events like this in the light of faith — and humanity's ultimate redemption," explained Msgr. Igor Kovalevsky, secretary-general of Russia's Catholic Bishops' Conference. "By reflecting in this spirit, we can also begin to make sense of negative experiences of persecution and martyrdom. But we need to approach them as Christians, not as historians or political scientists."
Bolsheviks under Vladimir Ilich Lenin seized power in 1917, ending hopes of democratic rule, eight months after the overthrow of Tsar Nicholas II, which occurred in March under Russia's modern calendar.
"Revolution Day," now marked on Nov. 7, is no longer a public holiday in Russia, and the government of President Vladimir Putin won't be marking the centenary with anything like the festivities usually reserved for Russia's 1941-45 "Great Patriotic War."
But it will face dilemmas anyway over how to interpret the revolution, having promoted events in Russian history which contributed positively to national unity and downplayed destructive upheavals which endangered state stability.
Heads of the predominate Russian Orthodox Church debated the centenary at a January international symposium and has since spoken out about the revolution's legacy for today. Speaking in March, Patriarch Kirill blamed the revolution's violence on Russia's intellectuals — and the "horrible crimes committed by the intelligentsia against God, the faith, their people and their country."
But with opinion surveys suggesting Russian citizens remain divided over the revolution's achievements, Kirill has since backed off, merely urging them to mark the centenary with "deep reflection and sincere prayer," rather than "inappropriate celebrations."
That was the message from an inter-church conference in St. Petersburg on April 26, co-chaired by the Orthodox Church's foreign relations director, Metropolitan Hilarion Alfeyev of Volokolamsk, and Russia's Catholic and Lutheran archbishops, which called for the revolution to be debated with "reconciliation, harmony and brotherly love."
The "tragic events" of the early 20th century, their declaration noted, reflected "a deep spiritual crisis," which enabled "absolute political ideas" to trigger "fratricidal slaughter and mass repression."
That's also likely to be the position of Russia's Catholic Church, which is keen to portray the centenary as an opportunity for spiritual growth.
"Of course, there are still many unresolved issues surrounding the revolution and its aftermath — but questions of justice and restitution don't seem to be viewed as very pressing by Russian society now," Kovalevsky told NCR. "That's why we're placing our emphasis on reflection when looking back at the October Revolution — as well as on learning lessons and fine-tuning our moral sensitivities."
Catholic minority part of persecution
Russia's Catholic population, put at 773,000 by the Vatican's 2017 Annuario Pontificio, or just half a percent of the total population, has good reason to be cautious about the centenary. Although Bolshevik rule was cautiously welcomed by some church leaders as marking an end to Tsarist repression and Orthodox preponderance, any initial optimism was quickly dispersed.
At least 21 million people are believed to have died in repressions and "terror famines" after 1917, including more than 106,000 Orthodox clergy, who were shot during the 1937-8 Great Purge alone, according to Russian government data. Out of 60,000 Orthodox churches, barely 100 remained open in 1939, with just four surviving bishops, while tens of thousands of Muslims, Buddhists, Jews and non-Orthodox Christians were also butchered.
A total of 422 Catholic priests were executed, murdered or tortured to death, along with 962 monks, nuns and laypeople, while all but two of the Catholic Church's 1,240 places of worship in Russia were forcibly turned into shops, warehouses, farm buildings and public toilets.
Officially registered religious associations gained some protection from the 1940s onwards, as Soviet dictator Joseph Stalin sought to use them as patriotic tools during World War II. Under Nikita Khrushchev in the 1950s, however, the confiscations and arrests resumed.
While claiming religious freedom and church-state separation in its constitution, the Soviet regime never abandoned its aim of eradicating religious belief, and continually targeted "superstition and fanaticism" as a foil to progressive and rational Soviet values. Even today, with a Moscow-based archdiocese and three suffragan dioceses in Saratov, Irkutsk and Novosibirsk, Russia's Catholic communities still seek the return of seized churches and encounter problems exercising their rights at local level.
Fr. Kirill Gorbunov, the church's Moscow-based communications director, thinks some Catholics will nevertheless have mixed feelings as the revolution centenary approaches. The Soviet state inflicted mass sufferings, particularly during the 30-year dictatorship of Stalin. But it also claimed advances in science and technology, health and education, as well as a leading role in defeating Nazi Germany, which many will wish to acknowledge.
Little to celebrate
When Gorbunov became a Catholic in the early 1990s, there were still many clergy and laity around who'd personally experienced prisons and labor camps, whereas for those joining the church today, such stories belong to history.
An April opinion survey by Moscow's Levada Center suggested Lenin's popularity is growing again, with 56 percent of Russians highlighting his "positive contribution to the country's history" — compared to 40 percent a decade ago — and fewer than a quarter rating his role as negative, compared to 36 percent previously.
"Certainly, there are beneficial things to remember from the Soviet Union — it wasn't all just repression and unpleasantness," Gorbunov told NCR. "As a church, we have to embrace every political viewpoint and face the pastoral challenge of being open to all sides. But we must also make sure the new generation of Catholics knows and understands the truth."
Viktor Khroul, a Catholic professor at Moscow's State University, agrees.
He says he knows Catholics who regularly join protests against Putin's policies, as well as Catholics who serve with the riot police preventing the protests. And while it's assumed abroad that Catholics side with the liberal opposition, there are some who hold influential positions in politics and business, and back Putin.
But no Catholics would ever support the persecutions unleashed against the churches — and that helps explain why there'll be few if any acts of celebration this autumn.
"What would we celebrate — the collapse of the empire, the civil war, the bloody events and the martyrdom?" Msgr. Sergei Timashov, vicar-general of the church's Mother of God Archdiocese, asked in an NCR interview. "It's been difficult enough to find any place for ourselves here in Russia under this government. So, the best we can do is commemorate our own victims."
Russia's Orthodox Church canonized 1,765 communist-era martyrs by name at a council in August 2000.
Meanwhile, a Catholic Church commission, established in 2002, is seeking the beatification of 16 martyrs, including two bishops: Polish-born Antoni Malecki of Leningrad, who died after being deported to Poland in 1934, and German Jesuit Fr. Edward Profittlich, who died in 1941 while awaiting execution in Kirov prison.
The list also includes Anna Abrikosova, a member of Russia's small Greek or Eastern Catholic church who died at Moscow's Butyrka prison in 1936, Msgr. Konstantin Budkievicz, a Catholic vicar-general executed in the Lubyanka at Easter 1923, as well as a young Catholic convert, Kamila Krushelnitskaya, who was shot during a 10-year sentence for alleged conspiracy.
Progress on the beatifications has been frustratingly slow, according to Anastasia Romanova, who co-heads the church commission in St. Petersburg. The archives of the NKVD and KGB police were opened to researchers only briefly after the Soviet Union's 1991 break-up — so collecting information is difficult, while funds and resources are in short supply.
But Gorbunov thinks interest in the persecution victims remains high among Catholics, who are keen to see the beatifications concluded.
"It was hoped our martyrs could be honored quite quickly — but it's turned out to be a lot more difficult, since we often know little about them, or even where they died and were buried," he told NCR. "Though there may be ideologists within the government with their own ideas for promoting the revolution, I hope minority churches like ours will be left in peace to mark this centenary in their own way."
Religion today in Russia
More than a quarter-century after communist rule collapsed, contradictions about past and present are still evident everywhere in Russia. Some observers think Putin's government has now espoused Orthodoxy as something akin to new ruling ideology, helped by a reborn "symphony," or sobornost, between church and state.
However, the outlawing in April of Russia's Jehovah's Witnesses, whose properties are now being seized nationwide, shows how Soviet-era propaganda against minority faiths, or "schismatics," is still being used to justify restrictions.
While Tsar Nicholas II and his family are counted as Orthodox saints, the man who organized their 1918 execution in Yekaterinburg, Pyotr Voykov, still has a Moscow metro station named after him.
And while Lenin is still honored in statues and place-names nationwide, symbols of the capitalism and religion he sought to destroy are resilient in plush new department stores, as well as in the ostentatious wealth of Russia's re-established Orthodox church — which is estimated to have opened three places of worship daily over the past three decades, bringing the total to 36,000 compared to just 6,000 at the end of Soviet rule.
Orthodox leaders renewed calls this year for Lenin's remains to be removed from their granite mausoleum in Moscow's Red Square and privately reburied. Despite the mass terror he inflicted, they pointed out, the Soviet Union's founder was a baptized Christian, and was never excommunicated or anathematized by the church. His interment would end a century of torment for his soul, while also finally reconciling Russia with its Christian identity.
But while 58 percent of citizens now broadly agree, according the Levada Center poll, the idea is fiercely opposed by Russia's still-powerful Communist Party, while Putin himself has argued a "social consensus" should first be achieved.
In April, a bill for Lenin's removal was dropped in Russia's State Duma when MPs from Putin's United Russia party withdrew support. Kovalevsky, the Catholic secretary-general, insists his church has "no position" on Lenin's reburial and doubts the move would have any significant impact on Russia's problems.
Meanwhile, Orthodox leaders show signs of backing down.
"Streets shouldn't be named after executioners — nor should monuments to such people stand on our squares," Metropolitan Hilarion, the Orthodox foreign relations director, told the Rossiya-24 TV channel in April. "But no one wants to reopen old wounds, stirring up society and provoking divisions. We should have done this a quarter-century ago, and we'll now need to wait till there's public consensus around the issue."
The Orthodox Church will be marking the revolution centenary by carrying the relics of martyrs on a pilgrimage to Russia's holiest sites, according to the Interfax news agency. It'll also be commemorating the November 1918 restoration of its Moscow Patriarchate under the much-persecuted Patriarch Tikhon, who was canonized in 1989 with other members of the church's post-revolution council.
Catholics, meanwhile, will remember the event with Masses — as well as with a national pilgrimage this July to the Portuguese shrine of Fatima, where the first Marian apparitions took place six months before the Bolshevik coup.
But there'll still be skepticism, some think, about commemorating a drama which contributed nothing at all to Christian renewal and conversion, after a century in which Russia's Western democratic neighbors achieved far greater peacetime advances — without totalitarianism, mass executions, labor camps and shattered communities.
"Of course, one can be nostalgic about positive aspects of the Soviet past — but all forms of dictatorship, including the 'dictatorship of the proletariat,' are incompatible with church teaching," Khroul, the Catholic professor, told NCR. "We'll all need to refocus our memories, examine our consciences and take time consider what went so badly wrong a century ago to make such dreadful things possible."
[Jonathan Luxmoore is a freelance writer covering church news from Oxford, England, and Warsaw, Poland, and serving as a staff commentator for Polish Radio. His books include The Vatican and the Red Flag, Rethinking Christendom: Europe's Struggle for Christianity and a two-volume study of communist-era martyrdom, The God of the Gulag.]