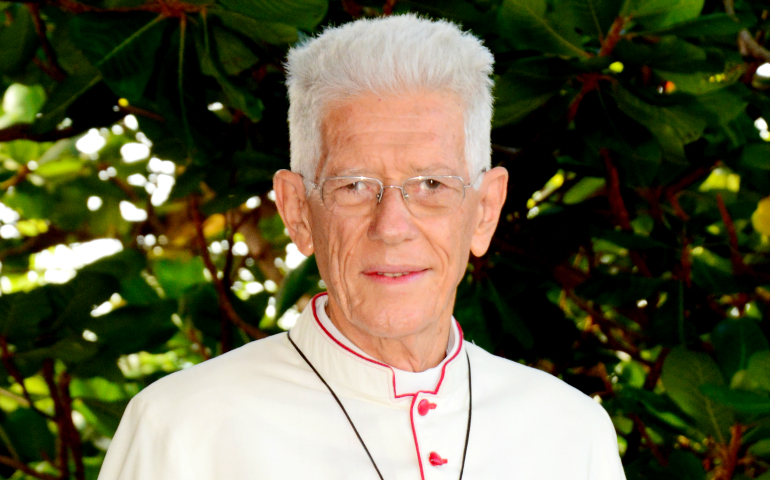 Cardinal-designate Maurice Piat of Port-Louis, Mauritius (CNS/Courtesy of the Port-Louis diocese)
One of the 17 Catholic prelates who will be named a cardinal by Pope Francis on Saturday says the pontiff has expanded his own understanding of the diocesan bishop's role, especially with his focus on integrating divorced and remarried people into the church's ministry.
Bishop Maurice Piat, who leads the Port-Louis diocese on the Indian Ocean island of Mauritius, said in an NCR interview Wednesday that Francis' recent exhortation on family life adds a new "pastoral dimension" to the church's work.
"Before, we talked about ... married and divorced people as what canon law says, what the doctrine says," said the cardinal-designate. "The pope doesn't deny anything about that. He said it very explicitly many times.
"But he adds the pastoral dimension and the discernment that we have to have while accompanying these people," Piat continued. "It's not just when they ask what they can do that we can give a decision. We're not there to give decisions mainly. We're there to accompany, to understand, and to see how God himself is working in broken lives."
"This is a new dimension and it has to be knitted with the other dimensions," he said. "It doesn't exclude them."
One of 17 prelates announced by Francis as cardinals in October, Piat will officially take up his new role in a formal ceremony in St. Peter's Square on Saturday. Before that, he will be joining cardinals around the world in a meeting with the pope.
During Wednesday's interview, Piat spoke at length about the impact the pope is having on the global church and the changing dynamic of the elite group of prelates known as the College of Cardinals.
Piat also called the exhortation — known as Amoris Laetitia ("The Joy of Love") and written in response to two Synods of Bishops in 2014 and 2015 — a "very great text" that gives bishops new work to do with regards to accompanying divorced and remarried people.
"This is our job now, to try to train and study what ... discernment really means and get help from people who have some experience in that and think out how we ordinary priests or bishops can not only wait for [divorced and remarried people] to come to us, but we have to go out towards them," he said.
Piat said Francis' frequent reference to families as "God's masterpiece" implies bishops "have to care about them, we have to take them seriously; they have to be supported and accompanied."
"The word accompanied is a leitmotif and this rings a bell with me," said Piat. "It's like how God treats us, with a lot of patience.
"We are not there to give split-second decisions, you can or you cannot," he continued, referring to the possibility of divorced and remarried people taking Communion. "We have to take time, or walk with them.
"This is a dimension which is very stimulating," he said. "It's not an easy one but at least it makes you breathe: It gives hope, it gives meaning. And it also gives another side; it gives value to another side of the church's mission, which has to be taken on board."
Piat also said he has asked his priests to study Francis' exhortation slowly, meeting with them recently so they could share their thoughts on implementing it in their diocese.
The bishop said he has planned another meeting to talk specifically about the exhortation's chapter dealing with divorced and remarried people, and is also planning to have a workshop in 2017 to help priests learn how to better accompany people in discernment.
"You can't improvise," he said. "You have to be trained."
The Port-Louis diocese is on the northern end of Mauritius, a 780-square mile island about 1,200 miles off the southeast coast of Africa. Piat will be the second cardinal from the island, following his deceased predecessor Jean Margéot.
But in some ways, the new Mauritian cardinal is an unusual choice by Francis. He has already turned 75, the age at which Catholic bishops normally retire.
Piat said the choice was shocking to him, as he had already submitted his letter of resignation to the island's apostolic nuncio.
"I was waiting for whatever the nuncio was to do," he said. "I was not at all on this track of being appointed as cardinal."
However, Piat pointed to his episcopal motto, "Set out into the deep," which is taken from a passage in Luke's Gospel in which Jesus tells a weary Peter at the end of the day to go back out on his boat and cast more nets to catch fish.
"Out of my wildest dreams I could never have thought that it could take such relevance at 75," he said. "Peter was exhausted after a night's work when [Jesus] said, 'Set out into the deep.' He was not fit like an athlete just before the race.
"This comes to me at the end of my work life," he continued. "It says something. I'm trying to figure it out, but it says something. Maybe that my mission is not so much to do extraordinary things, but to be there, to be concerned, and to love the people.
"I don't know," he admitted. "I'm trying to figure out."
Piat said being a cardinal is not about having more privileges or earning more respect from others.
"I don't think really that more respect or more attention is given just because you're a cardinal," he said. "I think real authority comes from your own commitment to your mission and the truth of what you're offering and the real relevance of what you're offering in terms of how the Gospel reaches out to people."
"What has struck me very much is how this has become a national event in Mauritius — the joy, the awe, the congratulations," he continued. "It's extraordinary. I was very touched by that.
"It made me feel that maybe the pope is like a father, who reaches out to a small country and tells them, 'What you are living interests me and it's worth talking about,' " Piat said. "Maybe there's something [about] that."
"It's also a stimulus to continue inventing new ways to be faithful to your mission," he said. "Mission is not something static."
Piat said he plans to listen carefully to whatever the pope says to the new cardinals during the ceremony on Saturday when they will officially take up their new roles.
"I shall be very attentive to what he has to say over the consistory during the weekend, and try to figure out what orientation he is giving us," said Piat.
"One thing that struck me is that these cardinals — the group I am in — have been appointed at the end of the Jubilee of Mercy," said the bishop.
"Is there a clue there?" he asked. "That mercy is not just a theme for a year: It's the center of our faith, it's the center of our commitment, it's the center of the evangelical testimony.
"Maybe he wants us to be cardinals of mercy, bishops of mercy, priests of mercy [and to] help people to be parents and spouses of mercy," he continued.
"This question of mercy ... this is what saves us," said Piat. "Mercy is what gives us the space to breathe and gives us a new breath. And I think it's a call to believe more deeply in the power of mercy, which seems to be weakness but in fact there's something very rich and very powerful, not only in talking about mercy but acting mercy."
[Joshua J. McElwee is NCR Vatican correspondent. His email address is jmcelwee@ncronline.org. Follow him on Twitter: @joshjmac.]