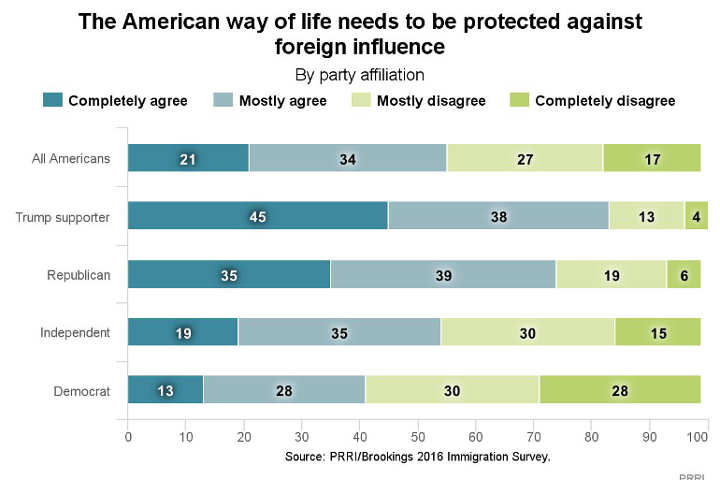 It is a gloomy electorate, deeply divided on fundamental issues and increasingly worried about terrorism, crime and personal economic security, that candidates will face as the general election season turns toward the national conventions later this summer.
That portrait of the country -- as anxious and divided not only by political party but on some issues sharply divided by race, class and age -- is contained in a wide-ranging poll, "How Immigration and Concerns about Cultural Changes Are Shaping the 2016 Election,"* released today by the Public Religion Research Institute and the Brookings Institution.
The slim majority (51 percent) of Americans feeling somewhat or very worried that they or a member of their family will become a victim of terrorism is an increase of 18 percentage points since late 2014. More than six in ten Americans (63 percent) reported being at least somewhat worried that they or a family member will be a victim of violent crime. And about* two-thirds of Americans (65 percent) report being "at least somewhat worried that they or a family member will become unemployed."
While many standard indicators suggest the country is experiencing economic growth, the survey found that 70 percent of Americans continue to believe the United States is still in an economic recession, a view that has remained relatively unchanged since 2012.
Americans also are evenly divided over the country's direction, with a majority believing that the United States must be protected against foreign influence.
According to the study, 50 percent of the general public believes that American culture and way of life has changed for the worse since the 1950s; 49 percent believe it has changed for the better. Sixty-two percent of white working-class Americans and 70 percent of white evangelicals "are among the most likely to believe that American culture and the American way of life has changed for the worse since the 1950s."
That number increases to 68 percent among both Republicans and Donald Trump supporters. The view is flipped among Democrats, with 66 percent saying things have improved. Among independents, according to the poll, the breakdown closely mirrors the 50-50 split in the general public.
Asked if "things have gotten so far off track" that the country needs a leader willing to break some rules to set things right, Americans were nearly evenly split with 49 percent saying yes and 50 percent disagreeing. Among Trump supporters, 72 percent agreed and 28 percent disagreed; among Republicans, 57 percent agreed and 42 percent disagreed; Independents split 48 percent for and 51 percent against; and 41 percent of Democrats agreed while 57 percent disagreed.
Fifty-five percent of those questioned also believe that the American way of life needs protection against foreign influence. Forty-four percent disagree. Among Republicans, the percentage of those believing the American way of life is threated by foreign influence rises to 74 per cent and to 83 percent among Trump supporters. Only 41 percent of Democrats have the same concern.
The public is also split on the religious origins and current character of the country with 41 percent believing the U.S. "has always been and is currently a Christian nation, while a nearly identical number (42 percent) say America was a Christian nation in the past but is not now." Fifteen percent say America was never a Christian nation.
Belief that the U.S. is a Christian nation is slipping among white evangelical Protestants. The number who believe the U.S. is no longer a Christian has increased from 48 percent in 2012 to 59 percent today.
For all of the fear of foreign influence, Americans "remain firmly committed to an immigration policy that would allow illegal immigrants a way to become citizens, compared to other policy options," according to the report. Sixty-one percent said immigrants living in the United States illegally should be allowed a path to citizenship provided they meet certain requirements. Roughly one in five prefer permanent residency status rather than citizenship and 21 percent say all immigrants living in the U.S. illegally should be deported. Among Democrats, 72 percent favor a path to citizenship and another 15 percent say they would allow illegal immigrants to become legal residents but not citizens; among independents, 62 percent favor a citizenship option with 16 percent favoring permanent legal status. Only 49 percent of Republicans favor a citizenship path, with 22 percent saying they would allow permanent legal status.
According to the authors, support for allowing illegal immigrants to become citizens has remained steady for several years and crosses racial and ethnic lines. "Close to six in 10 white Americans (57%) and more than seven in ten black (71%) and Hispanic Americans (75%) favor a policy that would offer illegal immigrants a chance to become citizens." Among religious groups, 62 percent of Catholics, 61 percent of white mainline Protestants* and 69 percent of black Protestants favor a citizenship path for immigrants. Only 49 percent of white evangelical Protestants favor allowing immigrants living here illegally to become citizens.
The Catholic majority is split significantly on the immigration issue. "More than three quarters (77%) of Hispanic Catholic prefer allowing illegal immigrants an opportunity to become citizens, compared to 55 percent of white Catholics."
Nearly 60 percent of all Americans oppose the proposal to build a wall along the U.S. border with Mexico as a way of keeping immigrants out, but the political parties are deeply divided on the matter, with 66 percent of Republicans in favor of the idea. Only 40 percent of independents and 23 percent of Democrats support the idea.
A majority of Americans (55 percent) also oppose passing legislation to keep Syrian refugees from entering the United States. Within that majority, only small differences exist among racial and ethnic groups. Sharp divides exist, however, among religious groups. Fifty-four percent of white evangelical Protestants and 53 percent of white mainline Protestants support such a law. Among white Catholics, the split is 49 percent supporting such a law and 51 percent opposed. However, only 45 percent of Hispanic Catholics and 36 percent of black Protestants support such a ban.
In contrast, 67 percent of religiously unaffiliated Americans and 73 percent of those who belong to non-Christian faiths oppose the ban on Syrian refugees.
Terrorism tops the list of concerns for Americans with 69 percent saying it is "a critical issue to them personally." Unemployment is second with 55 percent naming it a critical issue; 48 percent name crime as a top issue followed by the cost of education (44 percent); the growing gap between rich and poor (43 percent); and immigration (43 percent).
A wide gulf exists between parties regarding the most pressing issues. "Democrats are roughly twice as likely as Republicans to say that economic inequality (55% vs. 24%, respectively) and race relations (50% vs 25%, respectively) are critical concerns. Democrats are also more likely than Republicans to cite the cost of education as a critical issue (51% vs. 34%, respectively)."
On the other hand, Republicans are more likely than Democrats to name immigration (59 percent to 35 percent, respectively) and terrorism (85 percent to 60 percent) as top issues.
The study found that nationally the Republican Party faces "an enduring deficit in how it is viewed among the public." Only 35 percent of Americans view the GOP favorably, while 59 percent hold an unfavorable view. In contrast, 50 percent of the public view the Democratic Party favorably compared to 45 percent who have a negative view of the party. The long 2016 primary season has had little effect on the view of the parties, according to the report, which notes that last August, 36 percent of Americans held a positive view of the Republican Party, while 49 percent viewed the Democratic Party favorably.
The margin of error for the survey, which was conducted between April 4 and May 2, is plus or minus 2.7 percentage points. Interviews were conducted both online and by telephone among 2,607 adults age 18 and up.
*This story has been updated to correct the report's title, specify a group as white mainline Protestants, and clarify language about two-thirds of Americans.
[Tom Roberts is NCR editor-at-large.]